Elementor is a drag-and-drop page builder that allows you to create beautiful, responsive layouts for your website. The free version provides abundant elements and advanced features like parallax scrolling, touch gestures, animations, etc. Many themes are available in the Theme Store with Elementor compatibility. In addition, you can use one of your design templates from WordPress.com (premium). 
Themes are used to give websites their overall look and feel. They also determine how content will be displayed on different devices such as desktops vs. mobile phones, making it essential to choose a suitable theme for your project. Here's a list of best-selling articles for Elementor: – "GoStore and Karma.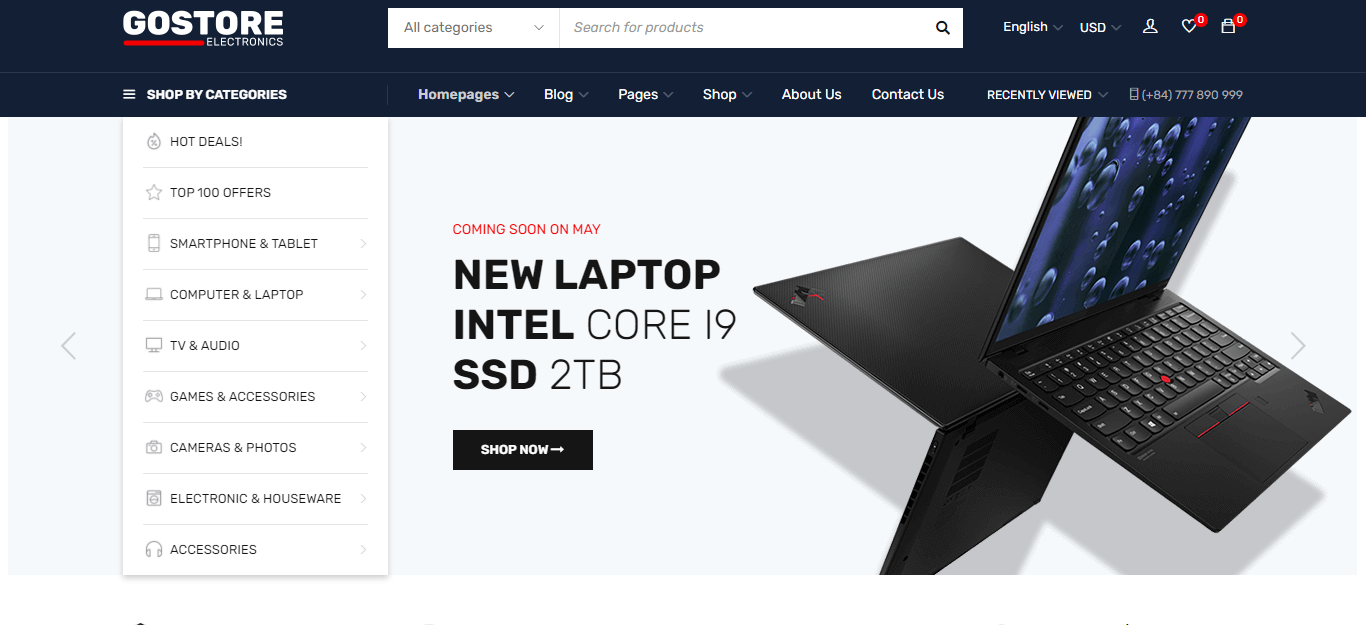 GoStore is a WooCommerce WordPress theme with Elementor page builder. It has a clean, modern design, and it's easy to use.
The themes come with 10+ header layouts, unlimited colors and fonts options, 600+ Google Fonts.
GoStore also includes Revolution Slider that provides you the ability to create fantastic sliders on your site in no time at all! There are some awesome WooCommerce WordPress themes out there, but few can compare to the quality of GoStore. The theme is made for eCommerce websites and comes with all the features you need to create a professional online store.
You can customize your products in just a few clicks and effortlessly manage orders, inventory, and customer information. It's not limited to selling physical products – it also includes features that allow you to sell digital goods. This is one of those rare WooCommerce WordPress themes that has something for everyone!
GoStore is a responsive, retina-ready, and professionally designed template that will take your website to the next level of professionalism. It includes all necessary features such as product sliders, mega menus, parallax sections, etc.
Karma is a professional theme for WooCommerce, Elementor, and WordPress. It has everything you need to create your e-commerce site with ease.
If you have an idea of what your website should look like and want it to be built fast and easy, then Karma is the right choice for you! This theme will save time on development because it has excellent features: responsive design, multiple header options, blog layouts, social media integration, extensive typography settings, and much more.
Ensure that this e-commerce solution is the first thing that pops up when browsing through themes in the market today!
Karma is a clean, modern, and professional WordPress theme with Elementor page builder.
Karma comes packed with many features that will help you create your online store, including WooCommerce integration, video tutorials, and more. Karma is a clean, modern, and fully responsive WordPress theme that can be used for business websites, corporate sites, or any other type of website.
The theme comes with an Elementor page builder, which allows you to create beautiful pages in minutes.
In addition, Karma has a powerful admin panel where you can customize your website without touching any code. It also includes WooCommerce integration to sell products online and use built-in features like product sliders on your homepage to showcase them. Karma also supports the most popular eCommerce plugins such as WPML, qTranslateX, YITH WooCommerce Wishlist, and more!
Jupiter is a powerful, versatile, and beautiful WordPress Theme. It's designed to be fully responsive, so your website will work beautifully on all devices. Jupiter has a minimalistic design that looks elegant in any setting, whether used for a business or personal blog. In addition, it includes built-in support for WooCommerce so that you can sell products from your site effortlessly!
Jupiter is a powerful, lightweight, and versatile theme so you can build any website. In addition, Jupiter comes with a drag-and-drop page builder called Elementor, which provides endless possibilities to customize your site to be unique.
With over 600+ prebuilt themes and templates, you can create an unlimited number of layouts for all types of sites, including blogs, portfolios, landing pages, etc. This theme has been built on the latest web technologies like Bootstrap 4 Framework, and it's fully responsive too!
Brisk is a Multi-Purpose Elementor WordPress Theme with a lot of features. It includes themes for General, Blog, Magazine, and other popular website types. With Brisk, you can create any website you want in minutes without hassle or coding skills.
You can also use it as an eCommerce theme to start your digital store on the web. The best thing about this theme is that it's responsive, so no matter what device someone uses, they will be able to see your site well!
Brisk is a clean, modern, and fully responsive WordPress theme for business websites. It has many great features like the drag-and-drop page builder Elementor, allowing you to create beautiful layouts easily.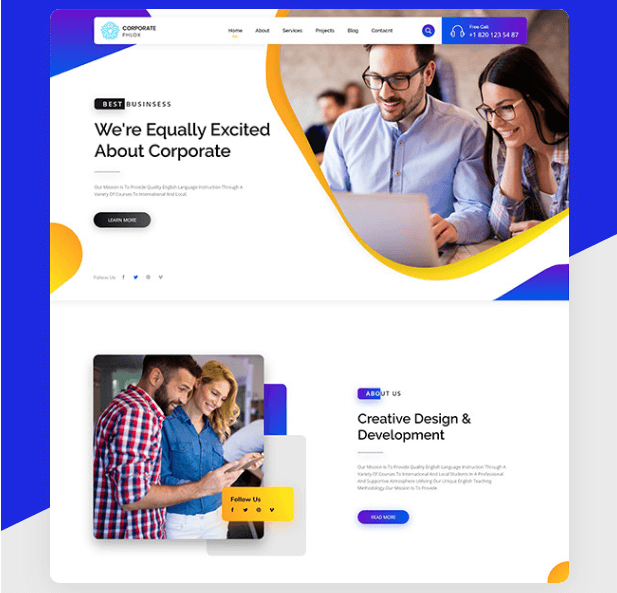 Phlox Pro is a responsive, multipurpose WordPress theme for Elementor which offers beautiful design and a powerful visual editor. It includes more than 30 prebuilt layouts to choose from. Phlox Pro is great for creating any website: business, corporate or personal site.
Phlox Pro is a fully responsive, child theme compatible WordPress Theme for Elementor. Phlox Pro has been designed and developed by Coderex to provide the most cutting-edge technology in website building.
This includes compatibility with Elementor's drag & drop interface, which allows you to build pages in minutes without ever touching a line of code. In addition, Phlox Pro offers unlimited layouts and complete control over styling with its powerful yet intuitive page builder. It will allow you to create any size imaginable from corporate business sites, portfolio websites, or eCommerce stores.
Bifrost is a WordPress theme that does not require any coding. It has a drag and drops page builder with over 40+ custom elements to choose from. You can create your website in minutes without the need for coding or design skills. The Bifrost theme includes Google fonts, social media icons, and beautiful typography options so you can add personality to your site. In addition, it also comes with SEO-friendly features like Schema markup, which is essential for search engine optimization (SEO) purposes.
Bifrost is a clean, modern, and responsive WordPress theme with a minimalistic design. It features an elegant blog layout for your content, beautiful typography, and built-in social media support. Bifrost also has a great portfolio section that will allow you to showcase your work in style!
Aora is a modern, elegant and clean WordPress theme. It's perfect for bloggers that want to have a beautiful blog with an easy-to-use interface. In addition, this theme will make your life easier by providing unique features like Elementor page builder, WooCommerce integration, and more!
Aora is the best solution for bloggers who present their content professionally and generate income from online sales of products or services. With this theme, you can create any site: fashion blog, food blog, travel blog.
Aora is all about making your dreams come true! It's an easy-to-use, lightweight theme with the all-new WooCommerce integration for online shopping. You can set up your store and start selling products in minutes! Aora has a modern design, responsive layout that looks great on any device or screen size, unlimited colors, and fonts selection, making it possible to create a unique website design from scratch without coding skills.
Auros is a Furniture Elementor WooCommerce WordPress theme that comes with an impressive set of features, including 2 homepage versions, customizable colors, and textures for every element on the page. Auros will make your online store look like it's been designed by experts. With this theme, you'll be able to create different layouts for each product category and post type. This way, you can present your products in the best possible way to help customers find what they need quickly and easily. And all of this without any coding skills! Try it out today!
Auros is a powerful WordPress theme for Furniture Elementor WooCommerce that was created to make your business look more professional and stand out from others. It has been designed to be easy to customize and will allow you to make adjustments without any coding knowledge.
Cerato is a multi-purpose Elementor WordPress theme with WooCommerce integration. The team of Coders Lab has created the Cerato theme, and it's one of the best free WordPress themes that you can find on Themeforest. It comes with many features, such as responsive design, unlimited colors, a Parallax slider, 6-page layouts for all needs (homepage, blog posts single page), social links widget, and more!
So if you are looking for a fresh new look for your website or online store, then this might be just what you need!
Cerato is a multi-purpose WordPress theme built with Elementor. With its clean and minimalistic design, it's an excellent choice for your next project.
It has been built using the latest web technologies to ensure maximum compatibility with all browsers and devices. In addition, the theme includes many flexible features like responsive layouts, retina-ready graphics, and unlimited color schemes to give you complete control over customization.
Lorada is a fully responsive, eCommerce Elementor/WordPress theme. It's perfect for building an online store with its WooCommerce integration. You can use it to sell anything from clothes and accessories to electronics and gadgets. Lorada also has a user-friendly backend that lets you manage your site content quickly and easily.
It's easy to customize the design of your website using these built-in features: Custom Backgrounds, Font Awesome Icons, Google Maps API Integration, MegaMenu Plugin Support, Blog Posts Slider Embeds Content From Your Site And More! In addition, this theme is compatible with Elementor Page Builder, so you can create unlimited layouts without ever touching a line of code. Plus, there are tons of free prebuilt.
The most versatile WordPress theme for eCommerce is Anon. An ideal choice for WooCommerce platforms, this multipurpose theme has been carefully designed to work with any site, be it a corporate website or an online store. The flexible features and design allow you to create a unique experience tailored to your specific needs and preferences.
With over 5 different layouts available, you can be sure that your website will not look like anyone else's! In addition, the flexibility doesn't stop there; the layout options are endless, with over 72 header variations available and 63 blog post templates!
Anon is a multi-purpose Elementor WooCommerce WordPress theme. This theme has been designed for variety, making it the perfect choice for bloggers who want to create a site that can be used as an online store with some plugins. The design is minimalistic and clean on purpose to easily customize it to suit your needs.
Webify is a powerful and robust WordPress theme that will allow you to create engaging, responsive websites without any coding or design knowledge. Webify includes all the features of Elementor, such as drag-and-drop modules for easy page editing, prebuilt layouts and templates to get started quickly, advanced color schemes with unlimited combinations and fonts to choose from.
It also offers seamless integration with popular plugins like WooCommerce and WPML, so you can start selling products on your website right away!
As if this wasn't enough, Webify comes bundled with over 100 premium content blocks, so you don't have to worry about hiring a designer or developer just yet. In addition, this theme was designed for all skill levels. It contained everything needed to create an excellent site – from templates with prebuilt designs to over 3,000 icons and Google Fonts integration. You'll be up and running in no time!
Wiz – Elementor MultiPurpose WordPress Theme is a multi-purpose theme that lets you easily create any website for your needs. With over 100 pre-made layouts, endless color options, and full support for customizing everything. Wiz is the perfect choice for creative entrepreneurs looking to save time on their next project.
Wiz is an all-in-one WordPress theme with a modern, versatile design and powerful features. It has been created to help you make any website imaginable – from blog posts to business pages. This theme gives you the power of Elementor's drag & drop page builder right at your fingertips. You can easily customize each element on your site without touching a line of code or writing an article. Give yourself more time for what matters most by saving hours in development time using Wiz Theme!
The Bridge is a multi-purpose WordPress theme that will be the perfect choice for your business. It offers you all the features and functionality you need to develop a fantastic website, including responsive design, retina-ready graphics, WooCommerce integration, and many more. You can also find in Bridge stunning Parallax effects, unlimited colors schemes, and fonts options – everything from Google Fonts library or your custom font files. Bridge is a multi-purpose theme, perfect for blogs or any other type of website. With its extensive customization options and beautiful design, Bridge is easy to use, and it can be tailored to your needs with little effort. Bridge also offers four different layout types: Fullwidth, Boxed Layout (default), Grid Layout & Masonry Layout. In addition, you can choose between 15+ widget areas, including footer widgets, sidebar widgets, post-meta widgets, and more.
Claue is a clean, minimal Elementor theme for WordPress and WooCommerce. It has been designed to provide you with all the tools you need to run your business successfully. With Claue, you can create an attractive website that will showcase your products or services beautifully while also being accessible for visitors to navigate through. This theme includes many features such as unlimited colors, responsive design, full-screen slider images and videos on mobile devices, and more! The clue is a WordPress theme for WooCommerce. It includes all the necessary elements to create an online store, including an Elementor page builder, one-click installation with WP plugins, and more. Clue also has a clean layout that looks great on any device without sacrificing functionality or design.
MagPlus is a WordPress theme for Blogs and Magazines. It features custom post types, layouts, widgets, sidebar options, and more.
It includes two sidebars: one on the left and one at the bottom of your content. You can also choose to show widgets in both or only one. In addition, the layout allows you to display ads on either side or just below your content and above it. Multiple page templates allow you to create different magazine styles quickly without having to hunt through templates manually. And with its drag-and-drop interface, setting up any element of your site becomes simple!