Learning management systems are software platforms that help you to deliver training and education in many different formats. LMS platforms can provide courses, track learner progress, create course content and integrate with third-party learning tools such as SCORM or xAPI.
20 Best LMS WordPress Themes 2022
Masterstudy LMS theme is a leading WordPress course management system designed to help you easily create online courses and manage your content. It's an ideal platform for creating engaging, interactive learning experiences for students of any age or level. With Masterstudy, you can build courses with text, images, videos, and quizzes in just minutes!
Reason to buy Masterstudy
If you are looking for an intelligent Education WordPress Theme, then Masterstudy is an excellent choice because it's responsive, fast loading, and easy to customize; then Masterstudy might be your best option. With 6 reasons why it is an excellent choice, let's look at the features of this theme in more detail.
1) It is responsive 2) Minimalistic design 3) Fast loading 4) Easy customization 5) Retina ready 5) Professional Course Builder 6) Monetization & Tutors Payouts
Price: Regular License $69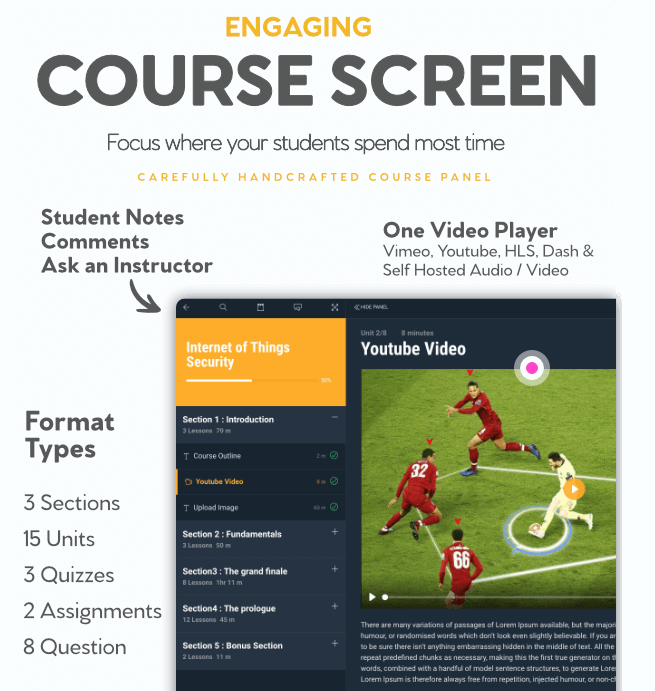 WPLMS is a ready-made LMS theme for WordPress that offers an intuitive user interface, complete with robust features and built-in tools to make your life easier. It's perfect for any company looking to create their online training portal in minutes on their site.
The WPLMS project has been developed from the ground up by experts in eLearning, so you know it's going to be easy and effective! The design is elegant and minimalistic but still manages to offer plenty of functionality. You can customize every part of your course. If you're looking for a way to centralize your corporate training program in one place, this is it! Check out our demo now.
Reason to buy WPLMS
WPLMS WordPress theme is a great theme to use to make your eLearning blog look more professional, and you can buy it at a meager cost. Here are five reasons why you should buy this theme for your blog:
1) Create and Sell Courses

2) Create and upload custom badges and certificates

3) Supports Audio/Video and Attachments in Units

4) Course Curriculum and Course Timeline

5) Exclusive Course Groups & Forums
Price: Regular License $69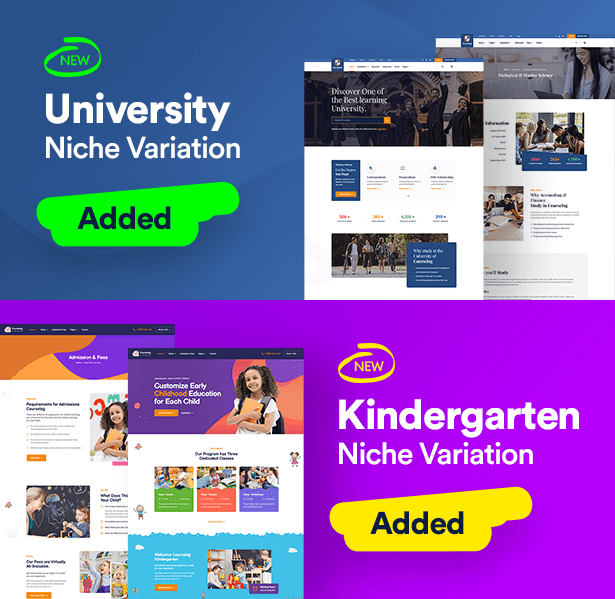 Courselog is an LMS theme that started as an idea in the WordPress community. The design and development teams got together to create this new responsive LMS theme to make it easier for educators and learners to use their courses on any device, including tablets and smartphones.
This marketplace includes over 50 Courselog extensions from top developers like WooCommerce, WPML, BuddyPress, bbPress & more. If you want your online learning platform to be robust enough to handle many different needs or if you have an existing website that needs a better interface for course management, then take a look at Courselog today!
Reason to buy Courselog
This theme is designed for the needs of a modern online learning website, with a clean and simple design that will help your learners focus on course content.
Full demo with One Click Installation

Elementor Page Builder

Zoom For Online Course

BuddyPress Compatibility

Child Theme Included

Easy to customize and user friendly
Price: Regular License $29
Guru LMS theme is a multifunctional and powerful tool that offers an easy way to create online courses. It comes with multiple ready-made templates, drag & drops design features, a flexible course structure, a robust reporting system, and more.
Guru LMS Theme is perfect for educational institutions and corporate training programs where the users need a platform that allows them to publish their content online. It also provides organizations with tools such as e-commerce options, video conferencing services, and live chat support that help boost customer engagement levels by providing them with personalized attention on demand.
Reason to buy
When it comes to pieces, there is no better option than Guru LMS Theme. Its sleek, modern look will make your site stand out from the rest! Here are six reasons to buy this innovative theme today:
1) Easy-to-use admin panel

2) Responsive design

3) Tracking course progress

4) WooCommerce integration

5) Selling Educational materials

6) Event Calendar, WPML Support
Price: Regular License $59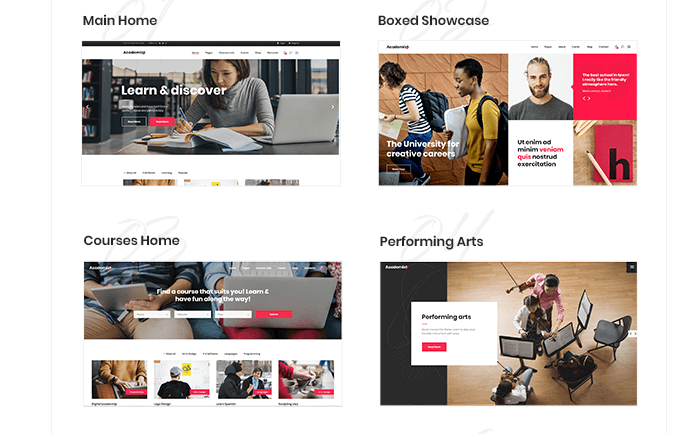 The Academist LMS theme is a popular choice for schools, universities, and colleges. It offers many perfect features for educators, including easy-to-navigate lesson plans, robust student management tools, and customizable quizzes.
This blog post will explore some of the extraordinary features of this premium WordPress theme, including its unique learning management system. If you're looking to build an online course website or if your school needs an upgraded platform, then Academist is an excellent option.
Price: Regular License $75
EduMall is a one-of-a-kind, easy-to-use LMS theme that's built for any page size. It has a responsive design and unlimited colour options, perfect for any business looking to stand out from the crowd. You can also add your Brand logo and colours with just a few clicks!
EduMall also includes an effortless drag & drop editor, so you never have to touch code again! Plus, it comes with 10 different content layouts and prebuilt templates so you can get started right away. Check out our demo today or read more about our features below!
Price: Regular License $59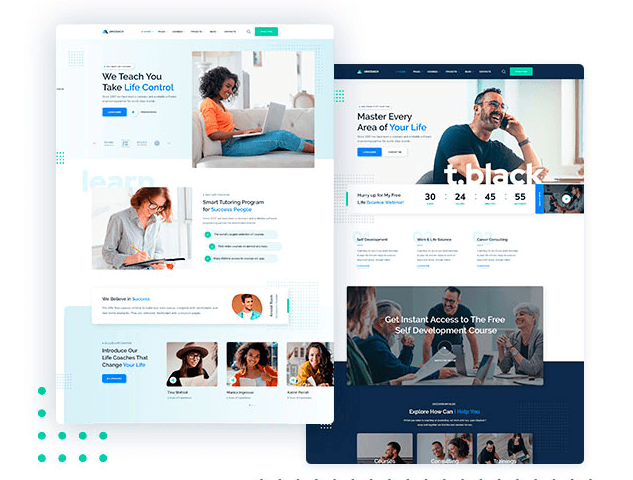 UniCoach is an LMS theme that helps teachers and trainers create flexible courses, quizzes, exams, and certificates. This theme features a drag-and-drop form builder to build custom lessons with ease quickly. With UniCoach, you can easily upgrade or downgrade your course based on the student's progress for each quiz or exam. The UniCoach theme has an intuitive navigation menu, so it's easy to find everything from course details to settings to updates in one place. There are also multiple design options available when using this LMS theme – including color themes like blue sky and oceanic blue and layouts like the boxed layout or full-width layout.
Price: Regular License $69
Our Academy LMS theme is a new responsive website design for the modern e-learning marketer. It is built with simplicity, usability, and SEO in mind to help you achieve your goals faster. The Academy LMS theme comes with all of the features you need to create an engaging learning experience that will keep your learners coming back for more. In addition, we have included multiple options and templates so that you can customize them to suit your needs. With our Academy LMS Theme, building courses have never been more accessible!
Price: Regular License $29
LMS is a new theme from WooThemes with an emphasis on education. It includes features such as a custom course builder, powerful quiz functionality, and the ability to customize just about everything. You can also integrate your content management system with our student dashboard for seamless access to all of their courses.
Price: Regular License $59
IvyPrep is an LMS theme that will help you create an online course in minutes. It's built with Bootstrap, HTML5, and CSS3 for responsive layouts. This theme has pre-made templates, video tutorials, and lessons from the field so you can get a head start on your marketing education. You can also find customizations like colour schemes or backgrounds to make your site look unique!
The best part of IvyPrep is that it's easy to use and customizable. With this, all of your courses will be relevant to the needs of every student because they are tailored specifically for them rather than just general content about marketing strategies. Give IvyPrep a try today!
Price: Regular License $44
Skilled Builder is a theme built on the WordPress platform and comes with easy-to-use drag-and-drop page builders. It also includes all the options you need to create an engaging site, such as custom menus, blog posts, and sliders. In addition to these features, Skilled Builder has many other perks, including unlimited colours in your design palette, Google Fonts integration for typography customization, and SEO friendly code base ensuring fast loading speeds on mobile devices.
Skills Builder LMS Theme helps marketers build beautiful sites without having any knowledge of coding or web development. It's perfect for creating blogs or landing pages that are sure to turn heads!
Price: Regular License $60
Academia LMS theme is a modern, responsive WordPress Theme for Academicians. It comes with an intuitive dashboard that will help you manage your courses and includes features like e-commerce integration to sell physical and digital content.
The Academy LMS WordPress Theme can be used for Universities, Colleges, Schools, and other educational institutes. You can use it as a single site or set up multiple locations on one installation of the platform.
Price: Regular License $60
eSmarts is an education and LMS theme that uses a clean design with compelling features. It has been designed by the team at Creative Market, who are known for their work on pieces like Monolith. This theme can create all kinds of websites from schools to universities or anything in between. It includes many customization options, and it also integrates with WooCommerce for easy e-commerce integration. If you're looking for a simple yet powerful way to set up your website, check out this excellent free theme!
Price: Regular License $75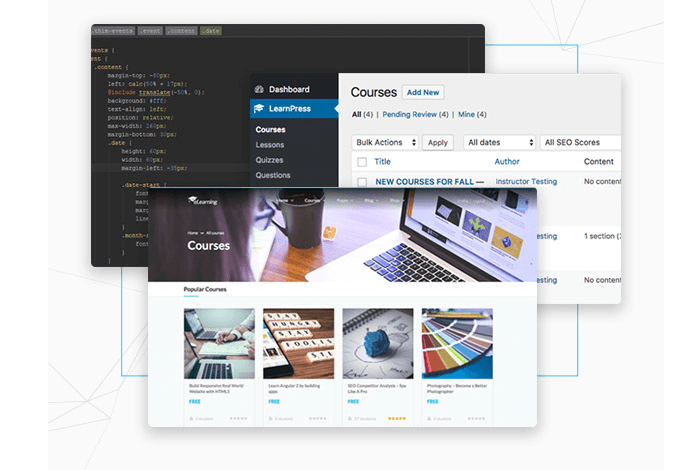 Epsilon is a (learning management system) that was released in 2013. The LearnDash LMS theme is a free and paid, responsive HTML5 template for WordPress with Bootstrap 3 and Font Awesome icons. It has been downloaded over 10,000 times since December 2014, and it's the most popular LMS theme on CodeCanyon.
Are you looking for a customizable Learning Management System (LMS)? If so, then I'm glad you found my blog post because I'll be teaching you about the best one out there right now: Epsilon! You can use its prebuilt themes or make your customizations as needed. In this tutorial, we'll
Price: Regular License $59
The Lifter theme is a clean, modern, and responsive WordPress LMS Theme. It comes with many different features such as the ability to create unlimited courses, quizzes, exams, and certificates; an intuitive course builder that allows you to drag-and-drop content blocks into your course page layout; and social media integration.
The Lifter theme also has powerful admin panel options for instructors, including customizing the look & feel of their classes with over 40+ prebuilt templates. You can upload their HTML/CSS template, and setting up private student groups with public and private forums available for discussion.
The theme enables live chat in class so instructors can communicate with students whenever they need it without ever having to leave the classroom interface.
Price: Regular License $120 each per year
Talemy is a WordPress theme that can be used as an LMS. It offers a wide range of features to help you create the perfect learning experience for your learners. Many plugins built into Talemy will make it easier to manage courses, quizzes, certificates, and everything else related to the LMS side of things. You can also integrate third-party plugins with this theme if you want more specific functionality than what's already available. This post will show you how to set up course content and lessons so that learners have access to them on their dashboard when they log in from their mobile devices or computers.
Price: Regular License $59
Tutors need an LMS that can handle their needs and help them grow. They also want to be able to customize it to fit their teaching style. That's why I'm going to show you how TutorLMS is the perfect LMS for tutors because they have two different themes: one for educators and one for tutors. And, both of these themes are customizable to match your specific teaching style!
Teachers and students alike track progress, make notes on assignments and provide feedback on assessments without ever leaving the site.
Price: Regular License $39
Aardvark is an LMS theme that is designed for marketers who want to build their marketing websites. The Aardvark theme has been created for an online course platform and can also be used as a landing page for your latest product or service release. Marketing websites are often not just about selling. They need to provide value and be educational to keep visitors on the site longer and increase conversion rates. This theme has been created with this in mind – we've included over 100 ready-to-use templates that you can use right out of the box!
Price: Regular License $65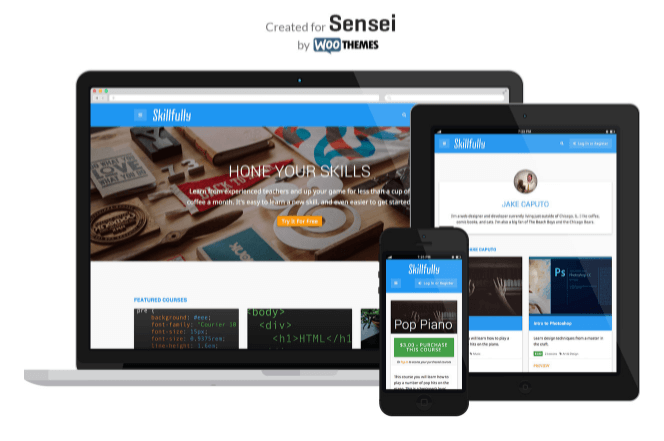 Skillfully is an LMS Theme that was designed with the marketer in mind. The theme has various features that are appealing to marketers such as SEO-optimized and responsive design. This theme is fully customizable with drag and drops page builders, unlimited colour options, easy-to-use shortcodes, and more.
Price: Regular License $50
If you're looking for an LMS Theme that will help your marketing efforts grow, then Sydney Pro is the perfect option for you! We have also provided an overview of all its features below!
Read More :
01: Keyword Revealer Review | [$75] Appsumo Exclusive Deal
02: Hexomatic Review | Best Web scraping and Automation Tool
03: TextBuilder Review: ($99) lifetime deal
04: Shopia.ai Lifetime Deal – AI Content Writer, Scheduler & SEO Assistant
06: LongTail Pro LifeTime Deal :($69) Appsumo Exclusive Deal