About PureLander:
If you're looking for a landing page builder, check out Purelander. It's one of the best tools on the market because it has so many templates to choose from, and they also have an easy drag-and-drop editor that allows you to customize everything! You can even create your templates if you want. The site is intuitive, and it's super easy to use. They have some fantastic deals going on right now, too!
It might sound like I work there, but I don't – I'm just a satisfied customer who needs a reliable landing page builder!
Finally, we'll take a look at some more advanced features like email collection and social media integration so that once you have finished reading this guide, your campaigns will be better than ever!
Purelander Review:
Do you want to create a professional landing page for your affiliate or CPA offer page but don't have the time or know-how? Look no further than Purelander! This tool has tons of features and is easy to use.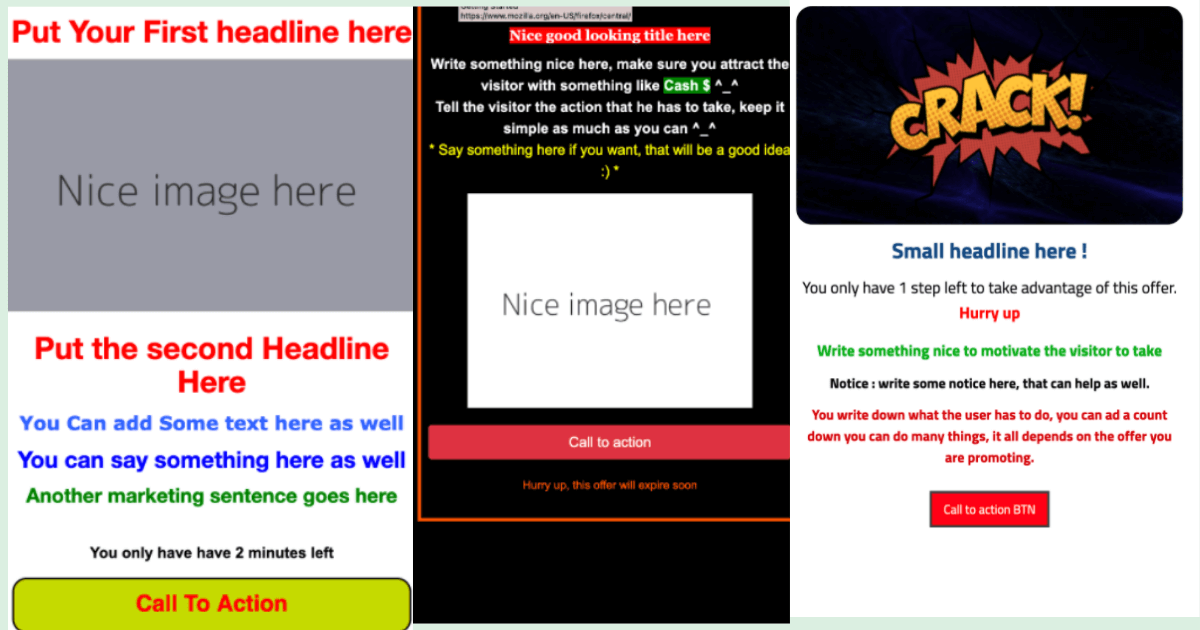 Features Of PureLanders:
It has many useful features like Ad Tracking, Search Engine Optimization (SEO), Retargeting, Marketing Automation, Mobile Marketing Campaigns, Affiliate Management Tools & Services, and more. It has some special effects on your lander like sound alert, vibration, open alert, disable back button, auto-redirect etc.
PureLander Benefits:
01: It is easier to create a landing page using the PureLander builder than it would be with other builders. The process has been streamlined and made user-friendly.
02: Unlike many of its competitors, which are difficult to use and often cause frustration for users. With PurLanders, you can get started in three easy steps: choose your template (or make one from scratch), drag in elements, customize design details by dragging on items or panel tabs that open up more options as needed. This way, anyone can quickly build their website without any coding skills necessary!
03: They offer templates in multiple colors so that they will match not only your business' branding but also the colors of your website.
04: With their templates, you can add any text and images that will help to make your landing page look great.
05: You don't need a designer or developer for this part. That's why you can save time and money.
06: They have created each template with mobile users in mind. Mobile is becoming more popular as people use it more often on their phones, so they wanted to create something optimized both ways (for example, if someone goes from desktop to mobile while viewing).
07: PurLander catered specifically towards marketers who want flexibility in design and layout and those who want an easy way to create a professional-looking landing page.
08: PurLander has a great-looking, mobile responsive template.
09: They have templates explicitly made for bloggers, ones that are designed to boost conversions with CTAs (Call To Action), and more.
10: You can also create your own by choosing from different fonts as well as colors. Choose what works best for you! If you're using their free plan, they offer around 100+ preloaded icons, which come in handy if you want something specific but don't know how to do it yourself. That way, you don't need any coding skills at all!
11: It is effortless to update your landing page on the go, too, so when someone views your page, and you want to update it, it's a simple process that doesn't take too much time.
12: They have SEO-friendly templates, so if you decide not to use their email capture tool, you can still rank well on Google searches.
13: You will find this builder great for both beginners and experienced marketers looking for something more than just the basics!
Here are the seven Best reasons I think this landing page is excellent:
Purelander Pros
01: It's super simple 02: You can customize everything through this builder. 03: They have huge templates. 04: It includes analytics. 05: You can see what others have done with the design before starting on your project. 06: It's easy to create lead capture forms that require users to input their email addresses to get access content or download files. 07: Pure lander offers live chat support 24 hours a day, 7 days a week, for additional help if you need it.
Purelander cons
01: Some templates may not be as customizable.
Pricing :
Pricing Details: $25 for 6 months.
Need an Extra $5 Discount:
Read More :
01: Keyword Revealer Review | [$75] Appsumo Exclusive Deal
02: Hexomatic Review | Best Web scraping and Automation Tool
03: TextBuilder Review: ($99) lifetime deal
04: Shopia.ai Lifetime Deal – AI Content Writer, Scheduler & SEO Assistant
06: LongTail Pro LifeTime Deal :($69) Appsumo Exclusive Deal
PureLanders is a powerful landing page builder with all the tools you need to create compelling marketing pages. With over 80+ pre-made templates, there are no design skills needed for creating your next landing page – drag & drop images into place and customize text areas by adding in headlines, paragraph text, callouts, or testimonials!