What is the meaning of a landing page?
A landing page is a webpage that has designed for the sole purpose of converting visitors into subscribers or customers. It can be used to promote any product, service, campaign, offer, idea, etc., but it must always have one clear call to action.
Landing page builder:
It's a page builder tool that you can use to build and design your website with little experience. It helps you create an effective online presence for your business, boosts conversion rates on your site, and allows you to see what people are clicking on as they visit the page. You can also track which pages have the most visitors or conversions over time so that you know where to focus your marketing efforts.
It's a landing page builder that offers a suite of services for creating pages and managing your marketing campaigns. You can create an Instapage account to start building professional, high-converting landing pages in minutes. With the Instapage drag-and-drop editor, you can customize your layouts with text, images, videos, and more. Add form fields or call-to-action buttons to collect leads or sell products on your site today.
Instapage Pros and Cons:
The good: Instapage offers many features to help make the landing page look fantastic with minimal effort from you as the user, such as A/B testing, responsive design, and analytics.
The bad: There are no templates available, so if you're looking for something specific, then this might not be what you're looking for (though they are coming out with their own template library soon).
Unbounce is the simplest and fastest way to build landing pages. It doesn't matter if you're a beginner or an expert; with Unbounce, building landing pages is easy as 1-2-3. You can choose from their library of templates or create your own. They have drag and drop features, so it's never been easier to build a fully responsive page that looks great on any device.
Unbounce Pros and Cons:
Pros:
1) Unbounce is an excellent tool for creating landing pages and A/B testing. -It can be used on any device or browser, so it has no compatibility issues.

2) The templates are straightforward to build within minutes with just a few clicks.
Cons:
1) There are monthly fees associated with hosting, managing, and support for the software.
Leadpages is an online landing page builder that helps you create a high-converting marketing funnel. This includes any number of pages from your website, social media, and email campaigns. You can also use Leadpages to generate an unlimited amount of leads for your business. With over 100 million visitors annually, the service has been used by more than 1 million businesses worldwide. It's easy to start creating professional-looking web pages with Leadsheets' drag and drop editor or just upload a CSV file with customer data on it!
Leadpages offers four different plans: Starter ($25/month), Pro($49/month), Business($99/month) Enterprise(price varies). The starter plan starts out at $25 per month and provides everything you need.
Leadpages Pros and Cons:
Pros:
1) Leadpages has templates that work with any type of company or product

2) Allows users to create their own lead capture forms (suitable for marketing companies)

3) It provides free hosting

4) There are no limits on the number of pages you can build within your account

5) The price starts at $25 per month, which includes unlimited emails, contacts, leads, phone numbers & social media accounts
Cons:
1) Limited customization options.
Purelander is a landing page builder that helps you create click-through, high converting pages. You can choose from over 50 templates and have the ability to customize your design with images and text in just minutes.
This landing page builder offers an easy drag-and-drop interface for marketing professionals looking to build their own lead capture forms or squeeze pages without any coding skills needed. Purelander's team of designers has created beautiful templates responsive to all devices and optimized for SEO, making it easier than ever to score more leads online! Check out Purelnader Full review.
Purelander Pros and Cons:
Pros:
You can use your own website as a platform to promote products or services.
Cons:
Affiliate programs don't usually offer bonuses for high-volume sales.
If you're an affiliate marketer, blogger, or freelancer with their own website and are looking for a landing page builder that can help with conversion rates and lead capture, then Landingi is the perfect choice for you. With more than 60 templates to choose from, there's something for everyone. You can also add your own images and videos, and GIFs, which will make it stand out even more! Its easy-to-use platform means anyone can create a high-converting landing page in minutes without code.
Landingi Pros and Cons:
Pros:
1) You are your own boss

2) Work from home

3) Make money when someone buys

4) No experience necessary

5) Join an affiliate program
Cons:
1) It Might not work out

2) Lots of competition

3) Have to invest money before making any income (some affiliates offer free trials, though!)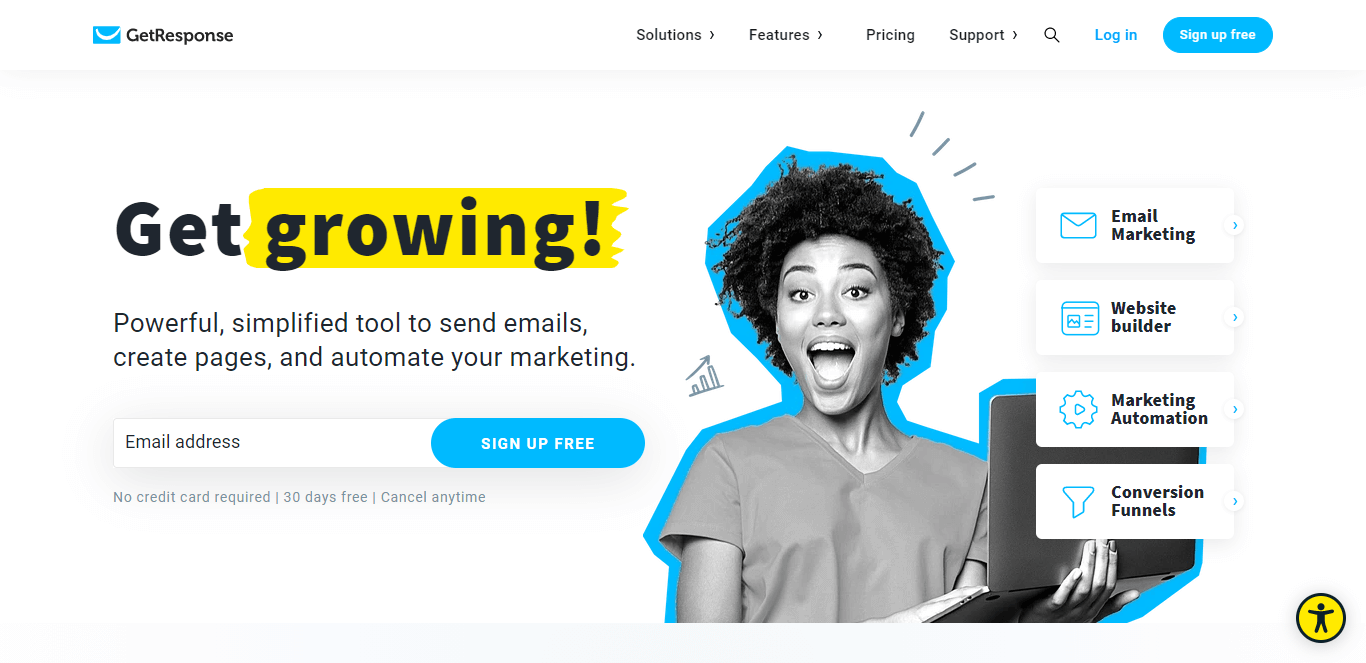 GetResponse is a landing page builder that allows you to create conversion-focused pages and track the results. You can choose from more than 500 templates, customize your content with text, images, and videos, then publish it in less than five minutes.
TheGetResponse Landing Page Builder enables marketers to build high-converting web pages without any design or coding skills. They offer an array of pre-made templates for different industries, along with a drag & drop editor where they can add their own images and text if desired.
Getresponse Pros and Cons:
Pros:
– Unsubscribe rates are at an all-time low

– It has the best campaign tracking available

– Integrates nicely with other email services such as MailChimp etc.
Cons:
– You have less control over how often subscribers receive emails from you (Getresponse will send out emails on your behalf)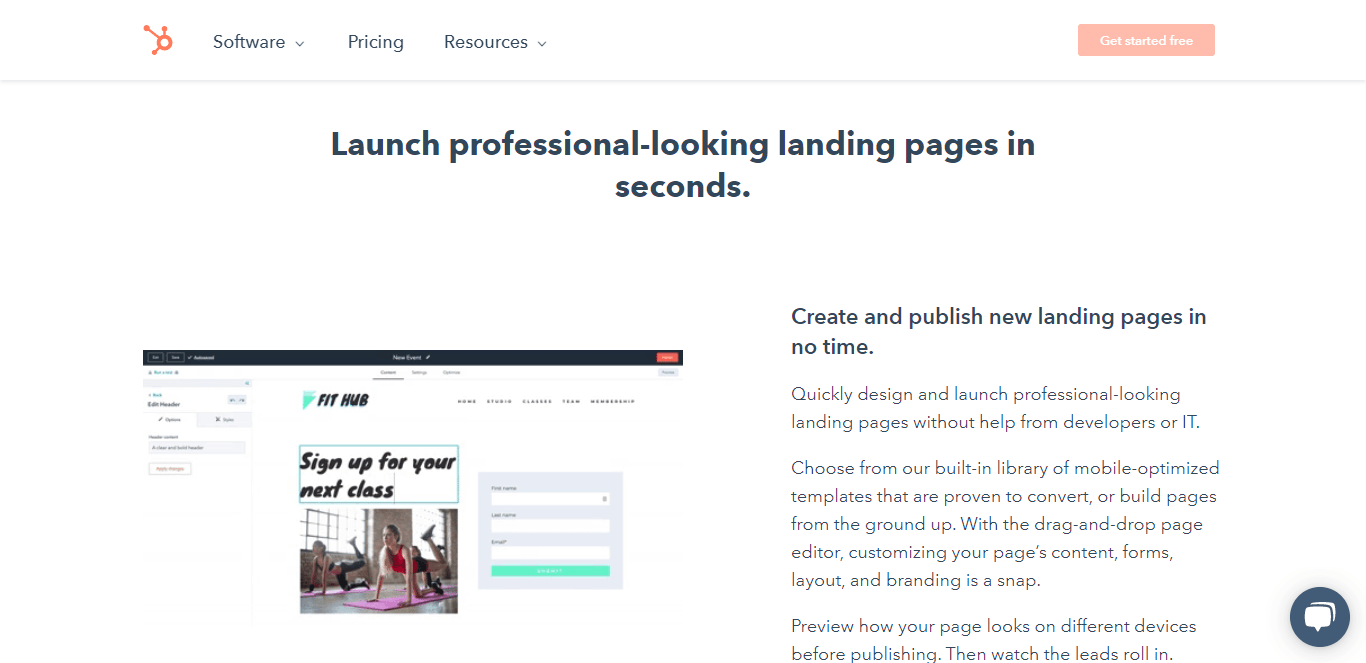 Have you ever wondered how to create a landing page? Well, HubSpot has the answer. HubSpot is a company that provides marketing software for small businesses and Fortune 500 companies. They offer three different kinds of tools: Social Media Marketing, Website Building Tools, and Landing Pages. The landing pages are a free tool that makes it easy to create an effective one-page website with just your marketing message at the forefront.
HubSpot Landing Pages Pros and Cons:
Pros:
– Templates look great on any device.

– You save time by not having to create from scratch.

– They work across industries or niches.

– Helps you focus on what matters.
Cons:
-Limited customization
SendinBlue is a landing page builder for affiliate marketing and other marketing campaigns. It allows you to build landing pages on your own without the need for coding skills. The tool also has an A/B testing feature that lets you compare different versions of your campaign's design to determine what works best for your audience.
SendinBlue has everything marketers need from their first campaign until they have gained enough experience to fully independent with their campaigns.
SendinBlue Landing Pages Pros and Cons:
Pros:
– Free Plan Available

– Email Statistics Reporting

– Unlimited Subscribers on Paid Plans

– 24/7 Customer Support Service

– Integrates with Google Analytics and Facebook Ads Manager.
Cons:
-only supports one domain name (not multiple) per account unless you pay extra each month.
TARS is a landing page builder with all the features you need to create your perfect page. With TARS, there's no more coding or design skills required. This drag and drop system lets you build high converting pages in minutes to convert visitors into customers. TARS is a landing page builder that allows you to create custom pages without needing any design skills. The drag and drop elements make it easy to create professional-looking pages in minutes, with no coding knowledge necessary. You can also use pre-designed templates for various businesses like restaurants or gyms and customize them using the TARS editor. You can try out the service for free by signing up at tarsapp.com.
Tars Pros and Cons :
Pros:
1) The design is sleek and minimalistic.

2) It's quick to implement.

3) You can track leads generated by the landing page.
Cons:
1) It doesn't have templates.

2) It lacks customization options.

3) Not all the apps work well together, so they can be confusing at times.
Systeme.io is an intuitive landing page builder that allows you to create a beautiful, high converting landing page in minutes for your preferred marketing channel. With a drag and drop interface, no coding skills are required, so marketers of all skill levels can use this service with ease. The system also includes several features such as A/B testing and social media integration that make it easy to optimize your conversion rates at the touch of a button. Head over to systeme.io now and start building great landing pages!
Pros and Cons :
Pros:
-All-in-One Software Solution (Accounting, CRM, Project Management)

-Affordable Pricing Options -User-Friendly Interface -Free Trial
Cons:
-Pricing plans are not clearly explained.

-Limited support options.

-Lack of transparency on what you can expect from the product.
Conclusion paragraph:
We've compiled a list of the best landing page builders on the market to help you decide which one will work for your needs. Casual, professional, or something in between, there is an option for every business and budget! Wondering if it's time to revamp your website? your landing page won't convert if it doesn't have the right tone and call-to-action.