Push notifications are a form of mobile marketing that is becoming increasingly popular among marketers. Push notification is a message from an app or website on your phone, which you can set to appear when the app isn't open.
There are many different ways push notifications can be used for better customer engagement and retention, including reminders about upcoming events and sending out messages that offer time-sensitive deals and promotions.
They're also helpful in reaching customers who have opted out of email communications but still want to receive updates from their favourite brands in real-time. 
15 Best WordPress Push Notification Plugins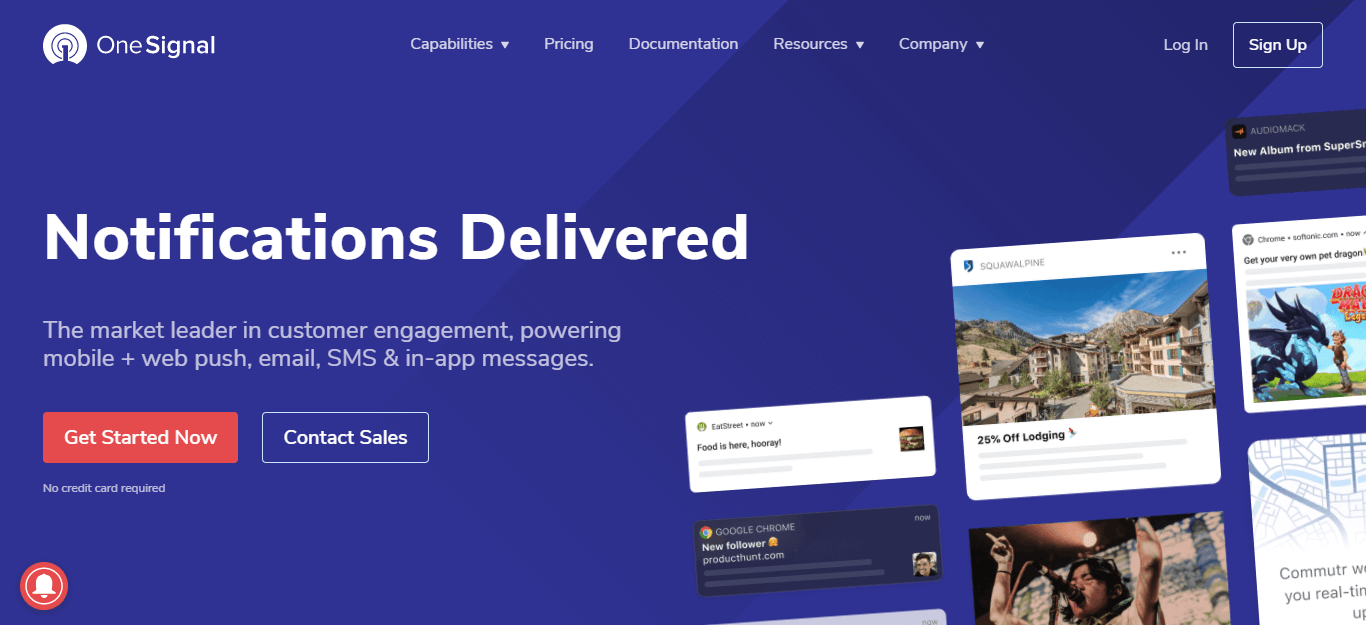 OneSignal is a marketing automation service for push notifications. It has an API that can be integrated with your website to deliver personalized messages and updates to mobile users.
OneSignal's goal is to help customers improve their conversion rates, engagement, and retention rates by keeping them informed about new products or services. 
OneSignal allows you to create unlimited push notification campaigns for free on its Basic plan. Still, there are limitations with the number of pushes per day at 10,000 pushes per month when using the Free technique (Basic). Paid plans start from $5/month and go up depending on how many monthly pushes you.
Gravitec.net is a web-based push notification service that sends messages to your mobile device. This service allows you to reach your customers on the go and provide them with information about new products, special offers, or breaking news in real-time. It's easy for companies of any size to send notifications via Gravitec.net through an online dashboard or API integration into existing applications. 
These notifications can be sent from anywhere worldwide at any time with no delays in delivery or additional costs associated with this service provided by Gravitec.net! 
This blog post provides information about what push notifications are, how they work, and why businesses should use them for their marketing campaigns!
WonderPush is a push notification system that sends messages to users who have opted-in for notifications. It also saves time by allowing you to create and send content from the same platform, eliminating the need for multiple tools. The easy-to-use interface makes it possible even for beginners to be successful with this marketing tool. 
Wonderpush is an affordable way of keeping in touch with your customers or clients when they are using their phone on social media, games, or other apps, as well as sending them reminders about offers you may have. 
Smart Notifications is a new push notification service that will help you better engage with your audience. It's a premium service, but it can pay off in just one campaign for the price. If you're interested in learning more, please read on! With Smart notifications, you'll be able to reach out to many people at once and get their attention immediately because they are all notified of the message at once- instead of relying on someone opening your email or clicking on your link because they saw it.
Push notifications for WordPress Lite are a great way to engage your visitors. They can remind people about the latest blog post or offer, announce updates, and more! This article will show you how they work and what you need to know to use them effectively. 
Push notifications for WordPress Lite are a great way to engage your visitors. They can remind people about the latest blog post or offer, announce updates, and more! This article will show you how they work and what you need to know to use them effectively.
Fire Push (Premium) is a plugin created to help you send push notifications for your WordPress site. With the ability to schedule posts, manage multiple pages and sites, track analytics, and much more, it's no wonder why FirePush has been downloaded over 1 million times! The best part? It's free.   
PushAssist is a new and innovative way to push notifications on your phone. It takes the idea of push notifications and turns it into an app with a twist. The PushAssist app will let you create customized alerts for any occasion, event, or person in your life that you want to be notified about. You can also use these alerts as reminders by setting up recurring email or SMS messages from within the application. This makes it super easy to stay on top of everything going on in your life without having to check every notification that pops up on your screen! Stay tuned for more posts about this exciting new app!
"Beamer is a push notification service that allows you to send notifications to your users. If you're looking for an easy way to keep in touch with your customers, Beamer could be the perfect solution." 
"One of the most important features of Beamer's service is its ability to target specific groups of individuals. With this feature, brands can easily communicate with their subscribers and followers without having them all in one big group." 
"Another great feature about Beamer is the fact that there are no limits on how many people can subscribe to a particular channel or category. 
LetsPush is a premium push notification service that allows users to connect with their audience and control what notifications are pushed. LetsPush provides all the tools you need to set up, customize, and send your messages, so they're guaranteed to be seen by your subscribers. Sign-up for our free trial today!
iZooto is the easiest way to send push notifications on your website. It's a great way to reach out to customers and keep them engaged with your business or product. With iZooto, you can easily create custom campaigns that will be sent automatically according to the user's preferences and triggers!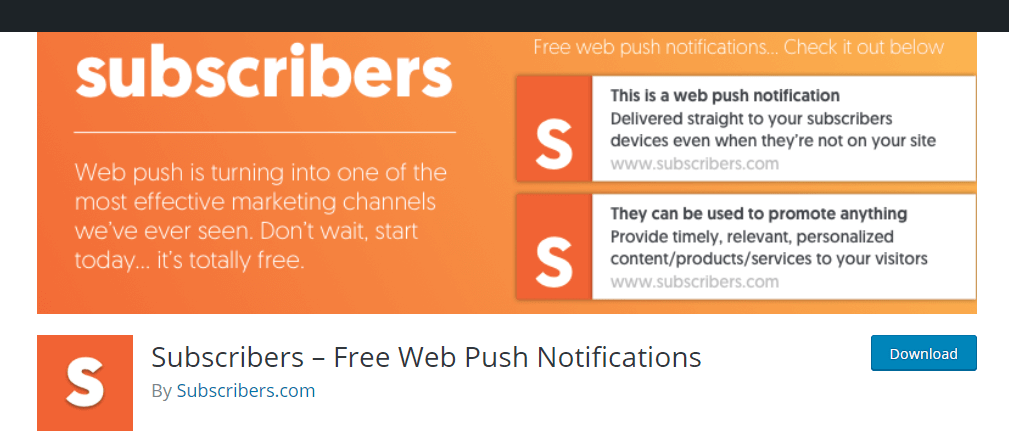 Subscribers Push Notification is a notification that pops up on your phone when you receive a new blog post. You can set these types of notifications to be sent to only specific people or all people who subscribe to your blog. This is an easy way for bloggers and web admins alike to keep their readers informed about new content without the need for them checking back regularly.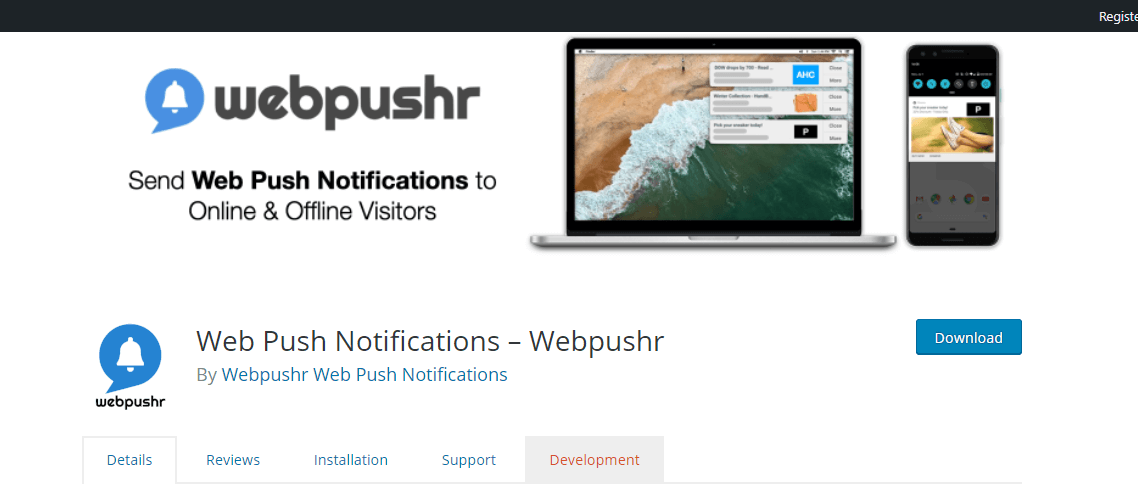 Web push is a web-based service that allows you to deliver messages from your application or website to mobile devices and browsers. Providing push notifications for iOS, Android, Windows Phone 8, and browser push notifications via JavaScript or REST API. Web push makes it easy to get started with no servers needed on your side. All of the power behind Webpushr's technology is in the cloud, so there is nothing for you to install or manage on your end. 
PushEngage is a browser push notification plugin that allows you to send notifications to your visitors. The PushEngage API provides developers with the ability to integrate this service into their website, blog, or app without having to worry about how they'll be notified when a new post goes live. It's cross-browser and works well on mobile devices. You can have an email list of interested users who want updates from your site as soon as they're published! 
A new plugin called Push Notifications for WP & AMP is designed to make push notifications easier to implement on your WordPress or AMP site. The plugin can be installed onto either of these platforms and send a message to the visitor's device when they are in the range of an event that you want them notified about. The platform also offers many different options, including customizing the notification sound, setting up what kind of content should trigger a push notification, and adjusting how the content should appear on their screen. 
PushAlert is a plugin for WordPress and WooCommerce that enables you to send push notifications to your website visitors. PushAlert makes it easy to get in touch with your readers, customers, and followers by sending them messages from the admin panel on your site. You can use this plugin with an unlimited number of subscribers without any extra cost or monthly fees. 
What are push notifications..?
Push notifications are a form of mobile marketing that sends alerts to your phone, typically from an app. Push notifications tell you when something new is happening on the app and encourage you to come back and engage with it. It's essential for marketers who want to use push notifications as a marketing tactic to follow any regulatory requirements governing the location of their target market or audience. 
How do Push Notifications work?
Push notifications are a common way for you to interact with your blog readers. They'll see an icon on their screen and know that they have new content waiting for them. It's a simple matter of installing this module, writing the message you want to send out, and then choosing who will receive it. This is a great way to keep in touch with your audience so don't forget about you or your site! 
How to Add WordPress Push Notifications to a Website?
Do you have a WordPress website? Do you want to keep your readers up-to-date with the latest updates from your blog? WordPress push notifications can help. Here is how to add them to a website! 
Step 1: First, login into WordPress and go to Settings>General. Then scroll down until you see Site Notifications and click on it. 
Step 2: Next, scroll down until you see "Send me to site notifications" and check that box if it's not already checked off." 
Step 3: Finally, click Save Changes at the bottom of the page."  
Read More :
01: Keyword Revealer Review | [$75] Appsumo Exclusive Deal
02: Hexomatic Review | Best Web scraping and Automation Tool
03: TextBuilder Review: ($99) lifetime deal
04: Shopia.ai Lifetime Deal – AI Content Writer, Scheduler & SEO Assistant
06: LongTail Pro LifeTime Deal :($69) Appsumo Exclusive Deal
Final Thoughts
WordPress Push Notifications is a great way to keep your customers up-to-date on what's happening. It also makes it easy for them to buy more products or services from you without having to search through menus and pages of content they may not be interested in.