Why do you need backlink checker tools?
 It is important to monitor the number of backlinks you have and ensure relevant and up-to-date. There are many tools available for checking website backlinks, including Majestic SEO, ahrefs, and Moz. These tools enable you to check where your links come from, what anchor text they use, and whether or not they provide link juice to other sites. in today's world, it is essential than ever to get your business online. One of the most effective ways to do this is through SEO ranking, and one of the best ways to increase your SEO rank is by building quality backlinks. 
5 best backlink checker tools
The SEMrush backlink checker tool is a popular and highly-acclaimed SEO optimization tool that provides helpful features for analyzing your website's visibility. It includes an automated search engine rank tracker, on-page report generator, site explorer, and domain vs. competitive domain analysis. This blog post will detail how the tool works with some of its features to improve your online presence. The first step in using SEMrush is to sign up for an account by clicking here. You can then login into the dashboard, which has four sections: Domain Overview, Site Explorer, Backlinks Checker Tool (a detailed overview), Keyword Research Tool.
LinkMiner backlink checker tools are a series of innovative tools that will help you identify and evaluate your backlinks. With LinkMiner, you can monitor the number of links pointing to your site and their quality, determined by the link's popularity rank on Alexa. Link miner also allows you to compare how many domains point to your site with how many links each domain has pointed towards it. 
Ahrefs is a free backlink checker that will find out what sites are linking to your competitors. This tool has been beneficial in my SEO strategy. The company, Ahrefs, provides keyword research tools for online marketing professionals. It also allows you to track rankings for keywords and URLs on search engines such as Google and Yahoo, analyze social media mentions on Twitter or Facebook, monitor the performance of links placed on blogs or forums, and more! In other words, Ahrefs can do everything an individual could need from the perspective of internet marketing. 
OpenLinkProfiler is a backlink checker tool that can help you identify and track the quality of links pointing to your site. With this simple-to-use online tool, you can get many things:
Analyze competitor sites for link strategies.
Find websites linking to your online competitors but not to you.
See what parts of your website are linked from other sites (e.g., Blogs).
Find out who has been relating to one of your articles on another site and more.
These features make OpenLinkProfiler an excellent choice for both new blogs looking for traffic and established bloggers who want to know what their competition is up to!
BuzzSumo has a backlink checker tool that monitors the social media buzz around your site. It checks for mentions of your site on different platforms to see what people are saying about you and get alerts when someone says something new. This content marketing tool will also help you find influencers in your niche who might be worth approaching to collaborate with.  
There are free and paid versions available, depending on how many keywords or competitor sites you want to monitor. The app will also let you know which of those competitors have the most followers, meaning they may be more influential than the others in terms of their ability to generate traffic for your website."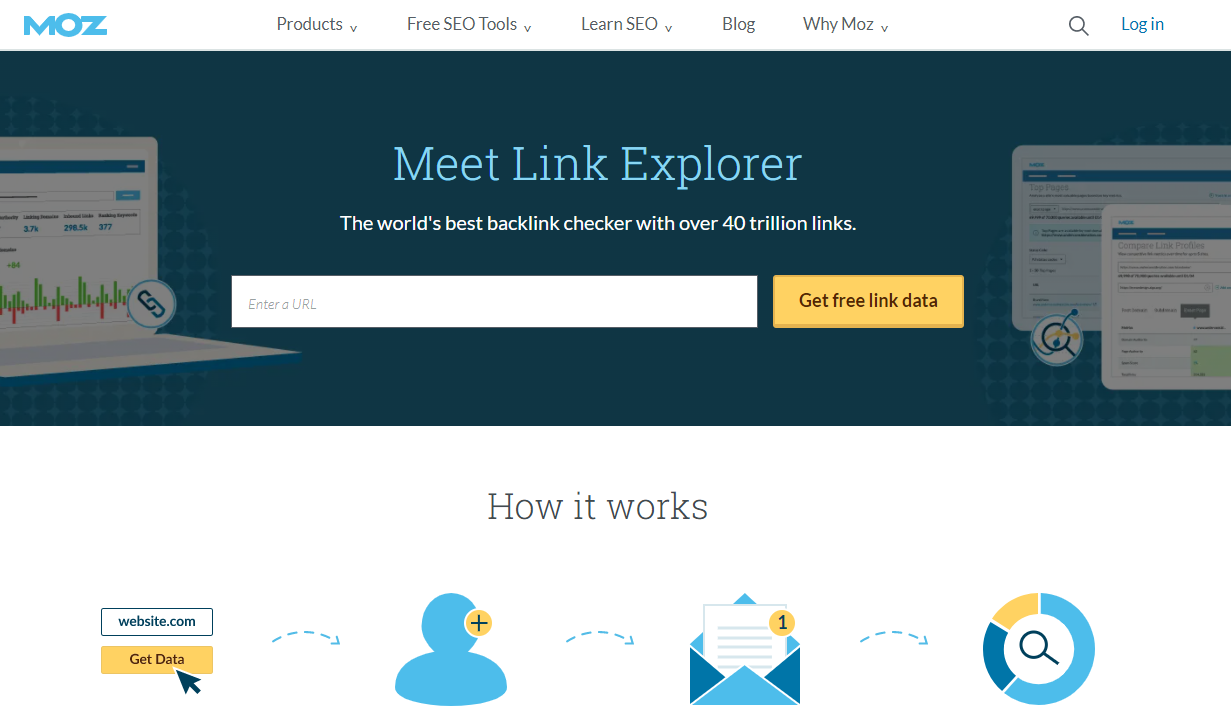 Moz Link Explorer is a free backlink checker tool that can help you find the best backlinks to your site to get more traffic. This tool will allow you to find and analyze the links on your website quickly. It also has a "find" feature that allows quick searches of any keyword or phrase in the URL field. 
The Moz Link Explorer Tool will give insights into what type of content is most popular, as well as how much link juice each page has. You'll also be able to see which pages are linking out to other
sites; this could lead you to potential partners or collaborators! 
Link building experts use Moz Link Explorer because it gives them valuable insight into their competition and helps them stay ahead.
There are many backlink checker tools out there, but when it comes to accuracy and ease of use, Ubersuggest is the way to go. 
It takes seconds for you to get a complete list of all the links associated with your website domain name.  
The tool also provides you a lot of information on how many links each site has pointed at it, as well as their PageRank score and Alexa rank. 
 Ubersuggest does not require registration or any personal information whatsoever – just input your domain name and start exploring!
Majestic SEO is a popular backlink checkers out there. Not only does it provide a great deal of information about your site, but it also allows you to compare your rankings with those on other sites in your niche. It's simple and easy to use- quickly scan through all the pages that link to yours, then look at where they're linking from. This way, you can see what work you need to put in for each page if you want more links pointing back at them!
SEO PowerSuite is a suite of backlink checker tools that can help you check the quality and quantity of your links, identify broken or redirected links, find who is linking to you, and more. You will be able to see what types of sites are linking to yours to get an idea of how you should build new relationships with other companies. The SEO PowerSuite also has tools for analyzing competitors' link profiles, giving you insight into how they have achieved their ranking. 
The backlink checker tool is a great way to find out where your website ranks on the internet. This post will outline some of the best tools for checking links and give you an idea of how important backlinks are in the ranking.