Hexomatic is a web scraping and automation tool that makes it easy to collect data from websites. You can use these to collect data from any website, including blog posts, articles, emails, and even comments.
What is Hexomatic?
In this age of ever-growing digitalization, web scraping has become increasingly important. Web scraping is extracting data from websites and converting it into a Natural format that can be easily analyzed. Hexomatic is a tool that automates this process, making it easier and faster for users to gather data from the web. This web scraping and automation tool make collecting data from websites easy.
How does Hexomatic work?
Hexomatic is a web scraping tool that makes it easy to collect data from websites and automate online tasks. The device sends requests to websites and extracts data from the responses. These tools can extract data from websites that don't have an API or automate online tasks such as filling out forms or clicking links. It's easy to use and doesn't require any programming skills. The tool has a point-and-click interface to configure the requests and extract the data. Hexomatic also includes a script editor that can automate online tasks. The device is available as a web app and as a Chrome extension.
What can I use Hexomatic for?
These tools can be used for various tasks, including web scraping, data mining, data collection, and automation. With this tool, you can extract data from websites, automatically fill in online forms, and automate repetitive tasks.
Hexomatic Monthly Pricing: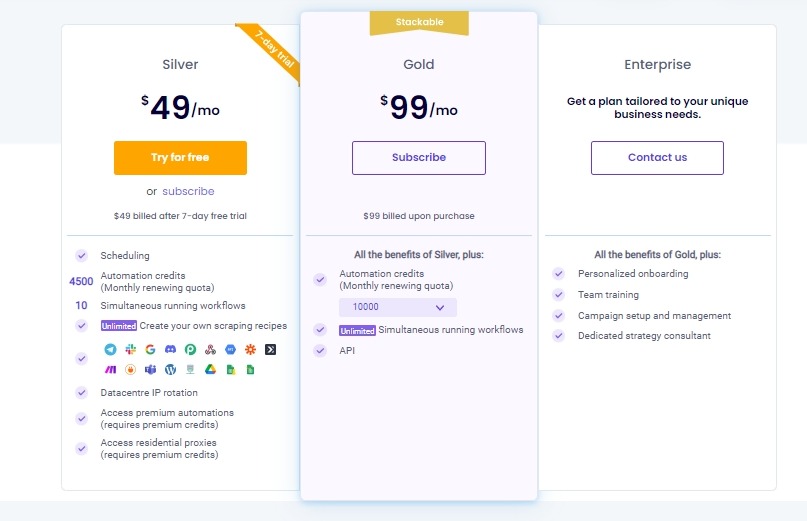 Hexomatic lifetime deal
Pros
Scheduling
Automation credits
(Monthly renewing quota)
Simultaneous running workflows
Datacentre IP rotation
Access premium automation (requires premium credits)
Access residential proxies (requires premium credits)
Cons
For Premium automation (You Have To Buy credits)
Hexomatic Features :
01: AI Audio transcription
One of the main advantages of using Hexomatic's AI transcription service is that it can handle a wide range of audio files. This includes both recorded audio and lives audio recordings. Additionally, it can transcribe the text in real-time as it's being spoken, making it ideal for communication applications.
02: AI Text to speech
Hexomatic is a tool that enables you to convert text into different voices. One of its features is AI Text to speech, which can help you create accurate and realistic voice recordings for your content.
03: AI logo Detection
Hexomatic is a powerful AI tool that can detect different types of logos. This creates it a valuable asset for businesses and professionals who need to identify and track the logo of a particular company or product.
One of the features of Hexomatic is its ability to detect the logo of a particular company or product. With this functionality, you can quickly identify the source of any given image or video. Additionally, it can help you track the whereabouts of any suspicious objects or pictures. Finally, it can also be used for copyright infringement, helping you track down unauthorized copies of your content.
04: Content Analysis
These web autometion AI tool offers a content analysis feature that lets you identify the most popular topics and keywords across your website. This helps you to optimize your content for tracking and social media marketing (SMM).
The content analysis feature scans your website's text and images for specific keywords and phrases. It then displays these results in a graph, showing how frequently these terms are being used. You can also utilize this information to create new content geared toward attracting traffic from these critical areas.
05: Email Address Validation
Email Address Validation is one Hexomatic feature that helps you ensure the legitimacy of email addresses.
By validating email addresses, you can protect yourself from spammers and other scammers who may try to sign up for your mailing lists using fake or invalid addresses. You can also prevent your customers from signing up for unwanted offers or newsletters.
06: Email Verification (EasyDMARC)
Email verification (also known as email authentication or email authentication scheme) is a security feature that helps to protect against fraudulent emails. It's a process of verifying the authenticity of an email by checking its sender and subject against a set of known, trusted data.
07: Email Discovery
Email discovery is one of this tool's most popular features, giving users a comprehensive view of their email archives. It helps them to identify and analyze the different types of emails that they have received over the past few years.
This is a vital tool for anyone who desires to improve their communication skills, as it allows them to learn how they interact with others. Users can enhance their relationships by better empathizing with others and understanding their feelings by understanding their patterns.
08: Emails scraper
Hexomatic is one of the most effective options for extracting valuable information from emails. It helps users extract essential data such as email addresses, contact details, and even the content of an email.
09: Google shopping automation
Google shopping is one of the most popular features of the Hexomatic AI tool. It allows users to automate their purchases through pre-made orders, meaning they no longer have to spend time entering each item into their shopping cart. This makes shopping much faster and easier and saves them time and money.
10: Grammar & spelling audit
Hexomatic has a grammar & spelling checker option that uses AI technology to help you improve your writing. It offers a grammar & spelling audit as one of its features, which allows you to analyze your report and find errors in grammar and spelling.
11: Image converter
Hexomatic is one of the best AI tools on the market, and it has a remarkable feature called the Image converter. This tool can help you convert between different image formats, including JPEG, PNG, GIF, BMP, and TIFF. It's simple to use and perfect if you need to convert images for use in your website or blog.
12: Keyword finder
Hexomatic has a powerful keyword finder that can help you specify the right words to target for your SEO efforts. It delivers a wide range of features that make it easy to find the most appropriate keywords for your business.
One of the essential features of Hexomatic is its ability to identify long-tail keywords. This means that it can find keywords that are not commonly found in search engines but are still crucial to your target audience. This makes it easier for you to rank higher in Google and other major search engines, as these keywords will more likely convert into customers.
13: Mobile Friendly Checker
Hexomatic is one of the most popular automation tools on the market, and its Mobile Friendly Checker is one of its feature highlights.
The Mobile Friendly Checker is a tool that helps you check your website for mobile compatibility. It uses various techniques to assess how your website will look on different mobile devices and provides suggestions for making it more mobile-friendly.
14: Phone Number scraper
Hexomatic is one of the most popular tools on the market. It has a powerful phone number scraper feature. This tool allows you to extract all the contact information from any given phone number in just a few clicks.
This is a handy tool for business owners who want to keep track of their customer database. You can utilize it to find out who your customers are, their contact information, and how often they contact you. You can also use this information to improve your marketing efforts by targeting your ads toward specific people and demographics.
15: SEO Backlink Explorer
SEO backlink explorer is one of the Hexomatic features that help you find and analyze your website's backlinks. It lets you view your website's linking profile and identify negative or positive links.
This is a handy tool for SEO professionals because it can help them track the progress and effectiveness of their link-building campaigns. It can also help them spot unnatural or undesirable links that may harm their website's rankings. And finally, it can also provide insight into which keywords are most frequently linked to your website.
16: SEO backlink intelligence
SEO backlink intelligence is a feature of Hexomatic tool that helps you identify and analyze the links to your website. It uses various methods to explore those links, including analyzing the anchor text, the link structure, and the age of the association.
By understanding how links work on your website, you can improve your SEO rankings by ensuring that your links are high-quality and relevant. In addition, you can use this information to track the performance of your website over time so that you can make adjustments as required.
17: SEO Meta tags
SEO meta tags are one of the many features of the Hexomatic ai tool. They are essentially descriptions of your website that can assist search engines in finding and indexing your content more easily.
Meta tags can be used to describe your website's:
– Title tag
– Description tag
– Keyword meta tag
– Robots.txt file
– Favicon file
18: SEO-referring domains
Hexomatic is a powerful Web scraping tool that can help you to improve your website's visibility by providing you with relevant and valuable traffic from search engines.
To start referring domains, first sign up for a free account at Hexomatic. After that, click on the "Referring Domains" tab and enter the domain name or URL of the site you want to refer to. You will then be able to select the number of referring links you want to give away and specify a timeframe for when those links should expire. Finally, hit the "Submit" button to start the process!
19: Schema Scraper
Schema scraper is a Hexomatic AI tool feature that helps you extract data from various sources and makes it easily consumable by your application. It helps pull the data from web pages, PDFs, documents, tables, and other sources. It then converts the data into a format compatible with your application's requirements.
Schema scraper also provides various options for filtering and sorting the data. You can also use it to generate reports about your extracted data.
20: Traffic Insights
Traffic Insights is one of the fantastic features of the Hexomatic AI tool. With Traffic Insights, you can keep track of your website's traffic performance in real-time and make changes to your marketing strategies accordingly. You'll see which areas of your website are performing the best and which are lagging. This will help you optimize your website for better traffic results.
21: XML sitemap generator
Hexomatic is a popular AI tool that helps businesses measure and improves their website performance. Among its many features, Hexomatic includes a powerful XML sitemap generator. This tool allows you to easily create and update your website's XML sitemap, which is a critical part of optimizing your website for search engine optimization (SEO).
The benefits of creating an XML sitemap include the following:
Helping your website rank higher in search engines.
Increasing the number of visitors who can find your pages on the internet.
Improving the speed and accessibility of your website.
Read More :
01: Branalyzer Lifetime Deal [$49]| Appsumo Exclusive Deal
02: Shopia.ai Lifetime Deal – AI Content Writer
03: Radaar.io Review: Social Media Management Tools
04: Labrika Review: 10 Best Features & Pricing
05: Hexomatic Review | Best Web scraping and Automation Tool
Frequently asked question
How are automation credits counted?
Automation credits are used when we carry out a task (for example, fetching a page, extracting emails, creating a screenshot, getting WHOIS data, extracting social media links automatically, and discovering tech stack).
Which websites can I scrape using Hexomatic?
The Hexomatic scraper can extract large amounts of text, numbers, and images. Some websites have implemented countermeasures that are effective in preventing us from extracting data. For websites needing more advanced countermeasures, we've released a residential proxy add-on available on a premium credit system.
What is premium automation?
Hexomatic offers two different types of actions and automation you can use in your workflow: The Hexomatic team builds automation features that consume your monthly automation credits. Premium automation provides users access to external services (for example, machine translation, a proxy, or AI services) that are not built in.
Are payments for Premium credits refundable?
You won't get a refund for premium credits.
Can I stack more than 10X?
The maximum number of automation credits you can purchase is 1 million.
Do you have any use cases to illustrate how Hexomatic works?
You can find out more about our use cases here:https://hexomatic.com/use-cases/.
What integrations does Hexomatic provide?
Hexomatic has integrations that allow it to work with a wide range of different software programs. Like:
Google Sheets
Discord
Telegram
Slack
Microsoft Teams
Integromat
SQL databases
Zapier
Integrity
Pabbly Connect
KonnectzIT
WordPress
Conclusion
Hexomatic is an excellent tool for business owners, researchers, and anyone who wants to collect data from different websites. Its simple interface makes it effortless to use, and its versatile features make it a powerful tool for data analysis.