The Internet is a great place for ideas, people, and businesses to come together. But sometimes we can't help but make mistakes when we type or write an article on our keyboards because grammar is hard! That's where Grammar Checker Tools come in handy. These tools are designed to fix the errors that plague us all while writing on the Internet. If you're tired of making these same mistakes over and over again, then read this article for some tips!
01: Grammarly —Premium grammar checker for bloggers
02: ProWritingAid —Easy-to-use tool applying AI processes
03: Linguix — The writing assistant you need
04: WhiteSmoke — Grammar and style checker solution
05: Ginger Online — Start proofreading your texts fast
06: LanguageTool — Tool for more than 20 languages
07: Outwrite — Writing help for clear communication
08: Writer — The grammar checker for professionals
09: Hemingway App — App to make your writing bold and clear
9 Best Online Grammar Checker Tools for WordPress
Grammarly is the world's most accurate grammar checker. They have a free version and paid versions, but the free version works for most people. Grammarly checks your writing for more than 250 different types of errors and mistakes in English and Spanish to give you an A+ grade on grammar, spelling, punctuation, style, plagiarism, vocabulary usage, and more. You can download it as a browser extension or use their web app, which has 100% compatibility with all major browsers, including Safari®, Firefox®, Chrome™, etc. It also has an offline mode, so you don't need an internet connection to proofread your work! This makes it perfect for writers who often travel or stay at places without reliable Wi-Fi or data connections. 
Pricing and plans:
Premium plan
$11.66 per month.
1-year plan billed as one payment of $139.95.
$19.98 per month.
The quarterly plan is billed as one payment of $59.95.
Business plan
$25.00 per month.
For one member (minimum three members).
$12.50 per month.
For one member (minimum three members, billed annually).
The ProWritingAid grammar checker tools are a must for bloggers and affiliate marketers. With over 5 million downloads, this app has proven itself to be reliable and efficient. It checks spelling as well as grammar while also providing style-checking tools. Bloggers will find it particularly helpful when writing blog posts or emails to their audience because it can help eliminate the time spent editing post content before publishing. The app is free with an upgraded premium version that includes additional features such as plagiarism checking and vocabulary enhancement suggestions.
Pricing and plans:
Premium plan
$20.00 per month.
$79.00 per year.
$399.00 lifetime.
One-time payment.
Premium Plus plan
$24.00 per month.
$89.00 per year.
$499.00 lifetime.
One-time payment.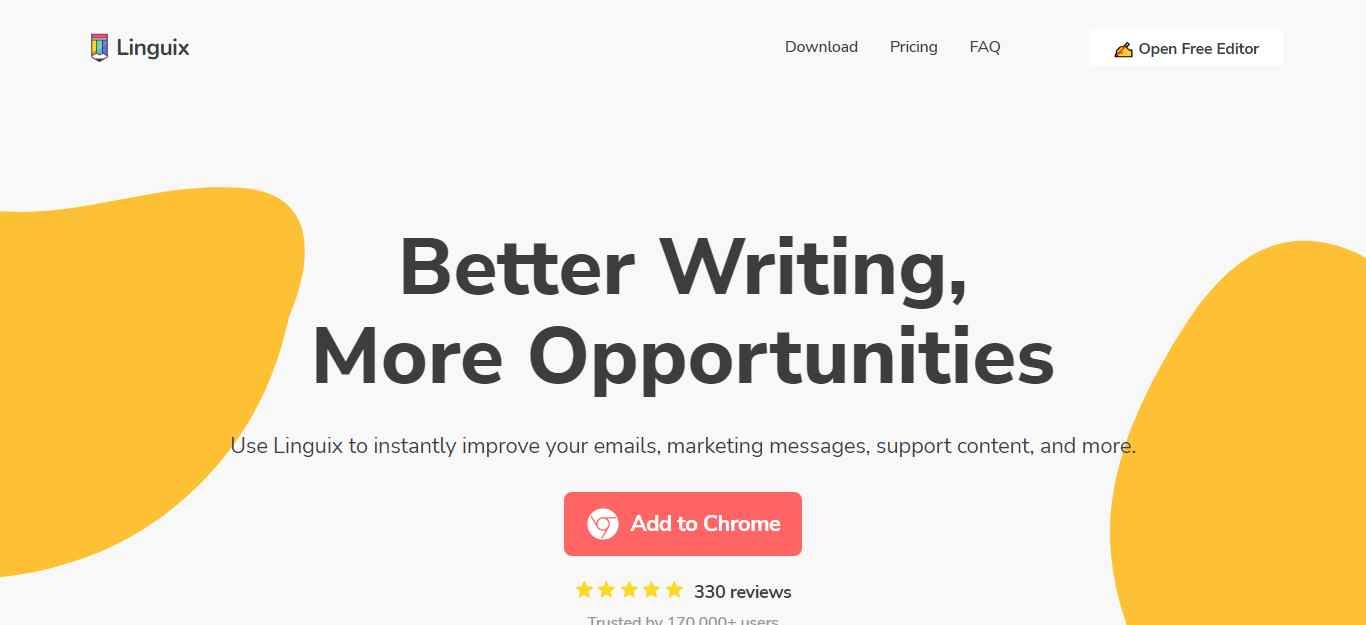 Linguix is a company founded in 1999 that provides an online grammar checker and other language-related tools. Their website is available in more than 20 languages, and they offer the ability to create your custom dictionary of words you work with frequently. Linguix was created by a team of linguists who value clean communication over all else. They strive to provide their customers with the best possible service at an affordable price. You can use Linguix for proofreading drafts, correcting errors as you type, or just checking for spelling mistakes before sending off emails or important documents!
Pricing and plans:
Premium plan
$14.99 per month.
$36 quarterly or $96 annually.
$8 per user per month if paid annually
Business
$20 per user per month (minimum 3 users).
$10 per user per month if paid annually (minimum 3 users).
WhiteSmoke is a suite of grammar-checking tools that help people with writing. It includes a spell checker, plagiarism detector, and grammar checker. This blog post focuses on the grammar checker feature. The tool checks for grammatical errors in sentences and inconsistencies in punctuation and capitalization, among other things like sentence structure, word usage, etc. It works by scanning an entire document to produce a summary report of any issues found across all pages. The information saves time when editing content because it lists the page numbers where each error was discovered so you can easily find them again if needed. WhiteSmoke also comes with over 20 language packs, including the English UK, Spanish (Spain), French (France), and Portuguese.
Pricing and plans:
Web plan
$5.00 per month.
1-year plan billed as one payment of $59.95.
$3.47 per month.
3-years plan billed as one payment of $124.95
Premium plan
$6.66 per month.
1-year plan billed as one payment of $79.95.
$5.55 per month.
3-years plan billed as one payment of $199.95.
Ginger is an online grammar checker that can help you and your content shine. Ginger's free grammar-checking tool can be used anywhere from any device, making it an excellent resource for bloggers or marketers who are looking to polish their copy before publishing. 
Ginger's grammatical errors detection system checks for more than 3 million types of mistakes, including spelling mistakes, punctuation errors, and word usage mistakes. It also detects plagiarism by checking against the world's most extensive language database-ensuring originality in all of your posts! 
Pricing and plans:
Premium plan
$20.97 per month.
$7.49 per month.
1-year plan billed as one payment of $89.88.
$6.66 per month.
2-years plan billed as one payment of $159.84.
The LanguageTool grammar checker tool is a great way to ensure your blog posts are error-free. This free online tool can be used on any text, including emails and social media messages. You can also use the grammar checker for personal writing projects like school essays and reports. There's a paid version available that features additional tools such as spellcheck, translation, style checking, and more! The LanguageTool grammar checker is one of many excellent free tools you'll find at Bloggers' Go-To Tools – make sure to bookmark this page for future reference!
Pricing and plans:
Premium plan
$19.00 per month.
$13.00 per month.
The quarterly plan is billed as one payment of $39.
$4.92 per month.
1-year plan billed as one payment of $59.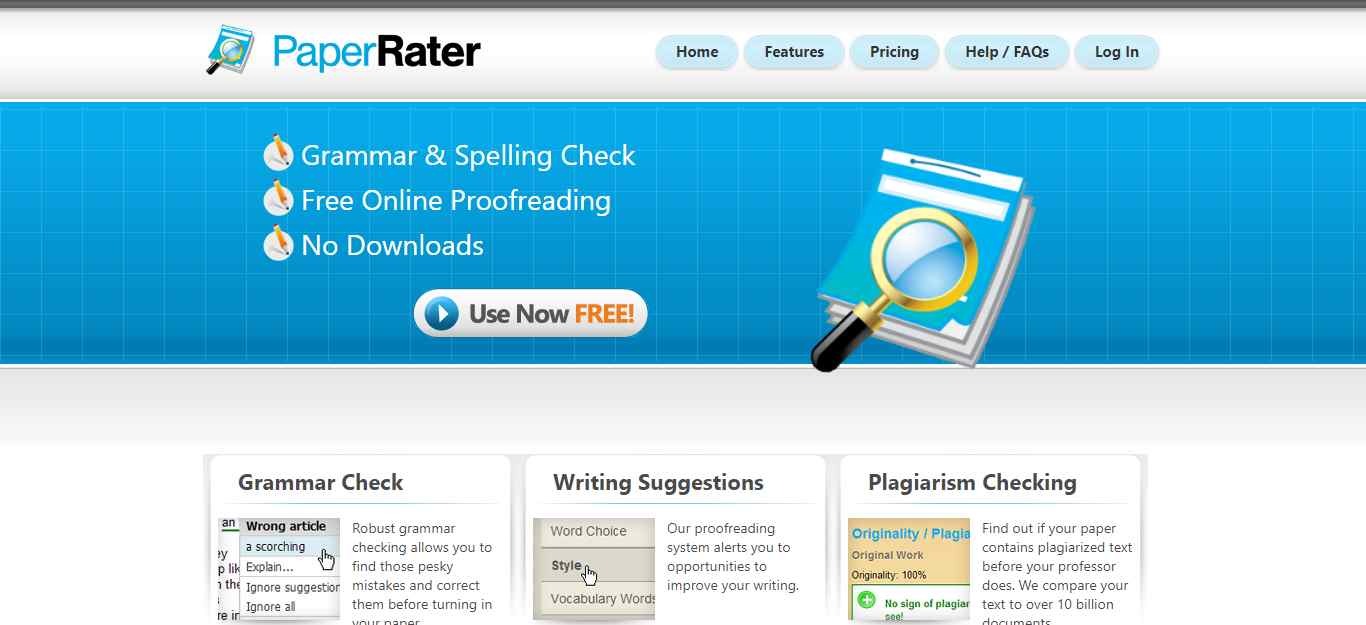 You have probably been told that grammar is essential, but did you know there are tools to help? The Paper Rater grammar checker tool has a free version and premium versions. The Paper Rater checks for common errors in writing and offers suggestions on how to fix them. 
In addition, the article features four tips from Laura E. Davis of Grammar Girl's Quick and Dirty Tips for Writing Better, which will help your readers enjoy reading what you write! These tips include: use strong verbs, make sure who/who goes with what, keep it simple; don't overuse "very," and be concise-write less, not more. 
Premium plan
$11.21 per month.
1-year plan billed as one payment of $71.55.
The writer is the perfect app for bloggers. The writer checks spelling, grammar, and punctuation for any document with a single click of the button. It's so easy! The writer will also suggest words as you type that match what's on your screen. This way, the writer catches even more mistakes than just those related to spelling or grammar. It's like having an in-house editor at all times! The best part is that it takes no time to download and set up this excellent tool – it only takes one minute.
Pricing and plans:
Starter
The Hemingway App is a revolutionary text editing tool that makes it easier than ever to write engagingly. This app has two main features that make it so useful for bloggers and marketers alike: the Readability Index, which helps you identify how difficult your writing will be for readers, and the Spaced Editing Tool, which enables you to determine where your sentences might be too long or complicated. There are plenty of ways to use this app as well–you can just run through it one time with each feature turned on if you're not sure what version would work best for you! 
Pricing and plans: 
$19.99 lifetime.
One-time payment
Faq: 
How to choose a grammar checker software.?
Choosing the right grammar checker software can be a difficult task. There are so many different options out there, and they all seem to have their own set of pros and cons. To make things easier, we've put together a list of some of the most popular ones, along with what you should look for when deciding which one will work best for your needs.
What is the best grammar checker?
Don't let your content be the one with bad grammar. With so many tools out there, it's never been easier to make sure you're as professional as possible. 
What are some of the best grammar checker tools? Grammarly, Hemingway App, Ginger Software, and Microsoft Word all have features that can help make sure everything is perfect before publishing online or in print!
What is the best free grammar checker?
"Grammar is a necessary evil. We all know we need it, but no one really wants to do it. It's boring and tedious, so why bother? But without grammar, your sentences are incomplete and ineffective." 
"Luckily there's an app for that! Grammarly is the best free grammar checker out there. Get yours today!"