Native Ad Networks are networks of websites that offer advertisers a place to advertise their product or service for a cost. This type of advertising is called Native Advertising because it blends into the look and feel of the website where it appears. The two top Native Ad Networks are Google's DoubleClick network and Facebook's Audience Network. The best way to think about a Native Ad Network is as an online ad agency that connects brands with publishers who want to monetize their traffic by showing ads on their sites, apps, and social media channels in exchange for some form of compensation such as revenue share or a flat fee per impression (also known as CPM). There are many reasons why you might consider using a native ad network: increased brand awareness, higher conversion.
How to choose a Native Advertising Platform:
It's essential to choose the best native advertising platform for your business because it can help you grow and expand. Before making a decision, consider these 7 things:
Targeting Options

Technology

Content Management

Customization

Design

Pricing

Audience Reach
Types of Native Advertising:
1) Sponsor Content- This is when brands get their name on posts by bloggers or journalists by providing them with money or other forms of compensation.

2) Sponsored Search Results- These are results from search engines where companies sponsor listings, so they're more noticeable than others.

3) Display Ads- these are all over the internet on websites like Facebook or Twitter

4) Social Media Posts- they can take many forms, from videos to text posts.

5) Video Ads- this is when advertisers pay more for something, so it will have a more extended reach on social media

6) Mobile App Formats- apps such as "Flappy Bird" or "Angry Birds."
10 Best Native Advertising Platforms for Publishers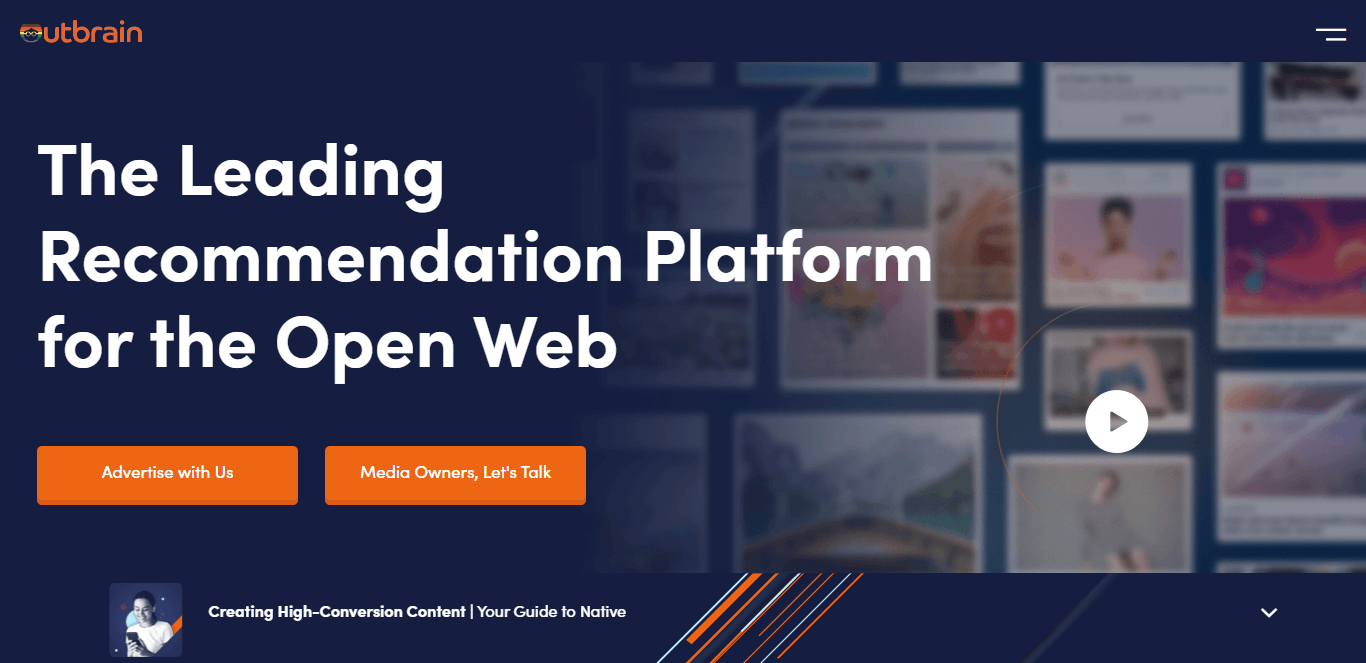 Outbrain is a popular native advertising platform that connects brands with publishers to deliver content tailored for a specific audience. It can help you find relevant, engaging content to promote your brand and broaden exposure by reaching new audiences.
It also helps publishers increase their revenue streams by connecting them with advertisers seeking targeted marketing opportunities. If you're looking for a way to reach new audiences or grow revenue, then Outbrain Native Advertising Platforms may be right for you!
Outbrain offers various options for those who want to use its service, from sponsored articles, native ads, text links, videos, or slideshows.
In today's digital world, content is king. To provide the best user experience and engage your target audience, you need to be publishing new articles regularly.
Ensure your content is relevant and valuable and shared across social media networks like Facebook, Twitter, Pinterest, etc.
Thankfully there are many tools out there for publishers looking to share their content with readers, some of which include Taboola Native Advertising Platforms.
The Taboola native advertising platform provides an opportunity for marketers or bloggers who may not have access or time to publish their own sponsored posts. On other media such as Facebook Ads or Google Ads, campaigns can use this tool by selecting from over 150 sites in 10 countries worldwide and submit sponsored links.
Yahoo Gemini is a new ad product that delivers a native advertising experience. It has been designed to be the most effective way for advertisers to reach consumers while maintaining editorial quality standards and giving publishers an additional revenue stream.
Yahoo Gemini offers content discovery, programmatic targeting, and audience insights with their native advertising platform, available on desktop, tablet, or mobile devices.
Yahoo Gemini is the latest digital marketing tool that helps advertisers and marketers to create personalized ads. It also offers advertisers up to 40% higher click-through rates (CTR) and better return on investment (ROI).
This program is still in beta testing, but there have already been many positive reviews from both advertisers and publishers who have participated so far.
Nativo native advertising is a more immersive and engaging way to tell your story by leveraging the power of creative storytelling.
It's a natural fit for brand storytelling because it creates content that doesn't interrupt but instead complements what users are already doing on social media, allowing you to reach audiences with content they care about organically.
Nativo is excited to be working with innovative brands that want their message heard through original stories rather than paid ads. We're looking forward to hearing from you!
TripleLift is a native advertising platform that offers advertisers the opportunity to advertise on high-quality content for publishers.It was founded in 2012 and has since grown exponentially, now serving more than 3 billion ads per month across six countries.
TripleLift's innovative technology places ads natively within the publisher's content without disrupting the user experience. This provides marketers with an entirely new way of reaching their target audience online while giving premium publishers a way to monetize content through ad revenue.
RevContent is the perfect native advertising partner. With over 500 million monthly impressions, they can deliver your brand message in an authentic way that doesn't feel like a typical ad and will help you generate leads.
I'm going to walk through some of the key benefits of using RevContent as your native advertising service provider with a few examples so you can see first-hand what makes them stand out from the competition. They're focused on delivering customer success, which means we'll work together to create campaigns that meet your KPIs and budget constraints. Let's dive into our points below!
MGID is a native advertising company that provides the latest in digital marketing. They specialize in social media, video production, and content marketing for an array of industries.
MGID has been around since 2013 and has offices all over the world, including New York City, London, Berlin, Madrid, Shanghai, and Tokyo.It also offers services to digital agencies, which will help them with their own clients and give them access to any other MGID products or services at substantial discounts. We offer both cost per click (CPC) and cost per impression (CPI) models. MGID can offer incredible value for both advertisers and publishers alike with such a wide range of expertise!
The new native advertising platform from Redirect.com will change the way bloggers and marketers alike make money online. The platform is designed to help them monetize their traffic by placing ads on their blog, social media profiles, and other places they have a following. It uses cutting-edge technology to ensure that it only shows relevant content for each reader by matching personal interests with advertisers' products or services.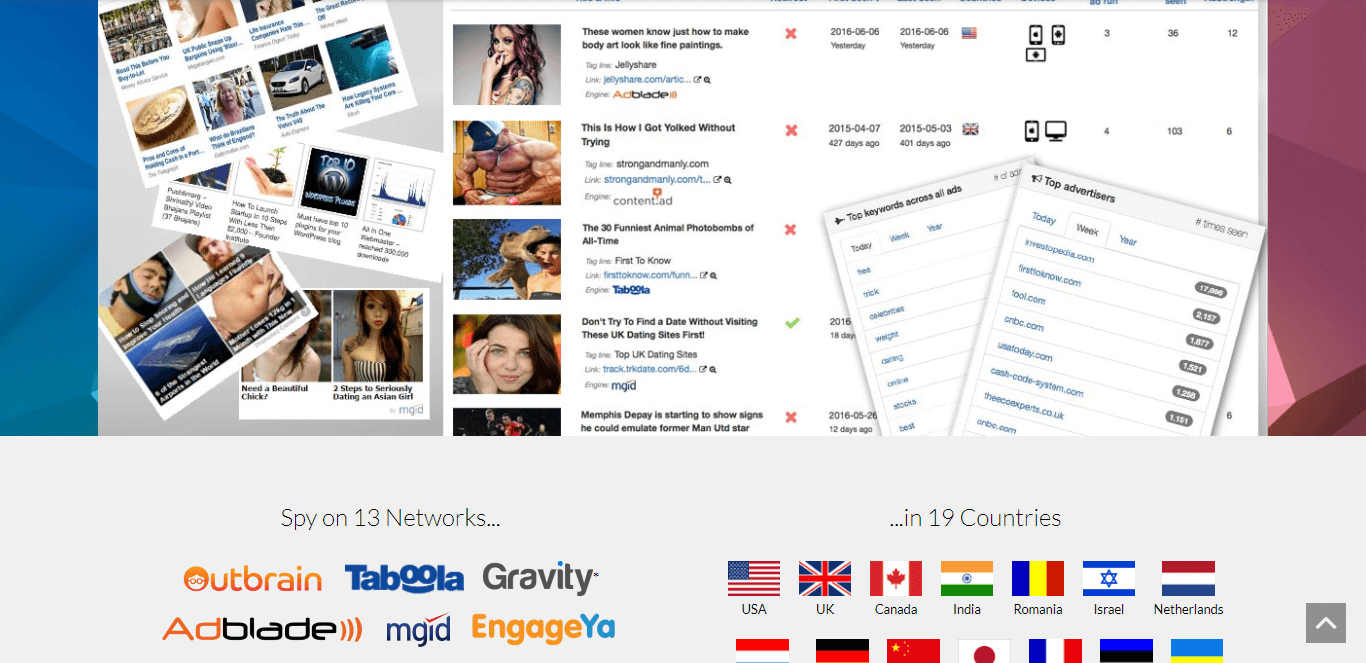 AdVault is a native advertising platform that helps marketers and bloggers monetize their content and reach the right audience.
Native advertising has been around for years, but it's only recently started to gain traction in mainstream media.
It's becoming more popular because of its ability to blend seamlessly into the site or app you're viewing without disrupting your experience with ads.
There are many advantages of using as an advertiser, including targeting by interests and demographics, building campaigns across devices, and direct attribution analytics.
AdNow is a native advertising platform that helps advertisers and publishers work together to create, distribute and earn revenue from high-quality content. Native advertising is the future of marketing because it targets a specific audience with mobile devices and computer screens. One of the many benefits of using native ads is that they can be found locally on Google search results pages, which has made them a lucrative option for small businesses.
Wrap Up
This is the best way to reach your targeted audience and increase your revenue. Unlike other ads, native advertising blends naturally with the text on the page without disrupting the user experience. It's also easy for brands to produce content that is native because it will have products or services relevant to their target market.