In the digital age, everything is about sales. From websites to blogs, everyone has to know how to sell their product or service to be successful. A sales funnel an online marketing tool that helps generate revenue for a business.
This software is used to identify potential buyers and convert them into customers by knowing what they want when they purchase it and how much money they're willing to spend on this product or service.
Sales Funnel Software is designed for companies looking to generate more leads, convert them into customers, and increase customer retention rates. Let's take a look at some of our favorite picks in this category!
What is a Sales Funnel?
A sales funnel a vital aspect of a business. It can track and measure how many customers are coming in, how many are making purchases, and what products they are purchasing. A sales funnel measures each customer's level of interest as well as their journey through your company. After identifying which customers would be most likely to purchase your product or service, you can target them more specifically with advertisements and promotions. The sales funnel a strategic technique for marketers that have been proven to increase conversion rates by 20%. It's also known as "conversion rate optimization" or CRO for short.
When to use Sales Funnel Software.?
Do you have the right people in your sales process? Are you struggling to close deals, or do you find that some of your leads are slipping through the cracks? If so, it may be time to invest in sales funnel software. A well-designed sales will ensure that all of your leads move from prospect to customer and allow for maximum conversion rates at every stage. Let's take a look at some of our favorite picks in this category!
Best Sales Funnel Software 2021:
01. GetResponse
02. Kartra
03. ClickFunnels
04. Keap (formerly Infusionsoft)
05. Wishpond
06. Thrive Themes
07. Leadpages
08. Landingi
09. Instapage
10. Marketo
11. HubSpot
Sales Funnel Software Features Compared :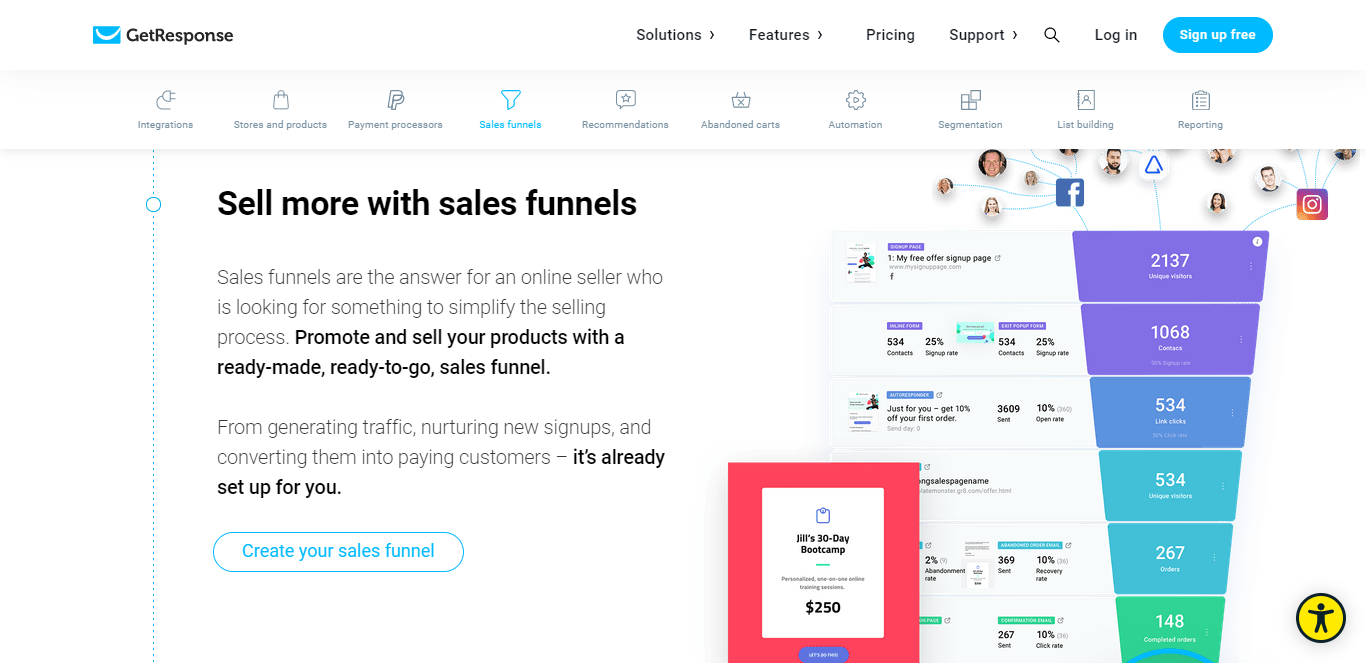 GetResponse is a powerful email marketing, and sales funnel software that has been trusted by over 200,000 businesses worldwide. This blog post will highlight the top 5 features of GetResponse to help you decide if it's the right fit for your business needs. It is also affordable and easy to use, making it perfect for small businesses and entrepreneurs on a tight budget. The platform offers many features, including sending newsletters, building landing pages, automated follow-up messages, and more. Check out the Getresponse blog for additional information about their services.
REASONS TO BUY :
Targeted email marketing and prospecting.
Free domain name registration.
Unlimited emails to 2,000 subscribers.
Built-in WYSIWYG editor for creating your newsletters.
24/7 support from a team of experts.
Kartra sales funnel software that has many features to help marketers and bloggers make more money. Kartra – Affordable & Beautiful; FluidSurge – Digital Marketing Automation + CRM; Avalara AvaTax Plus – Payroll Services Made Easy For Your Business Or Nonprofit Organization. The Kartra Software allows you to create landing pages, email marketing templates, social media strategies, and much more.
The system also tracks your data so you can see the success of your campaigns in real-time. Kartra is a complete suite of tools for online marketers looking to maximize their results across channels like Facebook Ads, Google Adwords & YouTube Advertising (to name just a few). It includes Lead Capture Pages with Live Chat Support, Sales Funnel Templates for Email Marketing, and Social Media Campaigns – all from one easy dashboard!
REASONS TO BUY :
Automated Lead Capture.
Landing Pages Integrated.
It's a beautifully designed software.
No coding knowledge is required.
Kartra allows you to fully customize your pages, graphics, videos, and more all from one place!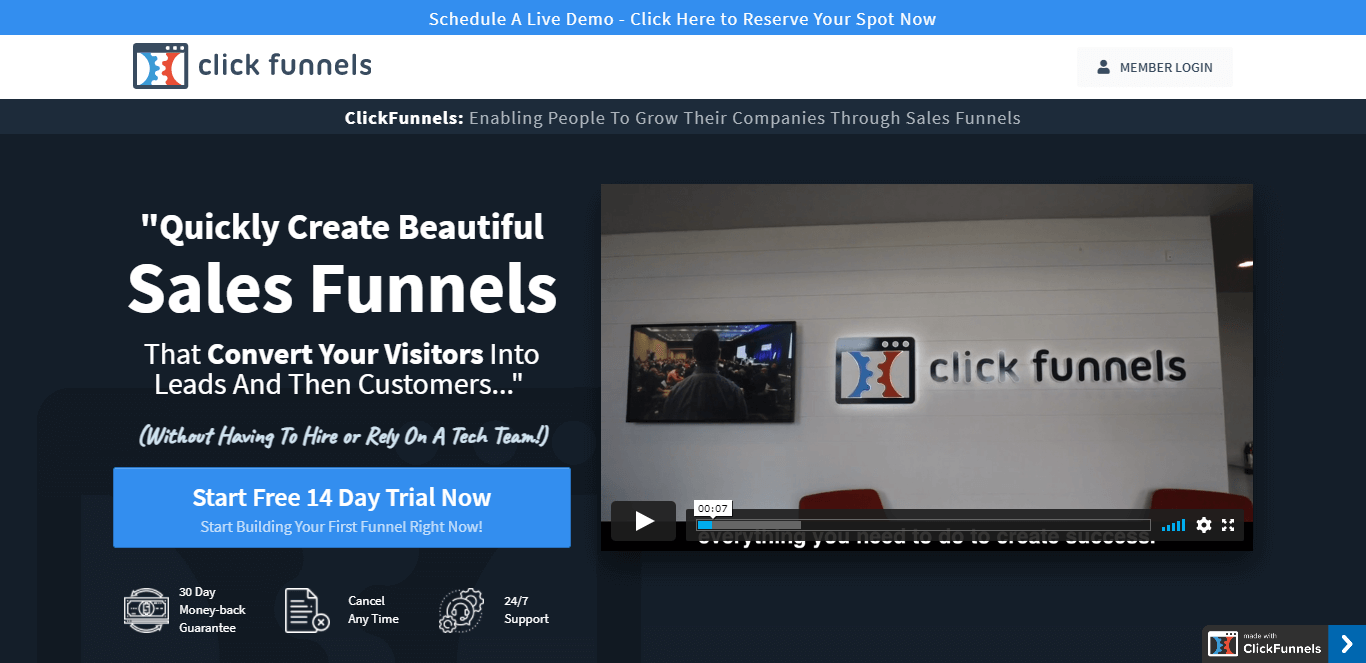 ClickFunnels is a robust sales funnel software that allows you to create any type of sales funnels imaginable. Whether for your business or just as an experiment, this tool can help you grow your following and increase revenue exponentially. With the ability to build high converting funnels in minutes, Clickfunnels has become one of the most used tools by marketers and bloggers alike. In addition, Clickfunnels offers drag and drops technology, so there's no need for technical know-how – all you have to do is select what kind of page layout you want from their prebuilt templates!
REASONS TO BUY :
Lead capture capability.
Drag and drop editor.
Lead Capture Tools.
Quality Landing Pages.
A/B Testing Toolkit.
Email Integrations & Actionetics, and More.
Keap is a sales funnel software that helps small businesses better manage their leads and turn them into customers. The system was built by Infusionsoft, which has been in the industry since 2001 and has helped over 50,000 companies grow their businesses. Keap's features include email marketing, lead capture funnels, online order forms for customers to purchase products or services directly from the website with just one click, and more. Keap also offers 24/7 customer support so you can be sure your questions are answered quickly and efficiently! Keap is an innovative solution that helps companies take their marketing to the next level by providing everything they need in one easy platform: CRM, contact manager, lead generation tools, email automation, and more! Get started on your free trial now!
REASONS TO BUY :
Keap Sales Funnel is the only sales funnel software that integrates with all major email marketing providers.
The average customer has a 30% higher conversion rate when they use Keap Sales Funnel.
Keap Sales Funnel allows you to create personalized landing pages for each of your customers.
Keap Sales Funnel allows you to track and measure every click, lead, and sale on your website or blog.
If you're a business owner who doesn't have time to manage your emails, we have an easy solution! Our system automatically sends out pre-written emails, so it's done for you!.
Wishpond Sales Funnel Software is one of the best sales funnel software available in the market. This marketing automation tool offers a lot more than just simple, effective lead capture and marketing campaigns. With this, businesses can create traffic with their videos or landing pages to convert them into leads from visitors interested in what they do. Furthermore, it also allows you to set up drip email sequences that follow your customers through every stage of the buying process until they purchase something which will peak their interest for future purchases! It's like a personal assistant keeping track of potential buyers all at once.
REASONS TO BUY :
Targeting your ideal customer.
Ease of use Sales funnels is meant to be easy.
Wishpond is user-friendly.
Intuitive and straightforward.
One-click sign up.
The Thrive Themes Sales Funnel software is the first of its kind in the WordPress industry. Thrive Themes designed to help you create a sales funnel that will increase your revenue and leads for your business. The system offers email capture, lead generation, and conversion tools to allow you to get more customers faster.
This allows it to be compatible with any website design or layout, so you never have to worry about change again. Plus, this ensures your site will stay up-to-date with all of Google's latest updates while still being able to maintain fast loading speeds on any device – desktop PC or mobile phone!
REASONS TO BUY:
Easy Table editing tool.
Salesforce integration.
Quick campaign builder.
A drag & drop editor for pages (WYSIWYG).
Campaigns management and analytics suite.
Leadpages is a cost-efficient, and easy-to-use sales funnel software that helps marketers create landing pages, lead capture forms, webinars, email marketing campaigns, social media ads, and much more. It has an easy interface that allows you to make your funnel without any coding knowledge. You can start creating effective sales funnels in minutes. After making your funnel with Leadpages, it becomes more powerful by tracking conversions and optimizing them based on how people interact with the pages in your funnel.
REASONS TO BUY:
it's affordable at $25/month for small businesses.

You can get started in minutes with no coding knowledge required.

There are over 100 templates to choose from, so it's super easy to find the perfect one for your business needs.

They have excellent customer service, which means a friendly voice always greets you.

Their Audience Targeting Tool allows you to target specific audiences on Facebook or Google Adwords.
Landingi is the leading sales funnel software that has helped many companies like yours increase their revenue. The Landingi platform provides marketers with all of the tools they need to create effective marketing campaigns from scratch or by using templates. It also helps them optimize their current strategies to improve performance and efficiency. Finally, it can be used as a standalone product or integrated into existing systems for an even more seamless experience. With Landingi's robust features explicitly designed for marketers, you'll have everything you need to reach new heights of success!
REASONS TO BUY:
Easily create marketing campaigns.

Automatically send customers emails.

Generate leads.

Create custom email templates.

Track customer engagement.
Instapage is an easy-to-use web design and marketing software that allows you to create beautiful landing pages, lead generation campaigns, website templates, and more in minutes. It's an excellent way for marketers to save time on designing websites or landing pages from scratch. In addition, Instapage offers three pricing plans: Starter Plan (free), Pro ($99/month), and Enterprise ($999+/month).
If you seek an easy website builder or want to try out some of the features before purchasing it, download their free trial at https://www.instapage.com/. You will be able to instantly create a landing page with unlimited visitors without any credit card required!
REASONS TO BUY:
The drag-and-drop editor lets you design beautiful landing pages without needing any technical skills.

A/B Testing allows you to test different versions of a page and compare their performance side by side.

Landing Pages for multiple social media channels allow you to promote Facebook, Twitter, YouTube, RSS Feeds, etc.

Cross-Platform Compatibility means that no matter what device visitors are using (mobile phone or desktop), they'll be able to enjoy the same experience.
This platform has all the right features to help you with your marketing efforts. It includes an intuitive interface, and it offers automation across channels like social media, emailing campaigns, advertising on search engines or online display ads.
REASONS TO BUY:
Marketo is the leading marketing automation software.
Marketo provides a unified customer experience across multiple channels.
Marketing teams can collaborate through the platform's suite of features.
Marketo has an open API for integration into other third-party tools.
The company offers free trials and demos to help you decide whether or not it's right for your business.
HubSpot Sales Funnel Software is software that allows you to create, manage and track your sales funnel. It provides all the necessary tools for marketing automation, lead management, and tracking. With this tool, you can create personalized emails automatically with templates or snippets of code. The email campaign will also be tracked so you know which one is performing better than others. You can also use it to generate leads through social media by following up on the profiles of potential customers who have been exposed to your content online. This software has many features such as lead scoring, contact lists, and CRM integration among other things.
REASONS TO BUY:
HubSpot is a marketing and sales platform that can be used to automate your entire marketing process.
HubSpot's CRM tool allows you to track the lead through the pipeline from start to finish
You get all of this for $250 per month which is less than what most companies spend on social media alone.
With HubSpot, you have access to over 1,000 integrations with other apps such as Salesforce or Shopify.
The best part about it is that if you don't like it for any reason then they will refund 100% of your money back!