Are you tired of coding websites yourself? Do you want an easy website builder that you can use to create beautiful websites without any prior coding experience? If so, then you need WebWave! WebWave is an online drag-and-drop website builder that makes web design simple and easy. You can create websites in minutes, there's never been a better time to get started! So what are you waiting for? Start building your dream website today with WebWave! let's start the WebWave review.
Powerful features of WebWave Website Builder:
WebWave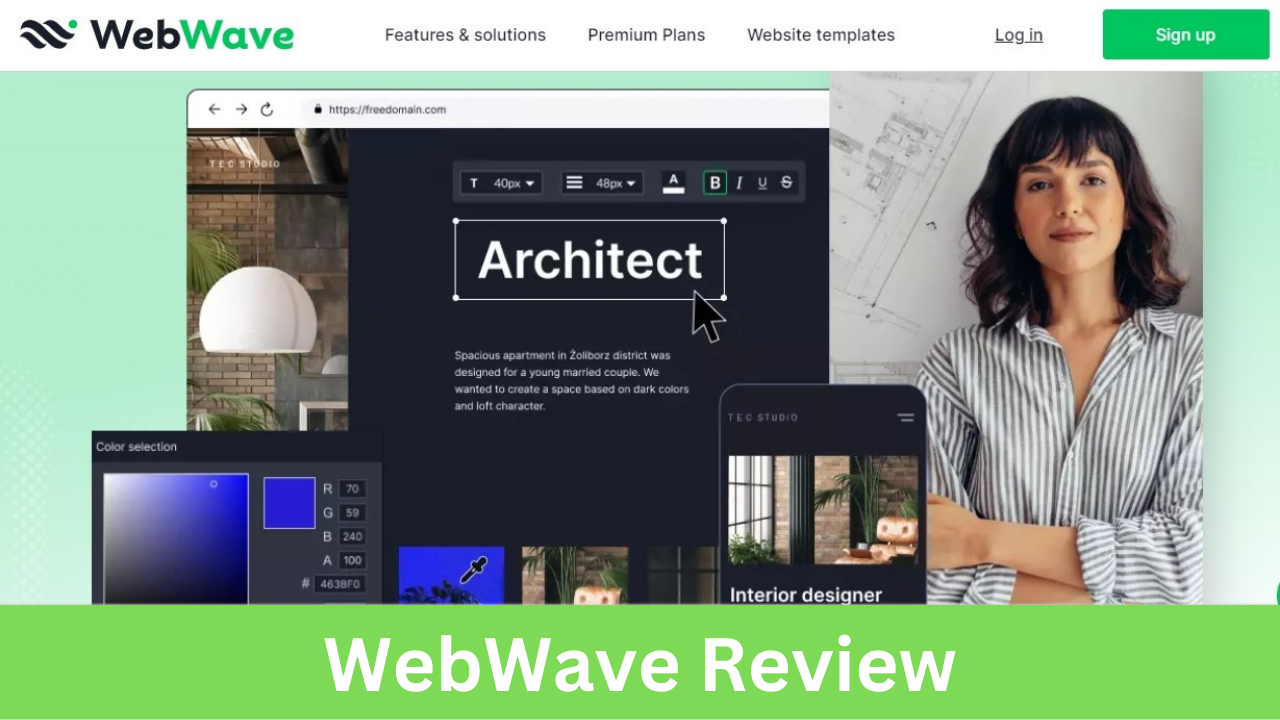 Pros
Easy to use and intuitive interface.
Drag and drop functionality.
Ability to integrate with third-party services.
Hundreds of templates to choose from.
SEO-friendly design and optimization options.
Responsive design on mobile devices.
Built-in hosting and domain registration.
No coding is required.
Security features such as SSL encryption and malware protection.
Cons
 Lack of support for specific languages.
WebWave Website Builder is a powerful website builder that provides users with a variety of features and customization options. It's easy to use and makes it simple for users to create complex websites without any programming knowledge. There are many templates and themes available, so you can easily create the website of your dreams. WebWave also offers privacy protection for user data, making it a great option for online businesses. So if you're looking for a website builder that offers a lot of power and flexibility, look no further than WebWave!
01: Drag and drop website builder
Webwave Website Builder allows you to build beautiful websites in minutes. You can use it to create a perfect business website, from a simple blog to a full eCommerce store. It also has built-in features like blog management, social media integration and more. With WebWave, you can create custom forms, landing pages and more. With webwave building a website from scratch is easy. Besides you can customise your website again wherever you like.
02: Size and Placement of Dynamic Elements
Dynamic web design has become increasingly popular in recent years as websites are designed to be visually appealing and user-friendly. WebWave website builder makes designing your website easy and fun – perfect for beginners! You can place website content quickly like text, photos and videos anywhere on the page, making it extremely customisable. Furthermore, with its size limit of 1000 KB you can create high-impact websites without having to spend a fortune.
03: Graphic Design Tools inspired the Interface
Graphic design is a critical part of any website interface, and that's where WebWave comes in handy. This web-based graphic design tool lets you drag and drop Website Builder to create your perfect website template in minutes. You can use it as a canvas wherever you like to design websites for all types of businesses, including eCommerce sites and blogs. Webwave is an easy-to-use and true drag-and-drop website builder.
04: Fix Elements on the Scroll
If you're looking for a website builder that makes web development fast and easy, WebWave is a perfect choice. With tons of features like contact forms, banner ads, Google Analytics integration, and more – it has everything you need to create a website easily that looks great and functions perfectly. Plus, it controls the website.
05: Show Things as you Scroll
Creating a website is now easier than ever. With webwave Website Builder, you can easily design and customize your website with drag-and-drop features. Plus, the platform is completely SEO optimized- meaning that it will rank well for the right keywords in search engine results pages (SERPs). Adding content is simple too- just use the built-in editor or import content from other sources such as articles, images, etc. WebWave also offers a wide range of template options to choose from so you can get started quickly without any coding knowledge required!
06: Hover Effects and Click-to-Show/Click-to-Hide Elements
Hover effects and click-to-show/click-to-hide elements are two features that make web design faster and more efficient. By adding these simple enhancements to your website, you can increase the user's interactivity and engagement with your content. Moreover, the drag-and-drop page builder makes creating pages a breeze – making it even easier for users to get started on building their dream website!
07: Parallax Effect
WebWave Website Builder offers a parallax effect that creates the illusion of depth on your website. This makes your content look more interesting and increases engagement with your users; it also enhances the user experience by creating an engaging interface. Setting up WebWave is easy and can be done in just minutes, making it perfect for businesses looking to get started quickly with web design or development projects.
08: Animated Sliders
If you're looking for a simple way to create high-quality websites that look great, WebWave Website Builder is the perfect solution. With drag-and-drop design tools and easy access to multimedia content, you can have a website up and running in minutes. Plus, the templates are highly customizable so you can make your website look exactly how you want it to. With all of these features combined, there's no reason not to try WebWave today!
09: Drag and Drop Galleries
Creating professional galleries with WebWave is a breeze – there's no coding required! Simply drag and drop content into your galleries, add hotspots for extra interactivity, and you're ready to go. You can also incorporate apps into your website design along with responsive design for optimal viewing on all devices. WebWave makes website building quick and easy – so get started today!
10: Payment Options and Ways to Ship
Businesses need to be flexible when it comes to payment options and shipping methods. There are a variety of ways through which you can process payments, as well as make the process easy for your customers. Moreover, web-based eCommerce platforms like WebWave make online shopping very simple and efficient – perfect for businesses with a new website or those who want an updated one without any hassle!
11: Special Deals and Discount Codes
There are often special deals and discounts available on WebWave, making it the perfect website builder for businesses of all sizes. You can use WebWave to create a professional website in minutes – without any coding required! Plus, it's also great for creating a simple blog site or eCommerce store. So don't wait any longer – start building your dream website today using WebWave!
12: Sell Digital Products
WebWave is a drag-and-drop website builder that makes it easy to create custom websites. This tool makes selling digital products as simple as drag-and-drop – no coding required! Plus, the builder has a wide range of powerful features that make it easier for you to design high-quality sites, including beautiful templates and an intuitive interface. The builder also includes built-in marketing tools so you can easily promote your website and increase web traffic. So why not give WebWave a try today? You won't regret it!
13: Improved Website Code
WebWave is a website builder that offers drag-and-drop website design, making it easy for you to create your own website. You can also use WebWave for marketing purposes – generating leads and building relationships with potential customers. It's perfect if you want to create a professional online presence for your business.
14: Automatic SEO Analysis
In order to improve your website's search engine ranking, it is important to have an automated SEO analysis. WebWave offers a comprehensive and accurate system that does just that – helping you optimize your website for better ranks. You can also keep tabs on the organic traffic and conversion rates to gauge the effectiveness of your efforts so far. The drag-and-drop website builder makes creating a professional website easy and efficient – perfect for small businesses who want quality content without any fuss!
15: Website Traffic Data
Website traffic data is an important indicator of a website's success. By using WebWave, you can see exactly what pages are driving the most traffic and make necessary changes to ensure that your website remains top-of-mind. In addition, this tool ensures that you keep up with online trends and updates so that your website looks modern and contemporary.
16: Management by Professionals
Creating a website is an important part of online marketing. However, if you don't have the necessary skills or time to do it yourself, then hiring a web designer might be the best solution for you. One such website builder that can help you easily create your own website is WebWave. This powerful tool has an easy-to-use drag-and-drop interface that makes creating pages and posts very simple. You can also manage your website using the admin panel which comes with lots of features for managing content, email marketing campaigns, etc. Overall, WebWave provides all the tools needed to create a professional website in no time at all!
17: Security
It is always important to have online security measures in place to protect your personal and professional data. WebWave offers a secure website builder that makes it easy to create a website without any worries. In addition, the lifetime deal offer gives you access to tons of features at an incredibly low price!
18: It's Easy to Write and Publish Articles
Freelance writing and publishing can be a great way to increase website traffic and conversions. With WebWave, you'll get your articles published quickly and easily – without any hassle or complicated formatting requirements. Plus, your articles are automatically optimized for search engines, so you're sure to find success with this content marketing strategy.
19: Content Managers
If you are looking to manage your content effectively and efficiently, then WebWave is the perfect tool for the job. It offers a user-friendly interface that makes it easy to create, upload and edit content. Additionally, there are tons of features that will help you improve the quality of your website – from auto-publishing to SEO optimization.
20: Cooperate with Your Group
Collaborating with your group is a great way to build teamwork and enhance creativity. WebWave makes it easy for you to get started by letting you work on projects with friends and colleagues. Plus, the website builder is super-easy to use – perfect for those who are new to web design or just want an efficient way of creating websites without spending too much time on them. You'll be able to create eye-catching websites that will impress your clients – all without having any coding experience! In addition, there are lots of powerful features included so you can really take control of your website design process. So go ahead and crank out some amazing projects – with WebWave, the task is simplicity itself!
21: Dynamic element sizing and positioning
With 22 dynamic element sizing and positioning, website design has never been so easy and fast. This versatile tool lets you resize and position any element on your website with ease- no more struggling to get the layout just right! Plus, it's perfect for businesses that need a simple, dynamic website quickly and easily. You can add unlimited content, footers etcetera without having to worry about design constraints- making your site look professional in no time at all.
22: Build your site from scratch
WebWave is the perfect website builder for beginners and advanced users alike. It has a range of features that are perfect for creating your website, from design to content management. There is also a lifetime warranty on all products, so you can be sure you're getting the best possible service.
23: Animations
There's no doubt that website design has come a long way in recent years. With drag-and-drop website builder WebWave, you can create websites that are both stunning and responsive. Not only does this tool have an impressive range of features, but its animations really stand out. This makes your website look dynamic and lively – perfect for businesses that want to attract attention from potential customers quickly and easily!
24: Built-In CMS
WebWave offers a range of built-in content management systems (CMS) that makes it perfect for creating custom websites. With all the features and customization you need, you can easily create an online presence that reflects your unique brand and identity. Furthermore, WebWave is very user-friendly – even the most novice web builder can use it without any difficulty.
Frequently Asked Questions
Read More :
01: Keyword Revealer Review | [$75] Appsumo Exclusive Deal
02: AI Content Labs Review | Best #1 AI providers on the market
03: Sendspark Lifetime Deal & Review | Record and Share Personalized Videos
04: Katteb Lifetime Deal [$29] | Best Fact-Checked AI Writing Tool 2023
06: LongTail Pro LifeTime Deal :($69) Appsumo Exclusive Deal
What is WebWave and how does it work?
WebWave is a drag-and-drop website builder that allows you to create beautiful, responsive websites in minutes. You can use WebWave to create your own personal or professional website for your business. All you need is the creative juices! Plus, there are no coding requirements – all you need is web design software like Adobe Photoshop or Illustrator.
What is the most Cost-Effective Website Builder?
When it comes to website builders, webwave is the best option for those looking for an affordable and user-friendly solution. webwave allows you to create a professional website without spending too much money. You can use
webwave to build websites for business or personal use. Additionally, if you need help with designing your site or want support during the process, there is always live chat available.
What is WebWave?
WebWave is a drag-and-drop website builder that lets you create beautiful, responsive websites in minutes. You can use WebWave to design anything from an eCommerce store to a blog, and you don't ever have to worry about the design or coding of your website again! WebWave also comes with lifetime access, so there's no excuse not to start building your dream website today!
Does WebWave allow us to export the code?
Yes, you can export the code for your website using WebWave.
We hope this article helps you to learn about WebWave Review. You might also like to check out Our article on the Reoon Email Verifier Lifetime Deal and Katteb Lifetime Deal 2023. If you like this article, please subscribe to our YouTube channel for the Digital Marketing video tutorial and Appsumo lifetime deal. you can also find us on Facebook and Twitter.
Conclusion
WebWave is an easy-to-use website builder that allows users to quickly create and manage their own websites. It offers a variety of features and tools, including drag-and-drop page editing, an intuitive user interface, and a wide range of templates and themes. Additionally, WebWave provides helpful customer service and support. All in all, WebWave makes it easy for anyone to create a professional-looking website with minimal effort.