In this digital day, Social media is the perfect way to connect with your audience. These Instagram plugins will help you grow your following and create a more engaging experience for those who visit your site. 
12 Best Instagram WordPress Plugins, 2021
There are many social photo feed plugins out there, but none like SmashBalloon. You can choose from 9 different templates and customize them with your colors and fonts. Plus, you can add a watermark to protect your photos! The most notable feature of SmashBalloon is the ability to add in any URL or RSS Feed for continual updates without having to upload new pictures. This means that you don't have to keep uploading new content if all you need is a simple news feed update or something more complex such as an RSS Feed containing blog posts from multiple authors. And best of all, it's free!
BENEFITS
Increase social media engagement
Automatically post to your website
Customize feeds for personalization
PRO VERSION
Ability to display hashtag feeds
Displays photos and videos in a popup light box directly on your site
View post comments for user feed
Display the number of likes and comments for each post 
Create carousels from your posts 
Advanced moderation system for hiding/showing specific posts
Basic – Free
Paid – $98 to $598/year
Instagram is one of the most renowned SMM platforms in recent years. Its popularity is due to its simplicity, ease of use, and beautiful interface. The only problem with Instagram is that it doesn't have an API for third-party developers to create their plugins without the risk of getting banned from Instagram. This blog post will outline some great options for those looking for a way to make managing their account easier on this platform. 
Flow-Flow is an intelligent tool that allows you to schedule posts ahead of time, manage multiple accounts and do much more! Other plugins will enable you to upload pictures from your phone or computer and allow scheduled posting, so you never forget again! 
BENEFITS
Allows you to connect to multiple social media platforms in one plugin. 
The Plugin is easy to install and use with a user-friendly administration panel. 
Delivers fast CSS3 transitions and animations for an eye-catching design that is mobile-friendly. 
Includes sharing buttons, so users can share content easily on your page, increasing the outreach of your posts.
PRO VERSION
Enjoy more sources to stream from
Professional support for premium users
Beautiful light box and intelligent comments system
Provides an easy-to-use interface
Allows users to share content more efficiently
Works for a variety of social media platforms, including WordPress
Basic – Free
Paid – $19 to $299
Are you looking for a way to share your Instagram feed on your WordPress blog? The WD Instagram Feed plugin is the perfect solution. It's easy to install and allows you to customize many features such as spacing, color, font size, and more! 
This plugin will allow you to seamlessly integrate your social media account into your website content with just one click of a button. You can also have complete control over how often new posts are updated by simply adjusting the setting in the dashboard. Get started now by downloading our free trial!
BENEFITS
Increase User Engagement
Increase Brand Awareness
Save Time Managing Content
PRO VERSION
No more struggling with Feed content creation- With WD Instagram Feed Premium version, you can add feeds into your page without the struggle.
Much more straightforward to use than other Instagram Feed products – The user interface is designed so that even new users will be able to create a feed-in in no time at all.
Displaying metadata from Instagram feeds(image caption, comments, like).
Blog Style and Image Browser views for displaying Instagram videos.
15 Light box transition effects.
Basic – Free
Paid – $25 to $100 (includes 50+ plugins)
As a social media marketer, you know that Instagram is one of the most engaging platforms. With over 800 million daily active users, it's hard to ignore this powerhouse of a platform. One way to grow your following on Instagram is by using plugins for your website and blog posts. This article will explore some of my favorite ones and how they can help you in the long run! 
The Easy Social Feed plugin is the perfect Instagram marketing tool for businesses that want to keep their followers engaged. The plugin offers various features:
Sharing posts from other social media platforms
Adding text and video snippets
Creating polls with voting options
Keep your audience coming back for more updates by using this awesome plugin today!
Basic – Free
Paid – Plans start at $39/year
IG journal plugin: This Plugin allows you to post a blog post intro paragraph from within your Instagram app! It also includes other features such as scheduling posts ahead of time and adding hashtags automatically. The only downside is that this one does not have analytics or comments sections as the others do. However, if all you're looking for is a way to save time.
BENEFITS
• Save time by hosting Instagram contests from your website
• Fast and easy to use interface with more features than ever before!
• Refined & Perfected Codebase – After years of providing the best selling Instagram plugins on the Envato Market, we've crafted our most powerful Instagram plugin yet!
Paid – Single payment of $20
Instagram Feed Gallery Plugins are a great way to boost engagement on your Instagram feed. They allow you to include more posts in one gallery, and they let your followers quickly scroll through them. You can use the plugin for any social media platform or website, such as Facebook, Twitter, Tumblr, WordPress blogs, and so many more! Instagram is an essential part of marketing nowadays, and with these plugins, you will be able to take it up a notch! Here are some of our favorite Instagram Feed Gallery Plugins:
BENEFITS
Save time by automating your Instagram Feed with a plugin
Get live access to other business's content and specific account creators' posts
Customize your feed the way you want it, filtering out certain words or usernames that could be harmful to branding.
Use card templates to show off different types of content like videos, images, infographics, etc.
Paid – Single payment of $19
Instagram theatre plugins can help you create an engaging experience for your social media followers. These are some of the best Instagram theater plugins that have been tried and tested by other marketers. InstaTheatre: This Plugin is used for live streaming videos on Instagram Stories in real-time with instant video replays, high-quality audio, and unlimited camera angles. 
BENEFITS
Instagram Social Widget included in the package: Adds Instagram photos to your site
Fullscreen Layout Mode with either your photos or user-generated content. 
Thumbnail Layout Mode for an incredible grid-like layout. 
List of Photo Feeds can be used as an archive of past work you've done, what's going on today, etc.
Paid – Single payment of $16
Social Stream for Instagram is a free, fully-featured app that helps you manage your social media in one place. You can post to various social networks, including Facebook, Twitter, and Instagram, from the same interface. This powerful tool allows you to schedule posts ahead of time, so you don't have to worry about forgetting important content or missing an opportunity. Posting on Social Stream for Instagram is easy; choose the service to share your photo and upload it with few clicks! 
You'll never miss this opportunity again with this all-in-one solution!
BENEFITS
1) Get everything in one place, from Facebook to Instagram and Dribbble. 
2) Maximize your reach with Social Stream for WordPress: post content on YouTube while you're at it. 
3) Save time by opening a social tab with all the best posts of the day from specific channels or pages. 
4) Find new content creators easily and give them feedback.
Paid – Single payment of $39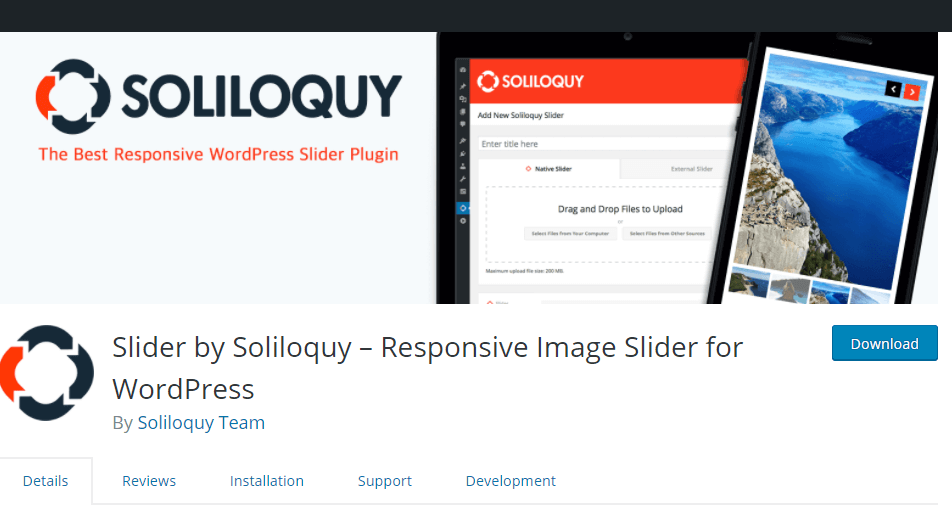 Instagram marketers who use the Soliloquy Dynamic Slider Add-on to create stunning slideshows will love this. You can upload a video or text content with the add-on and have it displayed as a slideshow on your Instagram profile page. This plugin allows for an excellent way of showcasing your work in a more artistic manner and with dynamic transitions that can't be done with regular posts. If you're looking for a new to spice up your SMM marketing strategy, this is one option worth exploring!
Basic – Free
Paid – $19 to $299
Elfsight is an intelligent online Instagram feed manager that allows you to upload, schedule and post photos. It also offers excellent analytics for your posts. You can use Elfsight to manage up to 5 accounts in one place! 
Elfsight has been designed by social media agencies and experts, which means it's perfect for someone who doesn't have the time or inclination to learn how to do this themselves! 
Elfsight is the best way for marketers and brands alike to make their Instagram feeds look professional from day one.
Basic – Free
Paid – $59 per month

Grace is a plugin for Instagram that allows marketers to create an engaging campaign. This plugin provides the ability to post scheduled posts, track analytics and traffic, and build a following through social media marketing. Grace also has many features, such as user-friendly templates and reporting functionality. 
Grace is designed for users who want to take their Instagram game up a notch with ease! It's not just any run-of-the-mill template that'll make your feed look like everyone else's – it's got personality! When you use Grace, you're giving yourself (or your clients) the opportunity to have fun with their image – by using customizable templates, fonts, hashtags, filters, you name it! 
Paid – Single payment of $19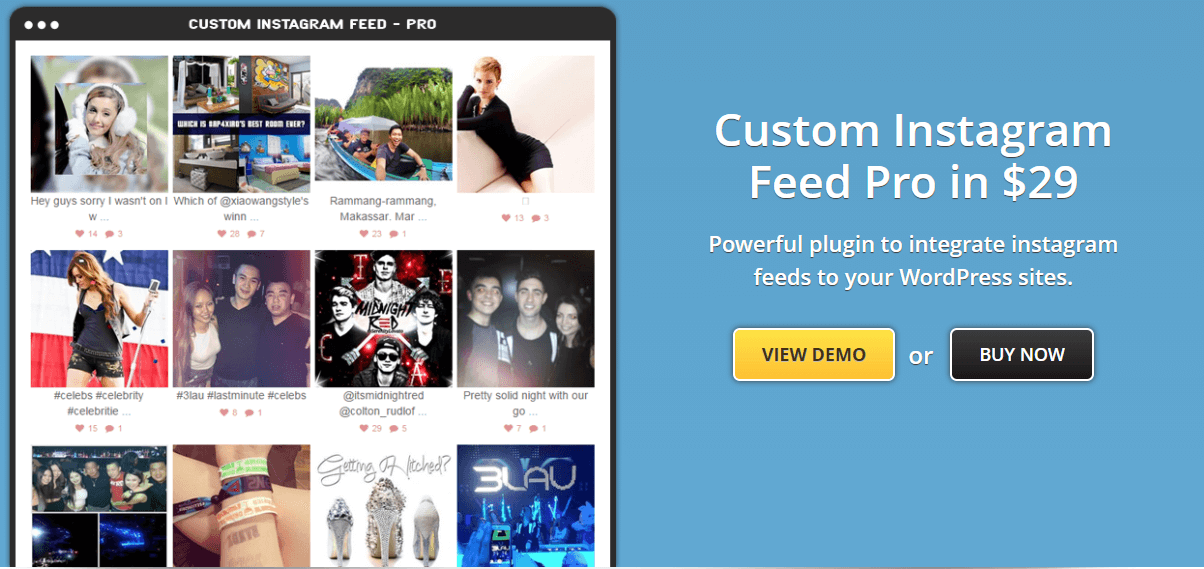 Custom Instagram Feed Pro is a simple but powerful tool that allows you to create custom feeds for your clients. With Custom Instagram Feed Pro, you can offer curated content tailored to the needs of your business and individual customers. You'll be able to post new content regularly without having to spend hours each day scrolling through the feed, as most people do! 
Custom Instagram Feed Pro offers search functionality so you can find exactly what you're looking for with ease. In addition, this tool also has a contact form, so users will never need to leave the page they are browsing.
Paid – Single payment of $29
Also Read : 12 Best Coupon Code WordPress Plugin 2021