Creating stunning graphics has become crucial to online presence in the ever-evolving digital landscape. Eye-catching visuals can make a difference if you run a small business, manage a blog, or just want to enhance your social media presence. However, only some have the luxury of possessing design skills or the budget to hire a professional graphic designer. That's where Glorify offers a game-changing solution to all your graphic design needs. let's talk about glorify review and it's Key Feature.
Glorify Review: Best Graphic Design Tool
What Exactly Is Glorify?
Glorify is more than just another graphic design tool; it's a creative powerhouse tailored for individuals and businesses looking to elevate their visual content without requiring extensive design skills. Its primary goal is to democratize design, making it accessible to everyone. Imagine having the capability to craft captivating graphics that resonate with your brand, all within a user-friendly platform.
Key Features of Glorify:
01: User-Friendly Interface for All
One of Glorify's most noteworthy features is its intuitive and user-friendly interface. Whether you're a design novice or a seasoned pro, you'll find the platform remarkably easy to navigate. The drag-and-drop functionality is a game-changer, allowing you to create visually appealing content without the steep learning curve associated with professional design software.
02: Endless Templates for Every Need
Glorify's extensive library of templates is a game-changer for anyone looking to create eye-catching graphics quickly and easily. Whether you're designing social media posts, blog banners, or product images for your e-commerce store, Glorify has a template for every occasion.
The beauty of Glorify's templates lies in their professionalism and variety. You'll find templates tailored to specific industries, niches, and design styles. Even without design expertise, you can still produce visually appealing content that aligns with your brand and message.
These templates are not only visually stunning but also highly customizable. You can tweak colours, fonts, images, and layouts to suit your unique requirements. With Glorify, you don't need to start from scratch, saving you valuable time and effort.
Whether you're a business owner, blogger, or marketer, having access to such a diverse range of templates is invaluable. It ensures that your graphics are visually pleasing and resonates with your target audience, enhancing your brand's overall appeal.
03: Drag-and-Drop Editor
One of Glorify's standout features is its intuitive drag-and-drop editor. This user-friendly interface makes graphic design accessible to everyone, regardless of background. With a simple click and drag, you can rearrange elements, add text, images, and shapes, and adjust the layout of your design.
The drag-and-drop editor empowers users to bring their creative vision to life effortlessly. It eliminates the need for complex design software and extensive training, making graphic design less daunting and more enjoyable.
Whether you're a beginner or an experienced designer, the drag-and-drop editor streamlines the design process, allowing you to experiment with various ideas and iterate quickly. This flexibility is crucial for producing visually appealing graphics that capture your audience's attention.
04: Background Remover
Removing backgrounds from images can be time-consuming and tricky, especially if you need to gain experience with professional photo editing tools. Glorify simplifies this process with its one-click background remover. This feature is a game-changer for e-commerce businesses, bloggers, and social media enthusiasts. It allows you to create product images with clean, transparent backgrounds, making your products or content stand out. Whether showcasing your latest product line or creating memes for social media, the background remover ensures that your subjects are the focal point. With a single click, you can instantly remove backgrounds, saving you hours of painstaking work and ensuring your graphics look polished and professional.
05: Text and Typography Tools
Text plays a pivotal role in graphic design, conveying messages and guiding the viewer's attention. Glorify recognizes the importance of text and offers a wide range of text and typography tools.
You can choose from an extensive selection of fonts, sizes, colours, and styles to create text that aligns perfectly with your brand's identity. Whether you prefer sleek and modern fonts for a professional look or playful and whimsical fonts for a creative project, Glorify has you covered.
Additionally, Glorify's text tools allow you to add text effects like shadows, outlines, and gradients, further enhancing the visual impact of your designs. You can easily create attention-grabbing headlines, informative captions, or elegant typography art.
06: Image Enhancements
Visual content must be visually appealing, and Glorify provides a suite of image enhancement tools to help you achieve that. Whether you're working with photos or illustrations, these tools enable you to enhance your visuals to make them more captivating.
Glorify offers a range of filters and effects that can completely transform the look and feel of your images. From vintage and artistic filters to modern and sleek effects, you can experiment and find the perfect style for your graphics.
In addition to filters and effects, Glorify provides tools for adjusting brightness, contrast, saturation, and more. These adjustments are essential for fine-tuning your images and ensuring they look their best, whether you're creating Instagram posts, blog headers, or product catalogue images.
By offering these image enhancement features, Glorify ensures you can take your graphics to the next level and make a lasting impression on your audience.
07: Team Collaboration
Effective collaboration is crucial for businesses and teams working on design projects. Glorify understands this and offers robust team collaboration features to streamline the design process and ensure everyone is on the same page.
With Glorify, team members can collaborate on designs in real-time. Whether you have a remote team or work with colleagues in different locations, this feature allows everyone to contribute, make changes, and provide feedback simultaneously.
Moreover, Glorify provides role-based access controls, allowing you to assign specific permissions to team members. You can determine who can edit, comment, or view designs, ensuring that sensitive information remains secure.
08: Brand Kit
Maintaining consistent branding across all your graphics is essential for building brand recognition and trust. Glorify understands the significance of this and offers a feature called the Brand Kit.
The Brand Kit in Glorify allows you to store and manage all your brand assets in one place.
This includes logos, colour palettes, fonts, and other design elements that define your brand's visual identity. With all these assets readily accessible, you can ensure that your designs consistently reflect your brand's style and message. When creating a new graphic, you can easily incorporate your brand assets from the Brand Kit, ensuring that your graphics align with your brand's guidelines. This level of consistency is invaluable for businesses looking to create a strong and recognizable brand image.
The Brand Kit feature simplifies the design process, saves time, and ensures that your brand's identity remains intact across all visual content.
09: Icon and Element Library
Icons and design elements can add flair and personality to your graphics. Glorify recognizes the importance of these elements and provides a diverse collection of icons and design elements that you can easily integrate into your designs.
Whether you're looking for icons to represent specific concepts, stylish dividers to separate sections, or decorative elements to enhance your visuals, Glorify has a wide variety. These elements are organized and categorized, making finding the perfect ones for your project easy.
10: High-Resolution Export
Once you've invested time and effort into creating a stunning design, you want to ensure that it looks impeccable when shared across various platforms. Glorify's high-resolution export feature guarantees that your graphics maintain their quality and clarity, regardless of where you use them.
Whether you're designing graphics for print, social media, websites, or presentations, exporting in high resolution is essential. Low-quality images can detract from your message and undermine the professionalism of your brand.
Glorify allows you to export your designs in various formats, including PNG and JPEG, at resolutions suitable for different purposes. Whether it's a sharp product image for your online store or a high-quality header for your blog, Glorify ensures that your graphics are pixel-perfect.
12: Elevate Your E-commerce Game
For e-commerce businesses, Glorify offers a game-changing feature – the mockup generator. Creating product mockups has never been easier. With Glorify, you can showcase your products professionally and visually appealingly, increasing their desirability and boosting your online store's conversion rates.
13: Seamless Integration with E-commerce Platforms
In today's digital marketplace, seamless integration is essential. Glorify understands this and has integrated seamlessly with popular e-commerce platforms like Shopify and WooCommerce. This means you can effortlessly enhance your product listings with captivating visuals, enticing potential customers and driving sales.
14: Cost-Effective
The Glorify Lifetime Deal provides an unparalleled level of cost-effectiveness. You secure unlimited access to Glorify's feature-rich platform by making a single payment. This translates into substantial long-term savings compared to paying monthly subscriptions indefinitely.
15: No Design Limits
Unlike some design tools that restrict or watermark your creations, Glorify's Lifetime Deal imposes no design limits. You can create unlimited graphics, each tailored to your precise requirements, without any hindrance.
Read more: Manyreach Review: Best Cold Outreach Platform 2023
Glorify Pricing:
Glorify offers a range of pricing options to accommodate different users, from those seeking a free trial to those looking for long-term access through a lifetime deal. This flexibility ensures that individuals, small businesses, and enterprises can find a pricing plan that aligns with their budget and design needs.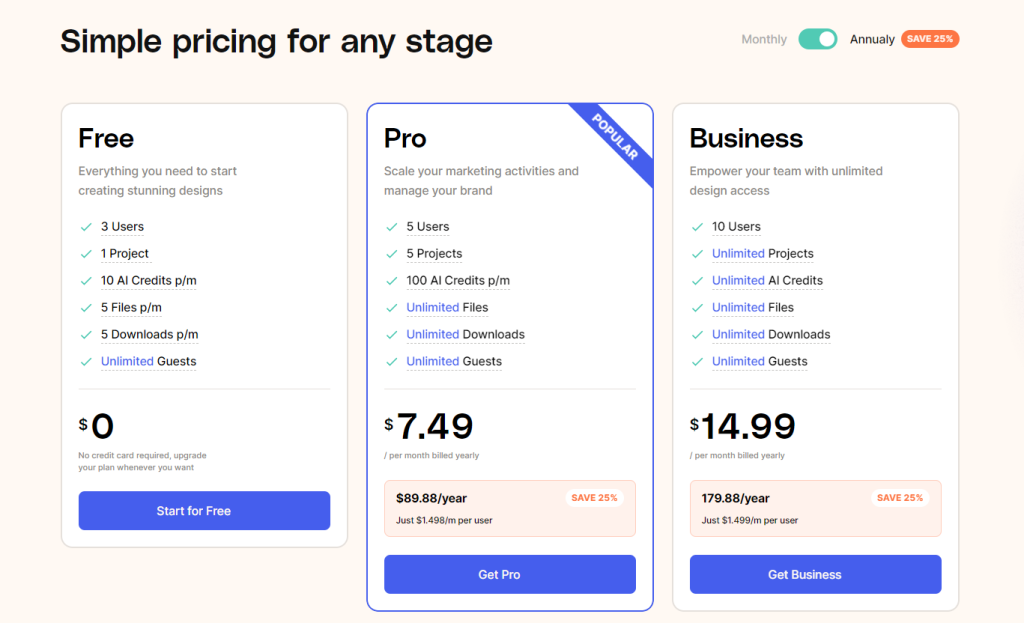 Frequently Asked Questions (FAQs)
Is Glorify suitable for beginners?
Glorify is designed with beginners in mind and offers a user-friendly interface.
Can I use Glorify for social media graphics?
Absolutely! Glorify provides templates for all major social media platforms.
What is the pricing of the Glorify lifetime deal?
The pricing may vary, so check Glorify's website for the most up-to-date information.
Can I cancel my subscription at any time?
Glorify offers flexible subscription options, allowing you to cancel when needed.
In conclusion, Glorify is a game-changer for anyone looking to create stunning graphics without the need for design skills. With its user-friendly interface, extensive template library, and cost-effective pricing plan, Glorify empowers individuals and businesses to make a memorable visual impact. Take advantage of this opportunity to elevate your graphic design game.