If you are looking to supercharge your lead generation efforts, Zintlr is definitely worth considering. In today's competitive business landscape, finding new customers and generating quality leads is critical for the success of any B2B company. With the vast amount of data available, it can be overwhelming to sift through and identify the right prospects. That's where Zintlr, the best B2B Lead Generation Tool, comes into play. In this comprehensive Zintlr review, we will explore the features, benefits, and potential drawbacks of Zintlr, helping you make an informed decision for your lead generation strategy.
Zintlr Review: Best B2B Lead Generation Tool in 2023
Zintlr Pros and Cons:
Zintlr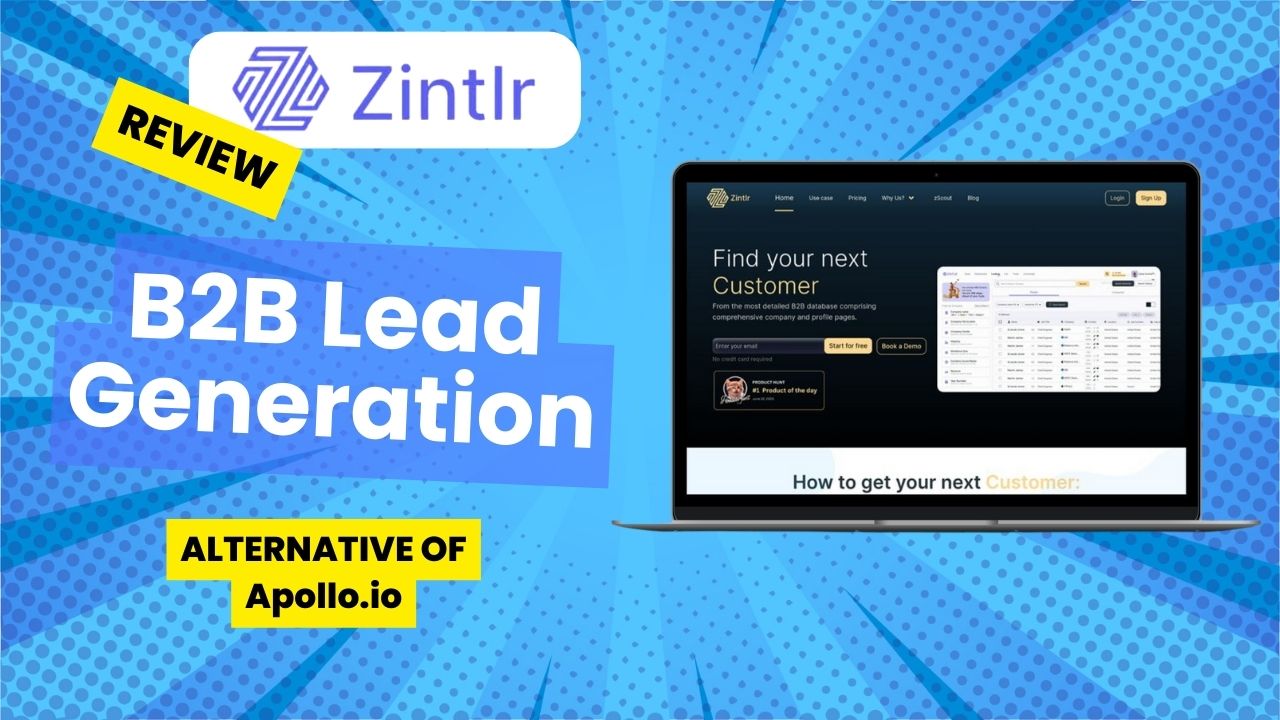 Pros
Powerful Lead Search Capabilities
Extensive Database
Easy-to-Use Interface
Accurate and Verified Data
Advanced Search Filters
Cons
Limited Features in the Free Version
Key Features of Zintlr:
01: Powerful Lead Search Capabilities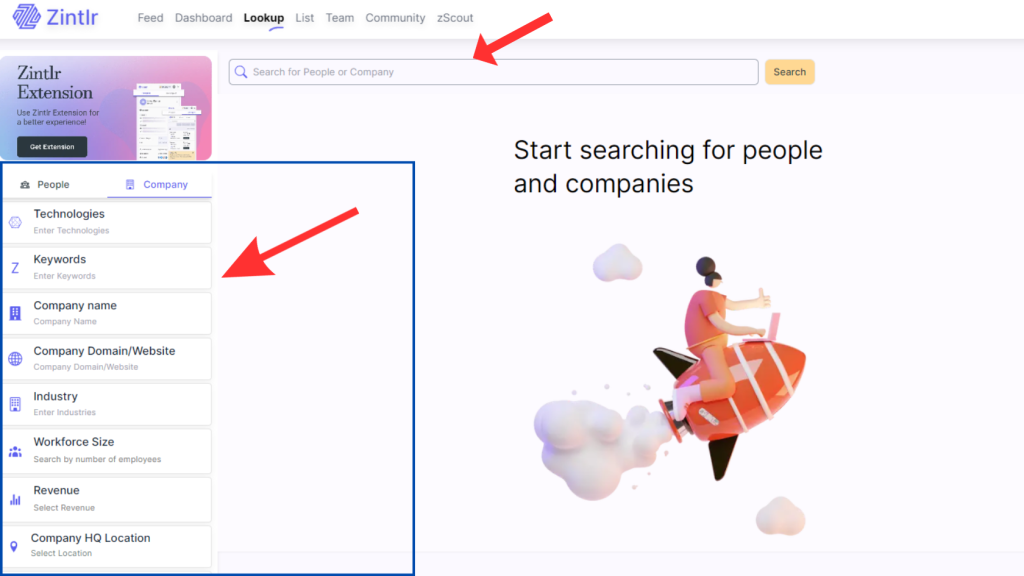 Zintlr offers powerful lead search capabilities that allow users to find highly targeted leads for their business. With advanced search algorithms and filters, users can specify criteria such as industry, location, job title, and more to narrow down their search and find the most relevant leads. This feature saves valuable time and effort by eliminating the need to search through a massive database of leads manually.
02: Extensive Database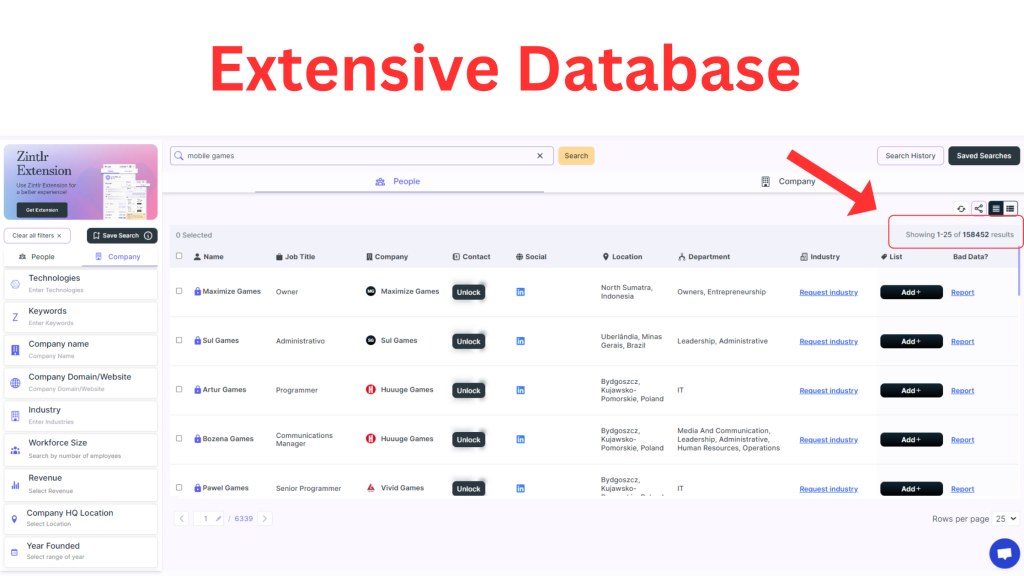 Zintlr boasts an extensive database of B2B contacts, providing users with access to a vast pool of potential leads. The database covers various industries and locations, ensuring that businesses can find leads relevant to their target market. This extensive database enhances the chances of finding quality leads and expanding the customer base.
03: Zintlr Chrome Extension
The Zintlr Chrome extension is a convenient tool that allows users to access Zintlr's features directly from their web browser. With the extension installed, users can quickly search for leads, verify email addresses, and perform other lead-generation tasks without switching between multiple tabs or windows. This seamless integration enhances user experience and productivity.
04: Accurate and Verified Data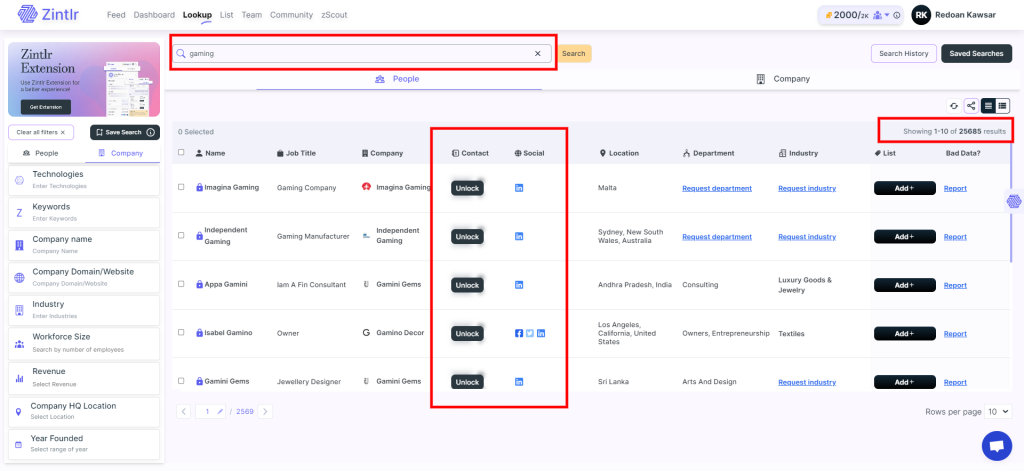 Zintlr is committed to providing accurate and verified lead data to its users. The platform employs rigorous data verification processes to ensure that the information provided is up-to-date and reliable. By using Zintlr, businesses can trust that they are reaching out to genuine leads, increasing the efficiency and effectiveness of their lead-generation efforts.
05: zScout Unlimited [Hunter.io / Tomba Alternative]
Zintlr's zScout Unlimited feature is a powerful alternative to popular lead generation tools like Hunter.io or Tomba. With zScout Unlimited, users can access unlimited lead searches and find contact information for their target audience. This feature eliminates the limitations of other tools, providing businesses with more opportunities to connect with potential customers.
06: Easy-to-Use Interface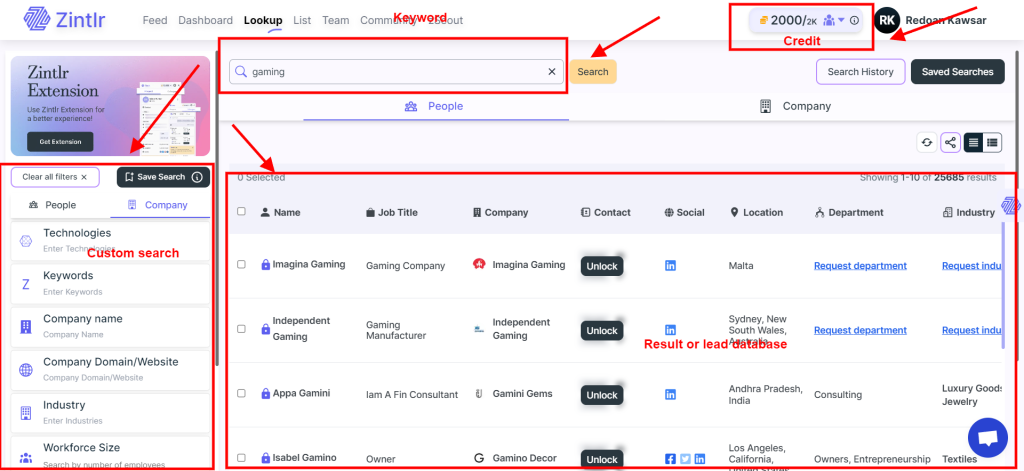 Zintlr offers an intuitive and user-friendly interface that makes it easy for users to navigate and utilize its features. The platform presents the necessary tools and options in a clear and organized manner, ensuring that users can quickly understand and execute lead generation tasks. This ease of use eliminates the need for extensive training or technical expertise, making Zintlr accessible to users of all skill levels.
07: Advanced Search Filters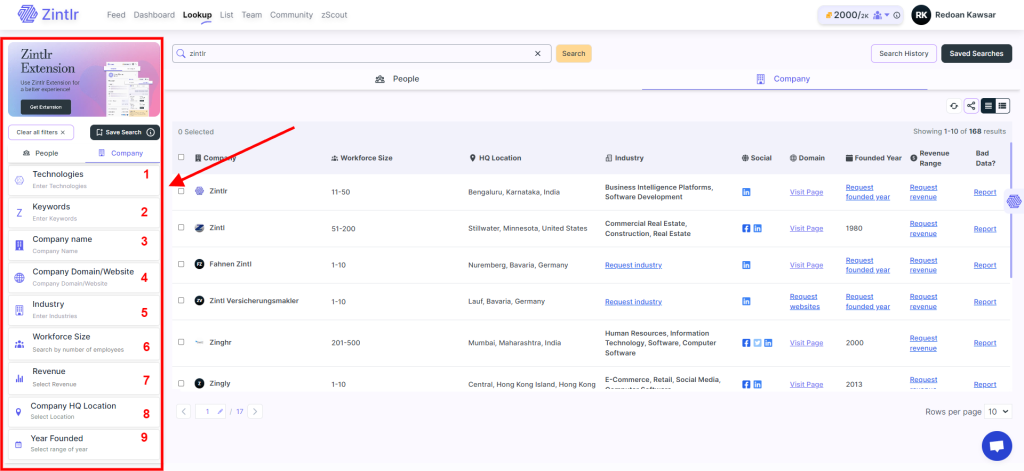 Zintlr provides advanced search filters that enable users to refine their lead searches based on specific criteria. Users can specify parameters such as industry, location, job title, company size, and more to target their ideal leads. This level of customization allows businesses to focus their efforts on the most relevant prospects, increasing the likelihood of conversions.
08: Email Finder and Verifier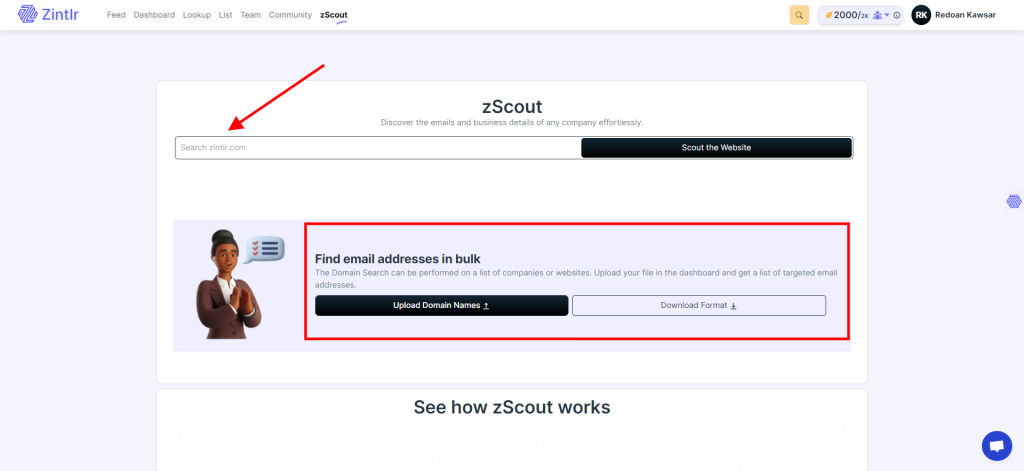 Zintlr includes an email finder and verifier tool that simplifies the process of finding and verifying email addresses. Users can enter the name and company details of a lead, and Zintlr will provide the associated email address. The verifier tool ensures the validity of the email address, reducing the chances of bounced emails and improving the deliverability of marketing campaigns.
09: Key CRM Import/export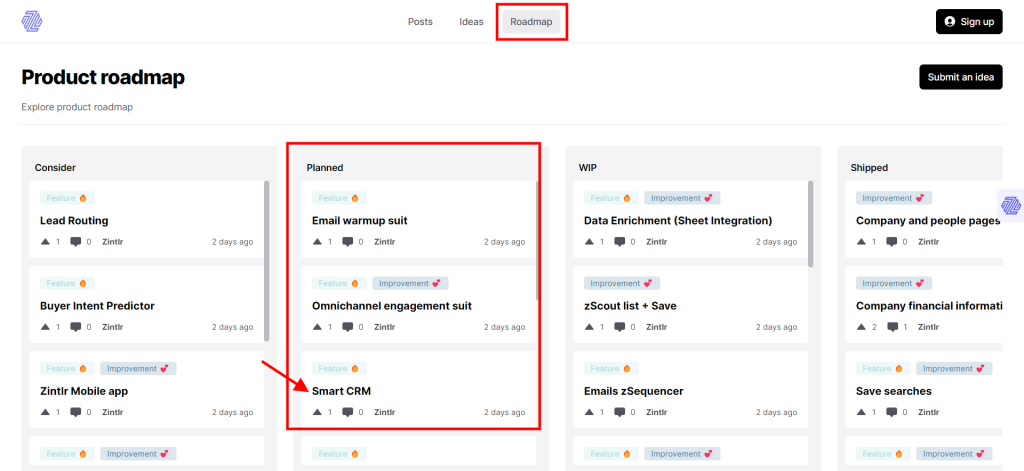 Zintlr planning to open this CRM option with popular customer relationship management (CRM) platforms, allowing users to import and export leads effortlessly. This integration streamlines the lead management process, ensuring that businesses can easily transfer lead data between Zintlr and their CRM system. This synchronization saves time and eliminates the need for manual data entry.
10: Automated Lead Enrichment
Zintlr's automated lead enrichment feature hasn't launched yet. In this Lead enrichment system, you will find additional information such as social media profiles, company details, and job titles. This enriched data enables businesses to gain deeper insights into their leads and tailor their marketing and sales strategies accordingly. By understanding their leads better, businesses can increase the effectiveness of their lead-generation efforts.
11: Local Business Suit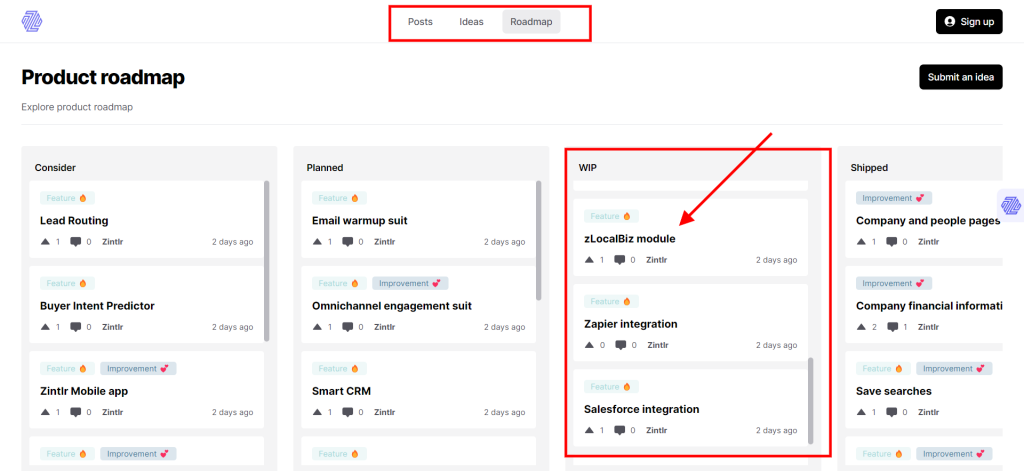 Zintlr's Local Business Suit feature caters specifically to businesses targeting local markets. It provides access to local leads, contact information, and other relevant data. This feature is particularly valuable for businesses that rely on location-based targeting and want to connect with prospects in their immediate vicinity.
12: Team Collaboration
Zintlr offers team collaboration features that allow multiple team members to work together seamlessly. Businesses can assign leads, track progress, and communicate within the platform, ensuring a streamlined lead-generation process. This collaborative environment enhances efficiency and promotes effective teamwork.
13: Dedicated Customer Support
Zintlr provides dedicated customer support to assist users with any queries or technical issues. Its support team is readily available to provide timely and helpful assistance, ensuring a smooth user experience. Businesses can rely on Zintlr's support team for guidance, troubleshooting, and general inquiries.
14: zSequencer [Robust & powerful personalized alternative to Lemlist / Instantly] in the FUTURE
Zintlr's plans include the introduction of zSequencer, a robust and powerful alternative to tools like Lemlist or Instantly. This feature aims to provide users with advanced sequencing capabilities for personalized outreach. With zSequencer, businesses can automate their email sequences, follow-ups, and personalized communication at scale, enhancing their lead-generation efforts.
Learn More: Tomba Review
Is Zintlr suitable for small businesses?
Yes, Zintlr offers pricing plans that cater to the needs of small businesses, making it an excellent choice for them.
Can I cancel my subscription at any time?
Absolutely, Zintlr provides the flexibility to cancel your subscription whenever you need to.
How does Zintlr ensure data accuracy?
Zintlr uses advanced data enrichment techniques to ensure the accuracy of the information it provides.
What is the average ROI businesses can expect?
ROI varies depending on your specific business and how effectively you use Zintlr, but many users have reported significant returns on their investments.
Zintlr is indeed the best B2B lead generation tool for business growth. Its powerful features, cost-effectiveness, and proven results make it a must-have for any business looking to excel in lead generation. Get access now and witness the transformation it can bring to your business.