As someone who loves making videos, Wave.video is one of the best video-making apps. The software is user-friendly and makes creating videos effortless. With tons of templates and audio files that work well, I can easily customize my videos to suit my needs. Moreover, this is an all-in-one video editing software that makes it easy for beginners like me to make high-quality videos. I can easily create and manage my video marketing projects with features like captioning, social media scheduling, publishing, and integration with stock libraries. It's an excellent tool for anyone who wants to create professional-looking videos without too much hassle.
Wave.video Review: Easy Online Video Editor:
Wave.video Pros and Cons:
Pros
User-friendly interface.
Wide range of video formats.
Large collection of customizable video templates.
Real-time collaboration.
Video hosting and management.
Integration with other tools and platforms.
Cons
Limited customization options for some features, such as animations and transitions.
Wave.video Features:
As someone who frequently creates videos for social media, Wave.video features have helped streamline my video editing process. I can easily create videos tailored to different platforms with customizable templates. At the same time, its text-to-video technology for fast creation has been a lifesaver on tight deadlines. I also appreciate the ability to add text, effects, and animations to make my videos stand out. 
01: Online Video editing: 
Wave.video is an online editing tool allowing users to create and edit videos through a web-based interface without requiring software downloads or installations. This makes it easy to access the tool from anywhere with an internet connection and a browser and eliminates users needing high-powered hardware to run video editing software.
02: Wide range of video formats: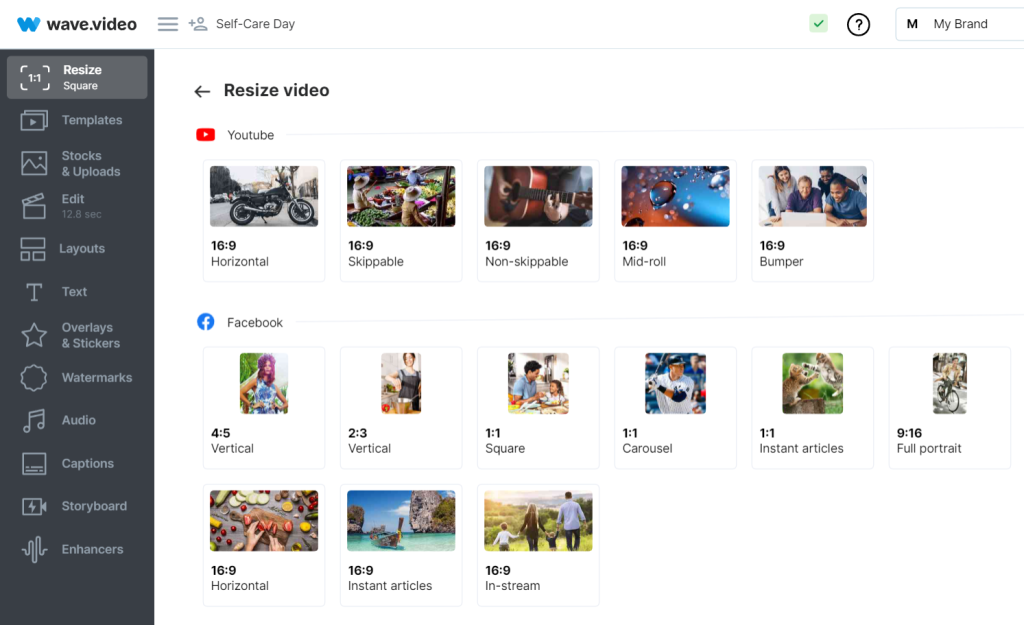 This editing tool supports various video formats, including landscape, portrait, square, and Facebook cover videos. This allows users to create videos optimized for various platforms and use cases without having to worry about compatibility issues or the need for additional tools. From creating videos for social media platforms like Facebook, Instagram, and YouTube, to producing content for presentations, websites, and email marketing campaigns, Wave.video ensures compatibility and seamless integration. With its support for a diverse range of video formats, you can confidently create and distribute your videos across various channels, reaching your audience wherever they are.
03: Video templates: 
This tool offers a large collection of customizable video templates that can be used for various purposes, such as social media, ads, and events. These templates provide a starting point for users needing design or video editing experience and can be easily customized with their branding and content. With an extensive library of professionally designed templates, you can easily customize and personalize your videos to match your brand and messaging. Whether you're looking to create social media ads, explainer videos, product demos, or any other type of video content, Wave.video has you covered.
04: Text and graphics editor: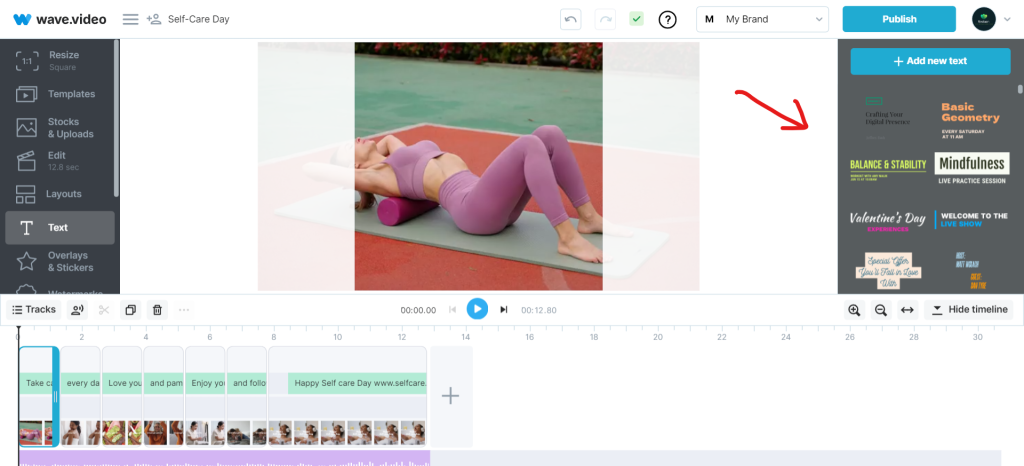 Wave.video has a built-in text and graphics editor that allows users to add text, stickers, and graphics to their videos. This feature makes creating engaging and informative videos that incorporate text-based messaging and visual elements easy.
05: Audio editing: 
Users can add music, sound effects, and voiceovers to their videos with Wave.video's audio editing tools. This allows users to create videos with a professional audio track that can be easily synced with the video content.
06: Wave.video captions:
Wave.video offers a powerful captioning feature that enhances the accessibility and engagement of your videos.With Wave.video's captioning tools, you can easily add captions to your videos, ensuring that your content is accessible to viewers with hearing impairments and allowing them to follow along with the dialogue and narration.
Additionally, captions can improve the overall user experience by making your videos more engaging and understandable, even in noisy or sound-sensitive environments.Wave.video provides convenient options for adding, editing, and styling captions, allowing you to customize their appearance to align with your brand's aesthetic.Take advantage of Wave.video's captioning feature to create inclusive and impactful videos that resonate with your audience.
07: Branding tools:
This video editing tool includes various branding tools allowing users to customize their videos with logos, colors, and fonts. This ensures that videos have a consistent look and feel that aligns with their brand identity.
08: Social media sharing:
Wave.video makes it easy to share videos on social media platforms such as Facebook, Instagram, Twitter, and YouTube. Users can upload videos directly to these platforms from within the tool or download them for manual sharing.
09: Real-time collaboration:
It allows multiple users to work on the same video project in real-time, making it ideal for teams and collaborations. This feature makes it easy to share feedback, make edits, and coordinate efforts with other team members.
10: Stock Image and video library: 
As someone who frequently uses stock footage in my video projects, I appreciate the easy access to visuals in Wave.video. With over 200 million stock images, videos, and audio clips available, finding the perfect footage to enhance my videos has never been easier.
Even better is the ability to customize these stock elements to fit my creative vision. Whether I'm adding text overlays, applying effects and animations, or resizing footage for specific social media platforms, Wave. video makes the entire process a breeze.
11: Video hosting and management: 
This online video editing tool provides users with a video hosting and management platform to store, organize, and manage their videos in one place. This feature makes it easy to keep track of videos, share them with others, and ensure they are always accessible.
12: High-quality video export: 
Wave.video exports videos in high quality, ensuring that the finished product looks professional and polished. This makes it easy for users to create videos on par with those produced by professional video editing software.
13: Video analytics and insights: 
It provides users with analytics and insights into their videos' performance. This includes views, engagement, and audience demographics, which can be used to inform future video content and marketing strategies.
14: Multi-language support: 
Wave.video supports multiple languages, making it easy for users to create videos that a global audience can understand. This feature is particularly useful for businesses and organizations that operate in multiple countries and regions.
15: Ability to add text, effects, and animations:
One of my favorite features of Wave. video is their ability to add text, effects, and animations to videos. I love making my videos stand out with unique fonts and eye-catching animations. The best part is that it's all easy to accomplish within the platform without complex video editing skills. This tools offers a wide range of pre-built templates and customizable video elements to make editing quick and efficient. I also appreciate their advanced text-to-video technology, which allows for the fast creation of engaging and visually appealing videos.
Read More : Postuby lifetime deal
The pricing for Wave.video is quite reasonable considering its features and benefits. As a user, I appreciate the flexibility of choosing between the Free, Creator, and Business plans. The free plan is great for beginners to understand the software, but the watermark can be a downside. The Creator plan, which costs $30 per month, offers access to a stock library of over 200 million assets, templates, and a thumbnail maker. That's a steal!
The Business plan is more expensive at $60 per month, but it does come with additional features such as team collaboration, custom font upload, and privacy options. It's nice to know that whichever plan you choose, you can still access the intuitive video editing features, customizable video templates, automated video resizing, and scheduling and publishing for social media.
Frequently Asked Questions:
What are the different types of stock libraries in Wave.video? 
Wave.video offers three types of stock libraries: a video library with over 300 million royalty-free video clips, an image library with over 1.5 million royalty-free images, and a music library with over 300,000 royalty-free music tracks.
Can I remove the Wave.video watermark from my Video embedded videos? 
Yes, you can remove the Wave. video watermark by upgrading to a paid plan.
How am I going to be charged for video hosting? 
Video hosting is included in all of Wave.video's paid plans. You will be charged a monthly or annual subscription fee, depending on the plan you choose.
How many videos can I create? 
The number of videos you can create depends on the plan you choose. The Starter plan allows you to create up to 10 videos per month, while the Agency plan allows you to create up to 30 videos per month.
Are there different video editing limits for different plans? 
No, there are no editing limits for any of Wave.video's plans. You can create and edit videos as much as you want within the number of videos allowed by your plan.
How do I sign up? 
You can sign up for Wave.video by visiting their website and clicking on the "Start Free Trial" button. You will need to provide your email address and create a password to start using the tool.
What are the payment options? 
Wave.video accepts payment by credit card, PayPal, and wire transfer.
Can I switch to a more advanced plan after I sign up? 
Yes, you can upgrade to a more advanced plan at any time by visiting your account settings and selecting the plan you want to switch to.
Are there any storage limits? 
Each plan has the following amount of storage included:
Free — 10 GB, Creator — 30 GB, Business — 200 GB
After that, you will be charged 10¢ per month for every additional 1 GB (Business plan).
Note: Free and Creator plans will not be able to purchase additional storage.
Is Wave.video the right video marketing tool for Agencies? 
Yes, Wave.video is a great tool for agencies because it allows for collaboration and real-time editing. The Agency plan also offers additional features such as custom branding and more videos per month.
Do I need to pay for captioning? 
Yes, captioning is an add-on feature that requires an additional fee. However, Wave.video offers a free trial of this feature so you can test it out before committing to a paid plan.
Wave.video is a versatile video editing and creation platform that enables individuals and businesses to produce high-quality videos for their social media channels, websites, and marketing campaigns. With a user-friendly interface and a vast library of customizable video templates, music tracks, and stock footage, Wave.video makes it easy for anyone to create engaging and visually stunning videos that captivate their audience. Whether you're a social media manager, marketer, or content creator, Wave.video can help you take your video content to the next level and achieve your goals.