If you're looking for a digital content solution to streamline your social media presence, Creasquare may be just what you need. With AI-powered content creation and distribution tools, you can easily generate and schedule posts across multiple channels.
The user interface is intuitive and easy to navigate, allowing you to quickly access a variety of features, from graphic design templates to copywriting assistance.
And with collaboration and sharing features, you can work seamlessly with your team to create high-quality content. Plus, with analytics and performance tracking, you can monitor the success of your campaigns and make data-driven decisions.
Creasquare offers a comprehensive solution for businesses looking to improve their social media marketing strategy. In this comprehensive Creasquare review, where we delve into the world of this AI-powered platform for graphic design, video creation, and copywriting content.
Creasquare Pros and Cons:
Pros
• Smooth and Well-Designed.
• Enables the Creation of High-Quality Visual Media.
• Automated Content Creation.
• Social Media Scheduler.
• Systems Models and Methods for Educational Planning.
• Great for Enabling Children's Education.
Cons
• Independent from Creasquare (Cannot Use Tags in Scheduled Posts)
Creasquare Features:
01: User interface and design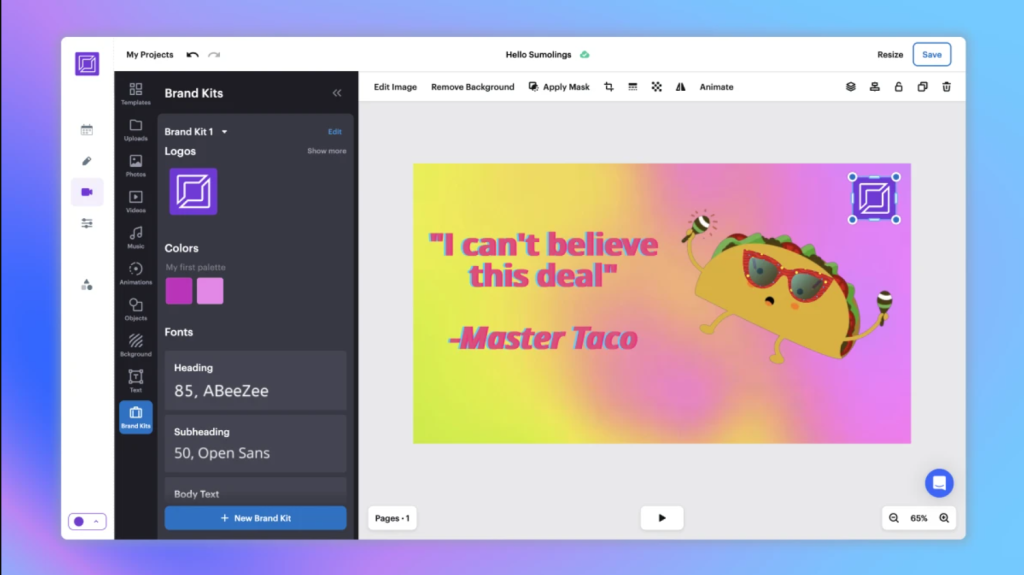 As mentioned earlier, Creasquare offers a user-friendly interface that is easy to navigate. The platform provides users with various graphic design templates and video creation tools, making it a versatile tool for content creation.
The AI writing assistant also helps users generate creative and impactful copy. The platform seamlessly integrates with social media, allowing users to schedule and publish their content across multiple platforms.
The Creative Asset Library boasts millions of royalty-free images, videos, and music, providing users with a vast collection of assets to enhance their designs.
Collaboration and sharing features make it easy for teams to work together, while analytics and performance tracking enables users to monitor the success of their campaigns. Overall, the user-friendly interface and extensive features make Creasquare a valuable tool for content creators looking to streamline their workflows and drive engagement on social media.
02: Graphic Design Templates
With Creasquare, you can access a wealth of creative graphic design templates, allowing you to create stunning visuals for all your marketing needs. The templates are highly customizable, ensuring that your designs are unique and stand out from the crowd.
The platform's user interface is incredibly user-friendly, making it easy for even novices to create eye-catching designs easily. Additionally, Creasquare offers an extensive library of royalty-free images, videos, and music that you can use to enhance your creations.
Whether you're looking to create social media posts, email newsletters, or website designs, Creasquare's graphic design templates make it easy to create professional-looking designs without design skills.
03: Video Creation Tools
Video Creation Tools are an integral part of Creasquare's suite of features. With access to millions of royalty-free assets, templates, illustrations and music, you can easily create stunning videos representing your brand while maintaining professional quality.
The AI-powered platform provides various customization options, including different layouts and schemes, to ensure your videos stand out. The Video Creation Tools are also designed to be user-friendly, with a streamlined process that helps you create a finished product within minutes. You can easily choose from different fonts, backgrounds, and animations to personalize your videos, making them unique and engaging.
Once you have created your video, scheduling, and publishing on all your social media platforms can be done from one easy-to-use platform. Integrating Video Creation Tools with features like Creative Asset Library and Analytics lets you track your video's performance and optimize your content.
Overall, Video Creation Tools are a great asset for small businesses looking to create high-quality video content to enhance their marketing strategies.
Read More: Wave.video Review
03: AI writing assistant
When it comes to content creation, writing can be a time-consuming and challenging task. This is where Creasquare's AI writing assistant comes in handy.
The AI-powered tool offers dozens of templates in various languages, tones, and creativity levels, generating SEO-driven and authentic content. Whether you need captivating captions for social media, engaging blog posts, or emails, Creasquare's copywriting assistance has got you covered.
The user-friendly interface also provides AI-powered design suggestions and social media integration, making creating and scheduling content for your favorite platforms easy.
Creasquare's creative asset library also offers thousands of graphic design templates and video creation tools to add visual elements to your content.
With collaboration and sharing features, you can work with your team members and track performance analytics for optimization. Creasquare's AI writing assistant is an excellent addition to any content creator's toolkit.
04: AI-Powered Design Suggestions
With Creasquare's AI-powered design suggestions, creating high-quality graphic designs has never been easier. In addition to a vast library of graphic design templates, Creasquare offers an intelligent design assistant that suggests design elements based on your preferences and previous designs.
This saves you time and effort in the creative process and ensures consistent branding across your social media content. Creasquare also has video creation tools, allowing you to incorporate dynamic videos into your marketing campaigns.
With AI-powered design suggestions, Creasquare makes it easy for users with no design experience to create professional-looking graphics and videos.
05: Copywriting Assistance
Now let's dive into Creasquare's copywriting assistance. With its AI-powered technology, Creasquare provides a simplified way to write compelling copy for your business needs. Whether you need to rewrite or start from scratch, Creasquare's copywriting assistant helps you create engaging content in no time.
Not only does it suggest the perfect words and phrases to enhance your content, but it also helps you perfect your grammar and punctuation. Integrating social media platforms such as Instagram, Twitter, and Facebook, Creasquare enables you to tailor your content easily and plan and schedule your posts in advance.
With the user-friendly interface, you can easily edit, collaborate and share your content with your team members or clients. You can also track analytics to monitor the performance of your content and make suitable changes to improve your strategy. Creasquare makes copywriting easier than ever, ensuring that your business stands out with quality content that resonates with your audience.
06: Social Media Integration
With Creasquare, you can effortlessly integrate all your social media accounts onto one platform. The software offers calendar and scheduling tools that enable you to publish your creations directly on Instagram, Facebook, Twitter, and LinkedIn.
Creasquare simplifies the batch scheduling process across multiple social media platforms, eliminating the need for manual posting.
The AI-powered digital content solution streamlines the process of reviewing posts by stakeholders and ensures that all posts receive approval quickly.
Whether you're a seasoned marketer or a beginner, Creasquare's user-friendly interface and social media integration makes it an ideal tool for creating and publishing engaging content. So, if you're looking for a way to take your social media marketing game to the next level, look no further than Creasquare.
07: Content Scheduling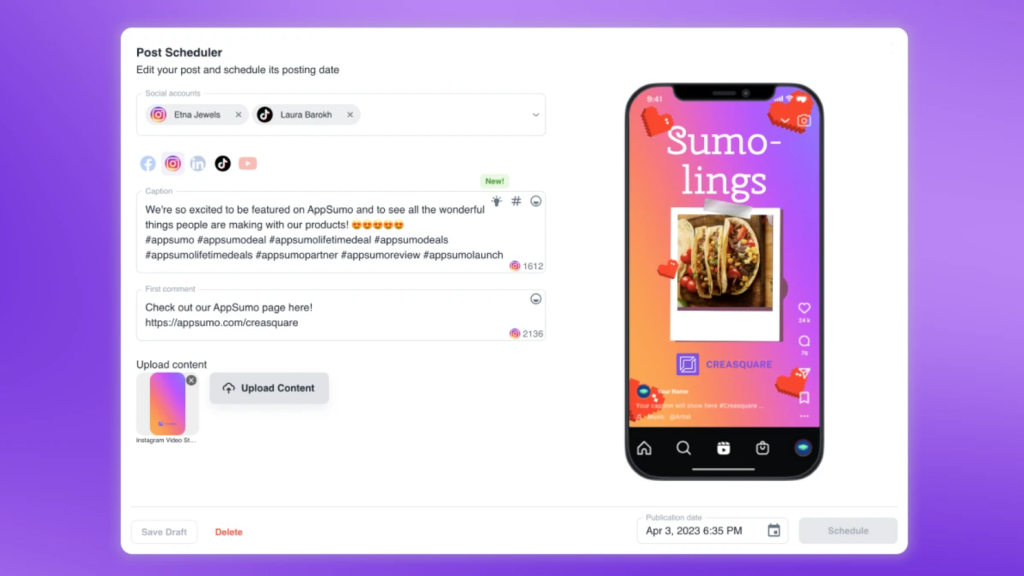 Content scheduling is a crucial aspect of any social media marketing strategy, and Creasquare offers one of the most user-friendly scheduling features on the market. With the ability to schedule content across social media channels from one easy-to-use platform, Creasquare streamlines the process and saves users valuable time.
In addition to simplifying scheduling, Creasquare also offers an analytics and performance tracking feature, allowing marketers to analyze the effectiveness of their content and make data-driven decisions.
This, combined with the AI-powered content creation tools offered by Creasquare, makes it one of the most comprehensive social media marketing solutions available today.
Whether you're a small business owner or a marketing professional, Creasquare's content scheduling and analytics features will allow you to optimize your social media presence and drive engagement with your target audience.
08: User-Friendly Interface
The user-friendly interface of Creasquare makes it possible for even beginners to create professional-quality graphics easily. The platform offers a simple and intuitive design, making it easy to navigate and use. Additionally, the calendar interface allows you to schedule your posts at the perfect time without being online 24/7.
The AI-powered content creation tools offered by Creasquare make it a breeze to craft and schedule tweets, threads, and other social media content. The software's creative asset library offers millions of templates, royalty-free images, videos, and music.
Furthermore, the platform's collaboration and sharing features allow you to work with your team and share your content easily. The analytics and performance tracking tools provided by Creasquare allow you to monitor your content's success and refine your approach over time. Overall, the user-friendly interface of Creasquare makes it an ideal solution for small business owners and social media marketers looking to streamline their content creation process.
09: Creative Asset Library
As a content creator, having access to a library of creative assets is crucial for creating stunning visuals and videos. This is where Creasquare excels, offering thousands of templates, animations, royalty-free photos, and a vast library of design elements, fonts, and colors. With Creasquare, you can easily manage your assets and create custom content that meets your client's branding needs.
Creasquare has everything you need to take your content to the next level, whether you're looking to create eye-catching graphics or engaging videos. And with AI-powered design suggestions and copywriting assistance at your fingertips, you can streamline your workflow and create high-quality content faster than ever.
Overall, the Creative Asset Library is one of the many reasons Creasquare is a top contender for businesses looking to up their content game.
10: Collaboration and Sharing Features
Collaboration and sharing features are essential to any digital marketing solution, and Creasquare is no exception. With Creasquare, users can invite their team members and clients to collaborate on their workspaces for easier sharing and reviewing.
This feature is especially handy for agencies with multiple clients who need approval before publishing content. Creasquare's easy-to-use interface makes it simple for team members to collaborate without needing extensive training on the platform.
Overall, the collaboration and sharing features offered by Creasquare make it an excellent choice for businesses looking to streamline their social media marketing efforts.
11: Analytics and Performance Tracking
One of the key features of Creasquare is its robust analytics and performance tracking capabilities. With real-time analytics, users can stay on top of their social media presence and make data-driven decisions about their content strategy.
This includes tracking follower growth, engagement rates, and reach, among other metrics. Creasquare also offers performance analytics for individual posts, allowing users to identify top-performing content and adjust their strategy accordingly.
Additionally, the platform provides insights into competitor activity, giving users a competitive edge in their industry. With this comprehensive analytics and performance tracking approach, Creasquare empowers businesses to optimize their social media presence and achieve their marketing goals.
Creasquare is an AI-powered platform that simplifies the process of creating graphic designs, videos, and copywriting content. With its user-friendly interface, users can easily access a vast library of templates and leverage AI-powered suggestions to create visually appealing designs without requiring advanced design skills.
Creasquare also offers content scheduling features, allowing users to conveniently schedule their creations across various social media platforms. Whether you're a small business owner, a marketer, or an aspiring content creator, Creasquare provides the tools and resources to bring your creative ideas to life efficiently and effectively.