There are many benefits to working at home, including the ability to set your hours and dress more comfortably. However, if you have a family or other obligations outside of work, finding time for them can be difficult. Luckily, there are plenty of jobs that allow you to work from home on a part-time basis as well as full-time. These jobs range in skill level and pay scale, so it's easy for just anyone looking for an alternative way to make money. We've compiled a list of some of the best Part Time Work From Home Jobs available right now!
17 Part Time Work From Home jobs
01: Social Media Manager
Social media managers are in high demand. It's a great way to make some extra money from home, and you'll have the opportunity to work with brands and people all over the world. Social media managers typically spend their days updating social media profiles such as Facebook, Twitter, or LinkedIn. They also oversee the company's online reputation by monitoring what people say about the company on these sites. The best part is that many companies will pay you to do this from your own home office! To be an effective manager of social media accounts, one must know how to utilize all aspects of social networking sites, including features like hashtags and video uploads, and being knowledgeable about trends in marketing and advertising.
 02. Personal Trainer
Are you looking for a side hustle to be able to work from home? Become a personal trainer and earn extra money in your spare time. Do you have some free time on your hands that you need to fill up with something productive but don't know what? Become a personal trainer! You can earn as much as $30 an hour and work from home. All you need is the certification, which is easy enough to get. The best part about this career is that it's flexible according to your schedule. If you're looking for some quick cash or want to stay active in the workforce, then become a personal trainer today! 
03: Bookkeeper
Are you looking for an opportunity to work from home? Do you want a flexible schedule that allows you to take care of your family or other commitments simultaneously? If you are looking for a part-time work-from-home opportunity, then consider becoming a bookkeeper. A bookkeeper takes care of the organization and records financial transactions to keep records accurate. The job can be done from anywhere with an internet connection, so there's no need to commute or spend time away from loved ones. Some people think that being a bookkeeper would be boring because they're just sitting at their desks all day. Still, it's pretty challenging and requires attention to detail as well as strong organizational skills. By working remotely, you'll also have more flexible hours, which means more time for family activities like going out on hikes together or having a movie night at home!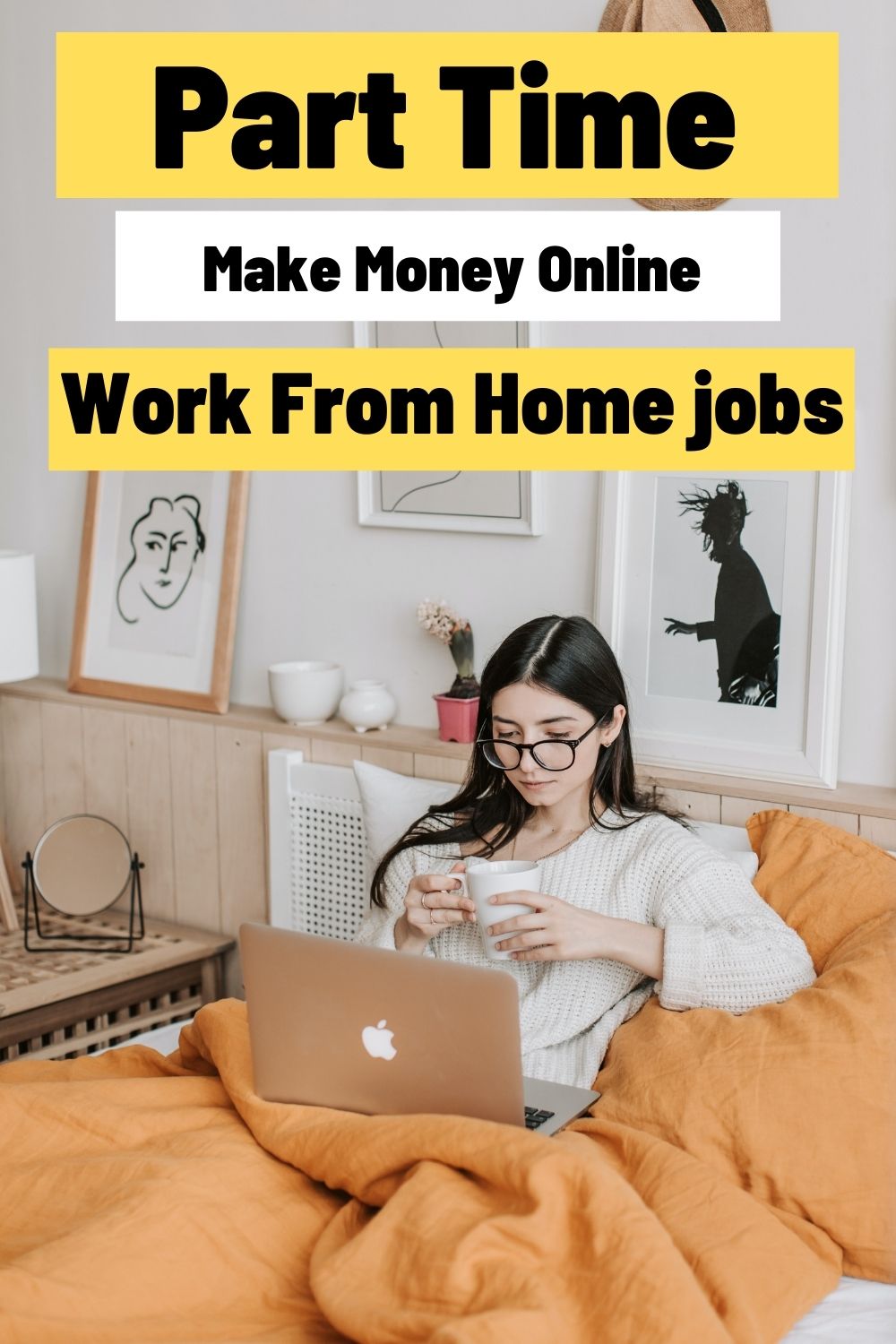 04: Online Tutor
Online tutor is the perfect work-from-home job for anyone looking to make a little extra money. You will be teaching students who are learning English as a second language, or ESL, and need additional help with conversational skills. This type of tutoring can be done through video chat or just by talking on the phone. Online tutor positions require no degree or education past high school level, and you can teach any subject you have studied in college! 
05: Online Beauty Advisor
If you're looking for a part-time job that allows you to work from home and have flexible hours, this is the perfect post for you. It's not easy being a woman. We constantly have to deal with hair, makeup, and trying to find clothes that fit right while still looking great. It can be exhausting! So maybe you've been thinking about starting your own business but don't know where to start? Or perhaps you're thinking of taking on some side work from home? Well, today, I'm going to talk about what it takes for someone like you who wants an online beauty advisor job from home. You can start selling products through social media channels or share tips on how people can do makeup, or give some beauty tips in the comfort of their homes.
06: Virtual Assistant
If you're looking for an easy way to make money from home, then being a virtual assistant might be the perfect job for you. A virtual assistant is someone who provides administrative and other professional services to clients remotely, usually via the internet or telecommuting. Virtual assistants are often hired by companies that need temporary employees without having to pay their benefits packages. 
Virtual assistants are the new trend in a home-based business. They have been around for a while, but now more than ever, people are looking to hire a virtual assistant to do some of their work from home. This is excellent news for those who can't afford to hire someone full-time!
07: Blogging
It is not necessary to quit your job to work from home. Blogging for part-time work from home can be a great way to make some money on the side. Many blogs offer opportunities for bloggers, and you don't need any experience or special skills, just an idea and dedication! The only investment you'll need is the initial purchase of a domain name, blog design template, hosting package, and writing software (if desired). Blogging is a great way to share your thoughts and opinions with others while building up an audience that will follow your work. By working as a freelance blogger, you can do this on nights and weekends at your own pace.
08: YouTube Content creator
If you are looking for a new way to make money, you might want to consider a Youtube Content creator. Youtube is the second largest search engine on the internet, and with that comes many opportunities for people who are willing to put in the work. If this sounds like something you would be interested in, read on! 
A content creator can do anything from vlogging about their day-to-day life, playing video games, or reviewing products. The possibilities are near endless, and there will always be someone out there who is interested in your content. Creating videos may seem difficult at first, but after some time of practicing, it becomes more accessible than ever before! 
09: Email Marketer
If you are looking for a simple way to earn money from home, email marketing might be the answer. Companies need their customers to stay in touch with them and want their emails delivered without interruption. Email marketers receive payment for every email they send on behalf of the company they represent. There is no limit on how many hours an email marketer can work or how much they earn per hour. And this job has flexible deadlines, so it's perfect for people who have other commitments like school or family that take up most of their time during the day. 
10: Data Entry Worker
If you are looking for a flexible part-time job with your schedule and suits your needs, then Data Entry Worker may be the perfect opportunity. This position entails data entry from home, working through online databases to update information as needed. You will be given a list of names, addresses, email addresses, and other information on each individual. The work is easy enough that almost anyone can do it in their free time or while watching TV! There's no commitment required either, so if this doesn't sound like something you want to try out now, don't worry! If done well, Data Entry Workers sometimes earn up to $70+ an hour, depending on how many hours they commit per week.
11: Freelance Writer
Are you looking for a way to make money from home? Do you want to work part-time, set your hours, and be able to spend time with family? If so, then freelance writing may be the perfect job for you. Freelance writers are in charge of their schedules and deadlines. They can commit as much or as little time as they would like a per week (or per day), making it an ideal opportunity for those with other commitments such as children or school. Freelancers also aren't required to work on holidays or weekends. Many people find that working from home is more efficient than being in an office all day long because there's no commute involved!  
12: Proofreader
Are you looking for an opportunity that gives you the flexibility to work remotely? Proofreading could be a great part-time gig for you. Proofreaders are needed in many industries, including publishing and advertising. It's easy to get started as there is no degree required or specific certification process. You can find freelance proofreader jobs on sites like Upwork, Flexjobs, Indeed, CareerBuilder, and more! 
13: Website Designer
If you are looking for a way to make extra money on the side or have a part-time job from home, website design is a great option. Designing websites can be advantageous and will challenge your creativity and problem-solving skills. The best part about designing websites is that you do not need any technical experience to work as it's all done through software. It's not hard work, and the pay is excellent! You'll learn how to use WordPress and HTML/CSS. It's gratifying if you want to spend more time with your family while making some extra cash on the side.   
First things first: How do I know if my skills are marketable? You can easily find out by checking websites like Upwork, Freelancer, Guru, and Fiverr. These sites list freelancers with various skill sets who are willing to take up projects.
14: Instagram Influencer
If you're looking for a way to make money, Instagram is one of the best platforms to do it. Many influencers are making thousands on their posts each month, and some even have six-figure salaries! 
Many people don't realize that there are many different ways to make money on social media. One way is by becoming an influencer and making money off of the products you promote or review. If you have a large following on any given topic, companies might hire you to help advertise their effect on your page. Some companies may even pay up to $20k per sponsored post, so these opportunities are worth looking into if you have a loyal fan base! 
15: Transcriptionist 
Transcriptionist jobs are a great way to make money. They often require some training, but the salary is more than worth it, and you can work from home. Even if you don't have any experience in transcription, there are plenty of resources for newbies online where you can get started quickly and easily.
Transcriptionists work for many different fields and industries. We transcribe audio recordings of interviews, meetings, phone calls, lectures, or any other type of recording that needs to be written out. Transcriptionists use a transcription software called "Express Scribe," which helps us to convert sound waves into text on our computer screen. 
16: Survey jobs
Working from home can be a great way to save money, build your resume or portfolio, and make time for other things in life. One easy way to find work-at-home jobs is by taking surveys. Survey companies like Survey Junkie are always looking for people to take their surveys to gather data on consumer opinions and buying habits. If you are located in UK, USA, Canada, then Survey Junkie is a great option for you. Once you sign up with a survey company, as these one mentioned earlier, you'll receive emails inviting you to participate in paid online studies that require anywhere from 5-30 minutes of your time. Surveys Company pay anywhere between $1-$25 per study and offer flexible hours as well. 
17: Graphic Designer
Are you a graphic designer looking for work? Do you have some free time on your hands and would like to make money from home?
You'll need an online portfolio, as well as some graphics programs like Adobe Photoshop or Illustrator. The average hourly rate for designers varies but usually ranges between $15-75 per hour, depending on experience and expertise. And if this sounds like something that interests you, then read on!
Conclusion paragraph: At the end of a long day, many professionals are looking for ways to stay productive without going into an office. Working from home is one option that can be difficult when it comes time to interact with coworkers and clients. One solution might be working part-time as a Virtual Assistant (VA). VAs work remotely, assisting their employer in scheduling meetings, taking messages, answering email inquiries, and more.